Stats of the Day: Gallo has debut for the ages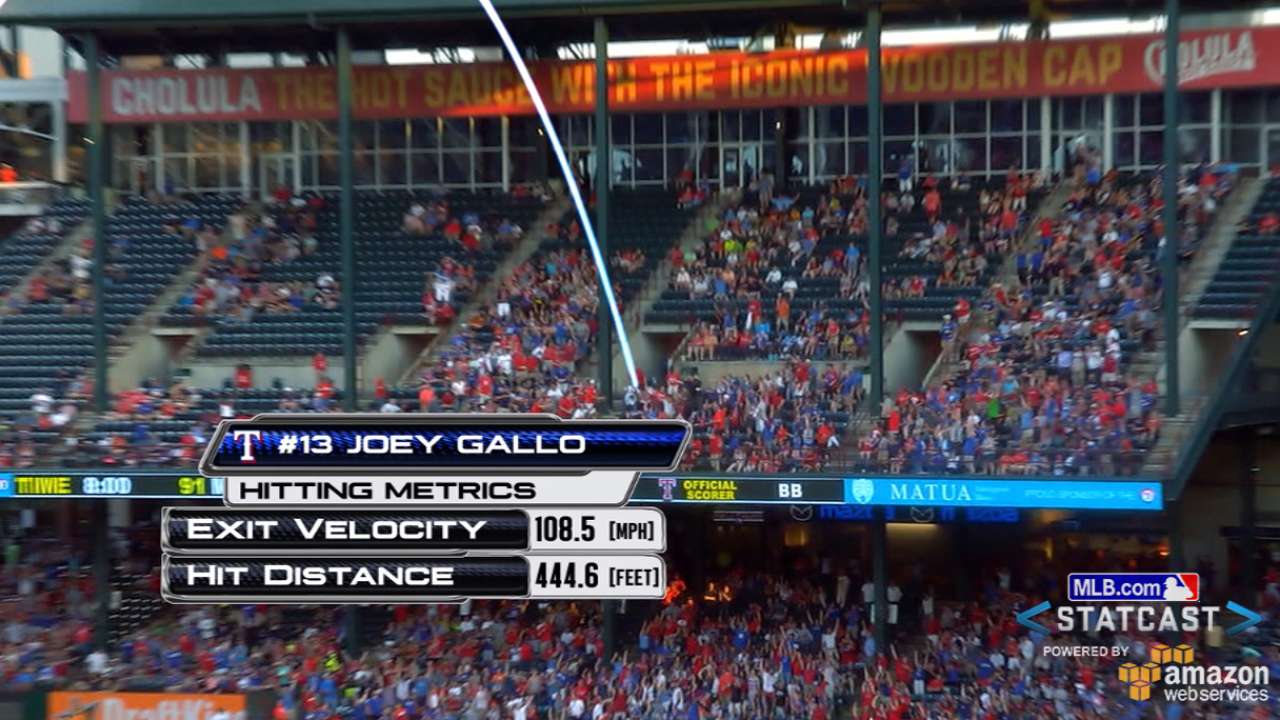 Here are five interesting items from around the big leagues on Tuesday:
• In his Major League debut, Rangers third baseman Joey Gallo went 3-for-4 with a walk, four RBIs and two extra-base hits (a double and a homer) in a 15-2 win over the White Sox. He is the first Senators/Rangers player to drive in four runs in his first game, the third to reach safely at least four times, joining Jim French (1965) and George Wright ('82), and the fourth to have at least one homer and at least one other extra-base hit, joining Wright, Ruben Sierra (1986) and Jurickson Profar (2012).
• Joc Pederson, who has gone deep in four straight games, homered in both ends of the Dodgers' doubleheader split with the Rockies. He has 16 home runs this season and is the fifth Dodgers rookie to be in his age-23 or younger season and hit at least 16 homers. Frank Howard holds the team mark with 23 in 1960.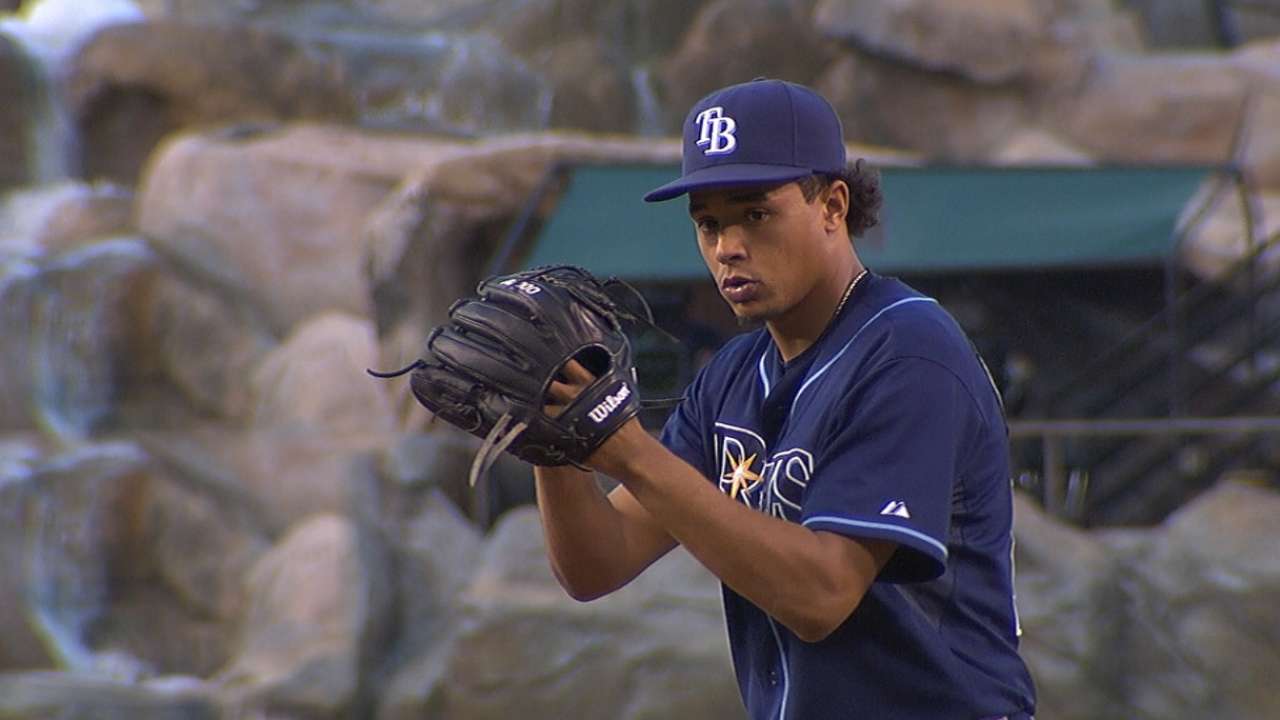 • Chris Archer fanned 15, walked none, and came away the winner as the Rays defeated the Angels, 6-1. Archer tied a Rays franchise record with 15 strikeouts, matching James Shields' tally from Oct. 2, 2012. Archer's strikeout percentage stands at 32.7 (97 strikeouts in 297 batters faced). Five qualifying right-handers have ever finished a season above 32 percent: Pedro Martinez in 1999 (37.5), Pedro Martinez in 2000 (34.8), Kerry Wood in 1998 (33.3), Yu Darvish in 2013 (32.9) and Martinez in 1997 (32.2).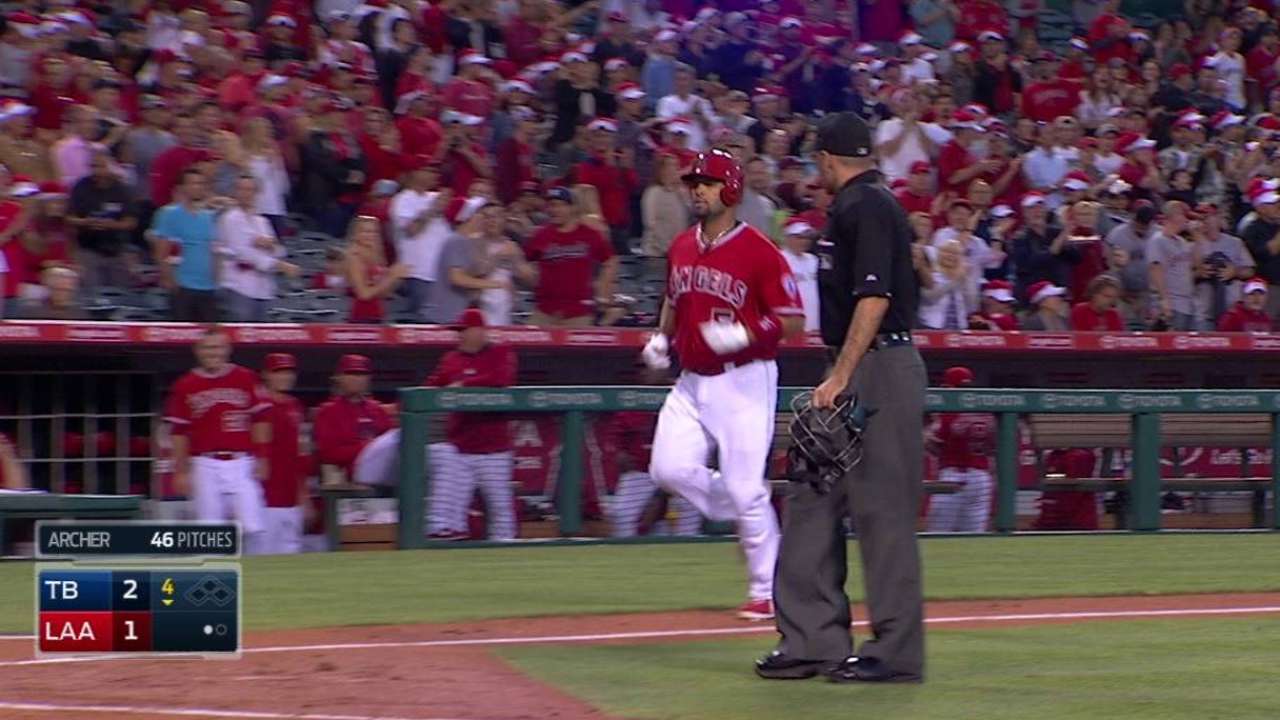 • In the Angels' loss, Albert Pujols hit career home run 534 to tie Jimmie Foxx for 17th on the all-time list. Once Pujols passes Foxx, he'll be looking up at Mickey Mantle, who hit 536. Pujols' homer also was his 1,118th career extra-base hit, moving him past Foxx and Ted Williams into sole possession of 16th on the all-time list. One more will pull him even with George Brett.
• In the Yankees' 5-3 win over the Mariners, Dellin Betances worked a scoreless ninth inning with two strikeouts and a walk. Betances has fanned 44.6 percent of the batters he has faced and hasn't been charged with an earned run this year in 29 1/3 innings. He is also holding opponents to a .313 OPS. Since 1969, the longest streak from the start of a season for consecutive appearances with no earned runs is 33, by Mike Myers in 2000. Betances' run currently stands as the third longest, with Brad Ziegler going 29 games in '08.
Roger Schlueter is a contributor to MLB.com. This story was not subject to the approval of Major League Baseball or its clubs.