MLB.com Columnist
Jonathan Mayo
Best tools in the Draft: Outfielders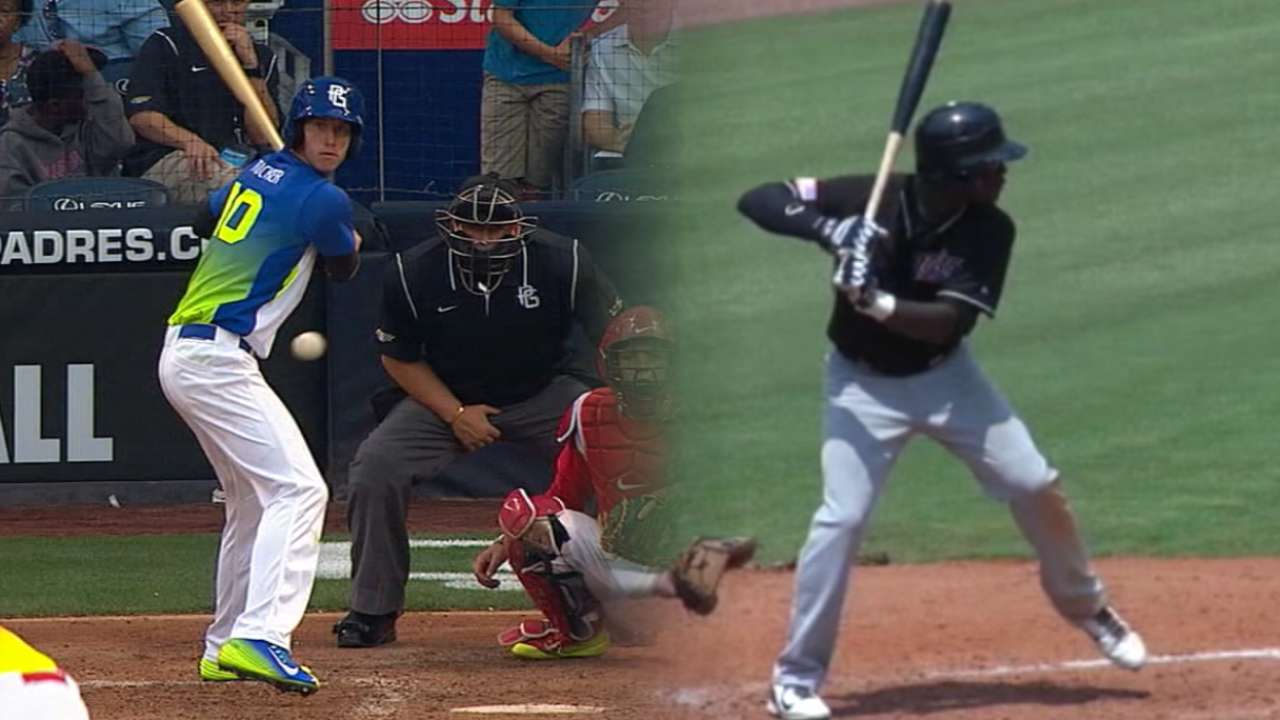 The outfield is often where it's thought the proverbial five-tool player can be found. The Junior Griffeys or the Mike Trouts of the world. Or perhaps a power-laden corner bat such as a Bryce Harper can be acquired in the Draft.
Truth be told, though, finding an impact-level outfielder has been easier said than done of late. There were 11 outfielders taken in the top-10 picks in the previous five Drafts, with Harper and 2014 first-rounder Alex Jackson being listed as outfielders after catching for most of their amateur career. Before Harper in 2010, the most recent outfielder to go No. 1 overall was Delmon Young in '03.
There are definitely some interesting outfielders in the class of 2015 to consider, especially from the high school ranks. Daz Cameron and Kyle Tucker are potential top-10 selections, and there's a cluster of young hitters like Trenton Clark, Garrett Whitley and Nick Plummer who had been getting first-round buzz, with Eric Jenkins making some noise as well. It may not quite be the 2005 group of prep outfielders (Justin Upton, Cameron Maybin, Andrew McCutchen, Jay Bruce), but there's a lot to like.
College bats are down across the board, and the same holds true in the outfield, but Arkansas Draft-eligible sophomore Andrew Benintendi has raised his stock into being a top-10 caliber pick. Cincinnati's Ian Happ shouldn't be too far behind him. Teams, particularly in the back end of the first round, will likely look at college performers such as North Florida's Donnie Dewees and Florida State's D.J. Stewart.
The 2015 Draft will take place Monday through Wednesday, beginning with the Draft preview show on MLB.com and MLB Network on Monday at 6 p.m. ET. Live Draft coverage from MLB Network's Studio 42 begins at 7 p.m., with the top 75 picks being streamed on MLB.com and broadcast on MLB Network. MLB.com's exclusive coverage of Day 2 begins with a live Draft show at 12:30 p.m. on Tuesday, with exclusive coverage of Day 3 beginning at noon on Wednesday.
MLB.com's coverage includes Draft Central, the Top 200 Draft Prospects list and Draft Tracker, a live interactive application that includes a searchable database of over 1,700 Draft-eligible players. Every selection will be tweeted live from @MLBDraftTracker, and you can also keep up to date by following @MLBDraft. And get into the Draft conversation by tagging your tweets with #mlbdraft.
The top five outfielders, with their overall ranking on the list:
6. Daz Cameron, CF, Eagle's Landing Christian Academy, McDonough, Ga.
7. Kyle Tucker, RF, Plant HS, Tampa, Fla.
8. Andrew Benintendi, CF, Arkansas
12. Trenton Clark, CF, Richland (Texas) HS
34. Garrett Whitley, CF, Niskayuna (N.Y.) HS
Top tools (scouting grade based on a 20-80 scale in parenthesis)
Hit: Tucker (60)
This was a tough call, as there are college bats like Benintendi and Cincinnati's Ian Happ to consider as well, but Tucker has a little more upside. His swing from the left side of the plate -- not to mention his innate ability to barrel up the ball -- is perhaps the best in the class.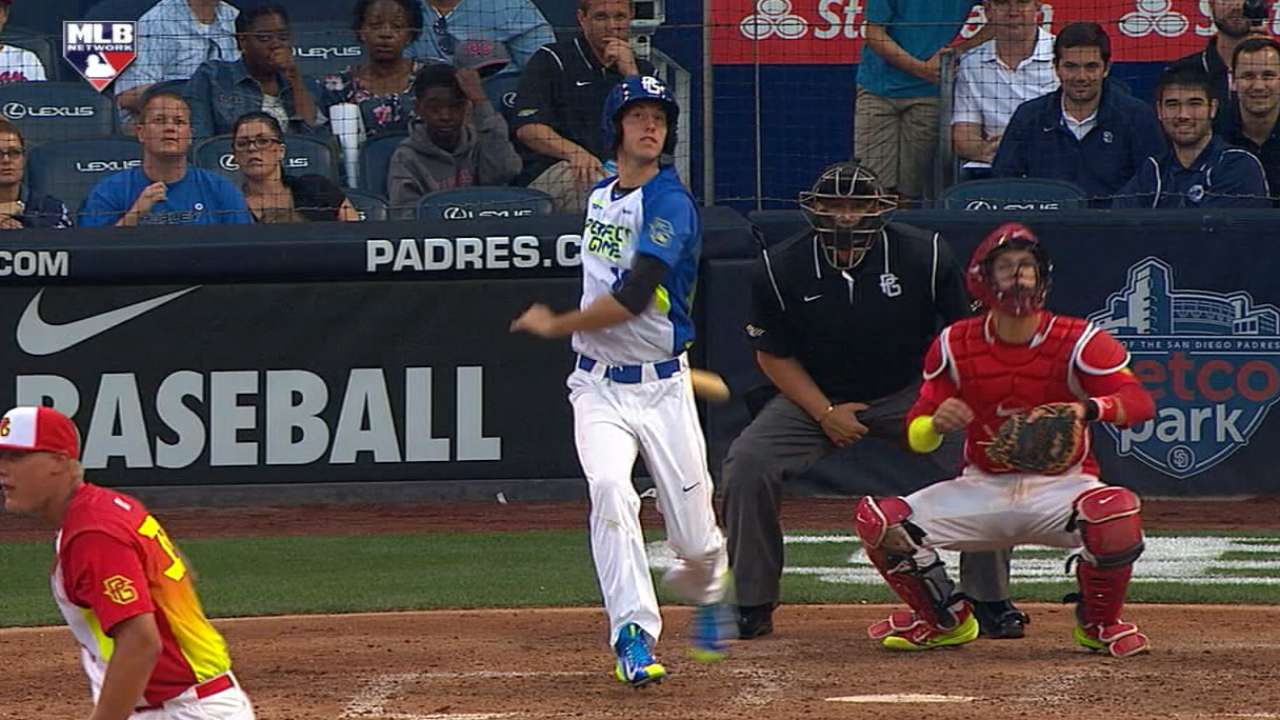 Power: Demi Orimoloye, St. Matthew's HS, Orleans, Ontario (60)
When Orimoloye made the summer showcase circuit, he was a man amongst boys, with his 6-foot-4, 225-pound frame. He has good bat speed and leverage, and though he struggled at times this spring, he has as much raw power as any outfielder in this crop.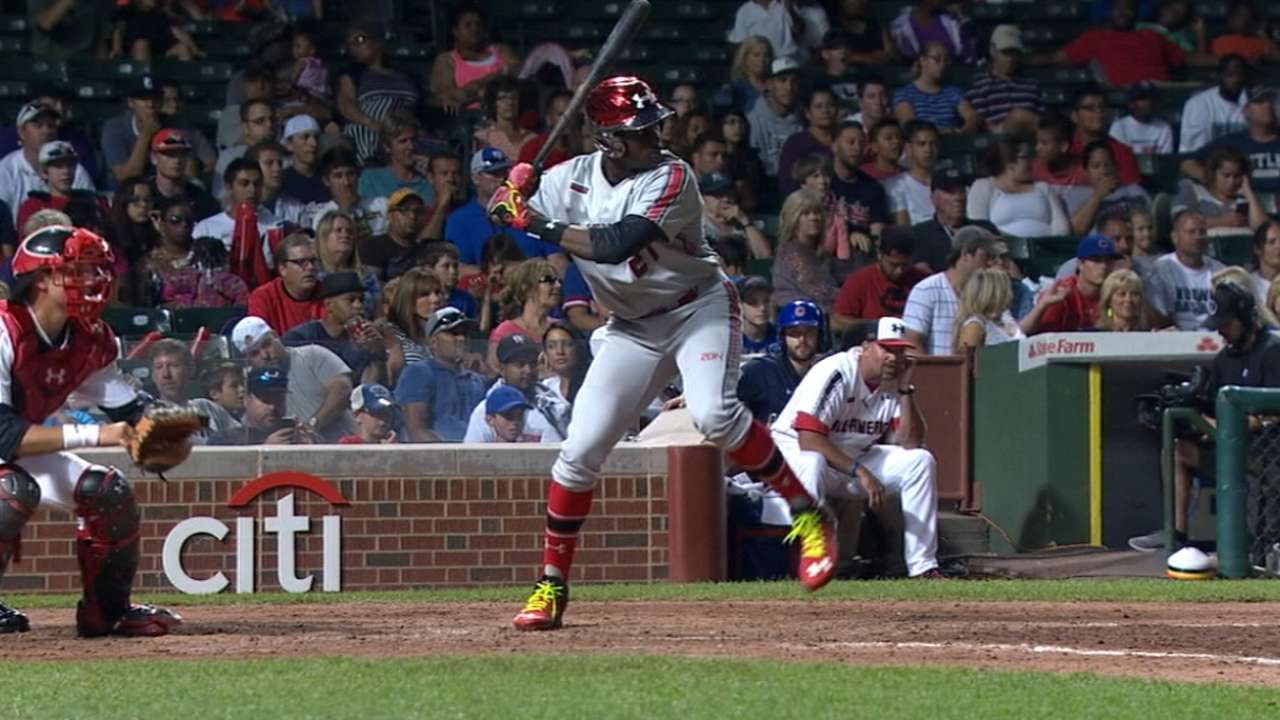 Run: Reggie Pruitt, Kennesaw Mountain HS, Kennesaw, Ga. (70)
Pruitt and Isaiah White from the high school ranks, and Clemson's Steven Duggar from the college side, all get 70 grades for their speed. Pruitt, who is teammates with probable first-rounder Tyler Stephenson, has been clocked at under 6.5 seconds in the 60 as well as 3.6 seconds down the line from the right side of the plate on a drag bunt.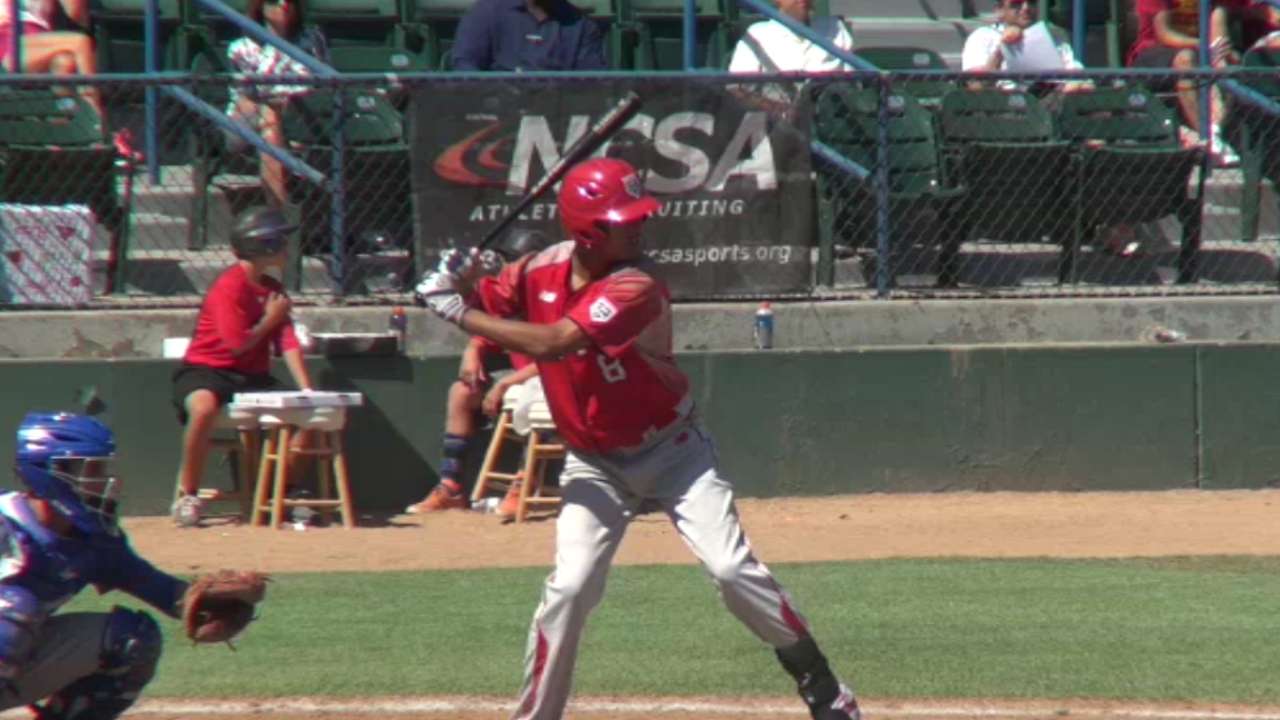 Arm: Steven Duggar, Clemson (60)
He was a runner-up in the speed category, so he gets the nod with his arm, which profiled well in right field for Clemson, even if he ends up in center as a pro. Orimoloye also has a 60 arm.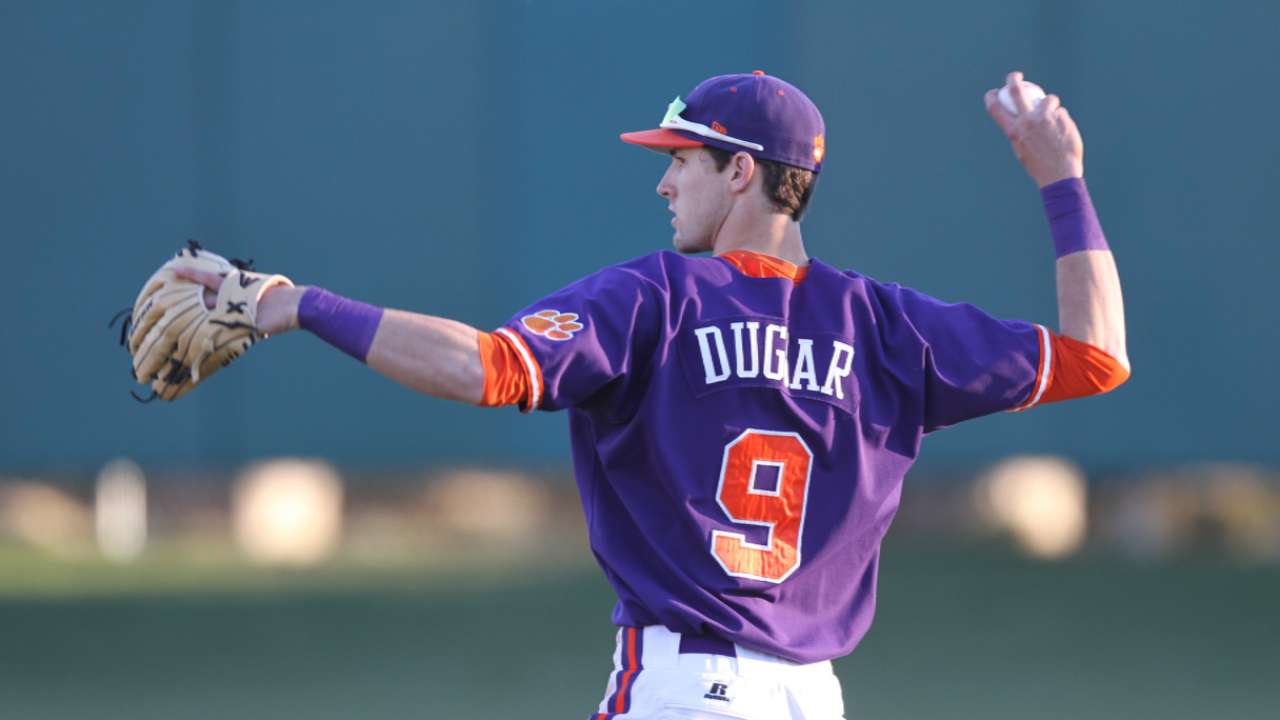 Defense: Andrew Stevenson, LSU (65)
Thought to be the best defensive center fielder in college baseball, Stevenson uses his speed, along with his outstanding reads and routes, to cover a ton of ground in center.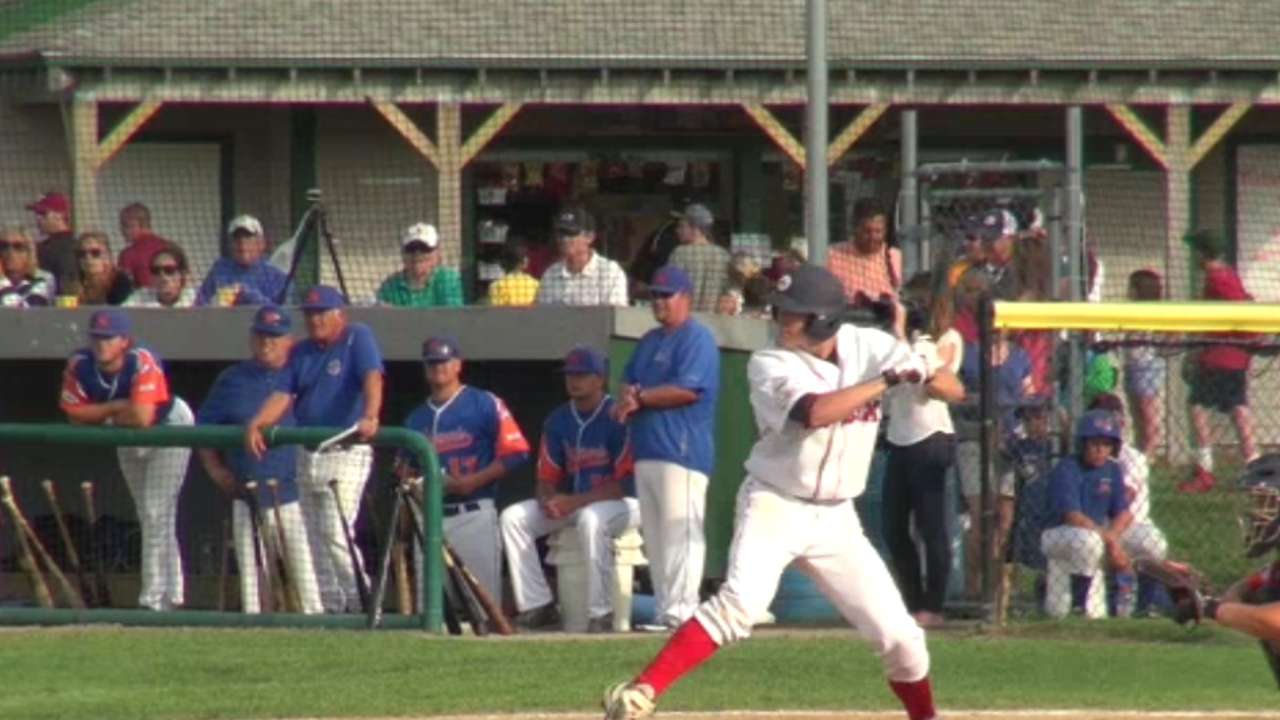 Highest ceiling: Whitley
He might be fifth on the overall rankings list above, but Whitley's upside is considerable. He has tremendous bat speed, with power to come, and very good speed to boot. Once he gets out of the Northeast high school ranks, watch out.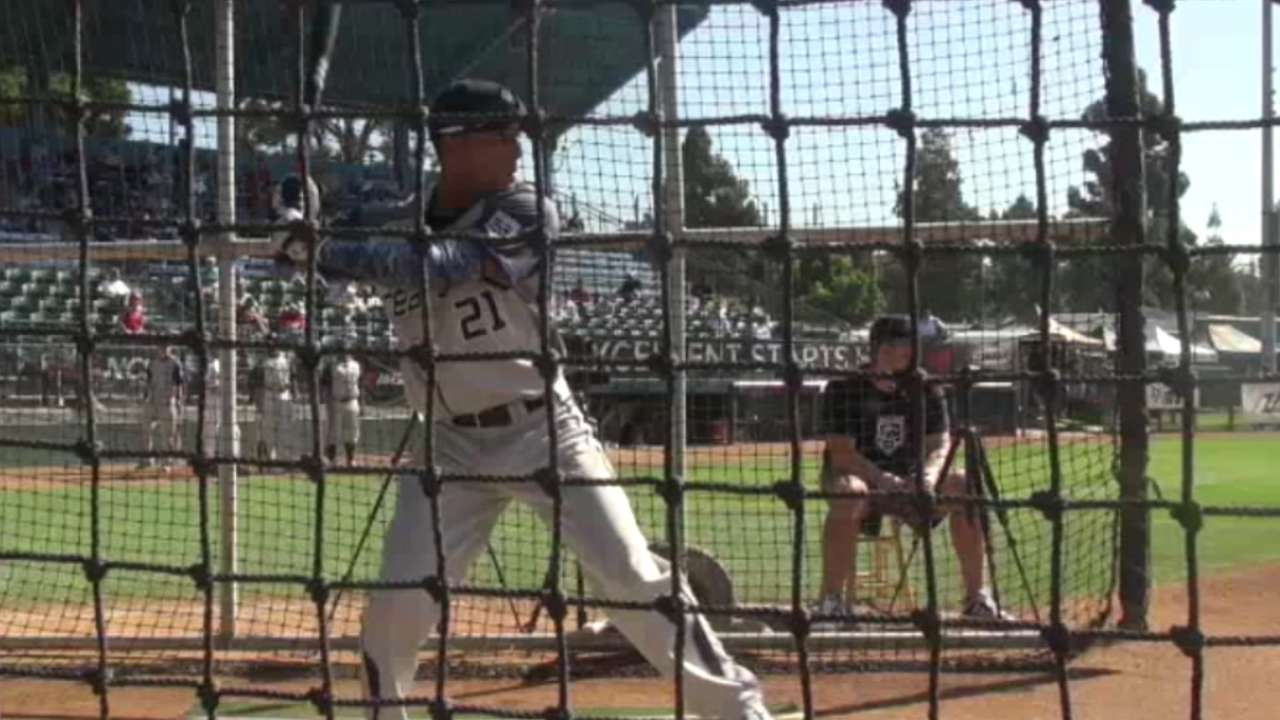 Highest floor: Cameron
It's not often a high school guy is thought to have a high floor, but Cameron's solid tools, combined with his instincts and polish, make him a pretty safe bet to be a quality big leaguer. The MLB lineage (his father is former big leaguer Mike Cameron) doesn't hurt, either.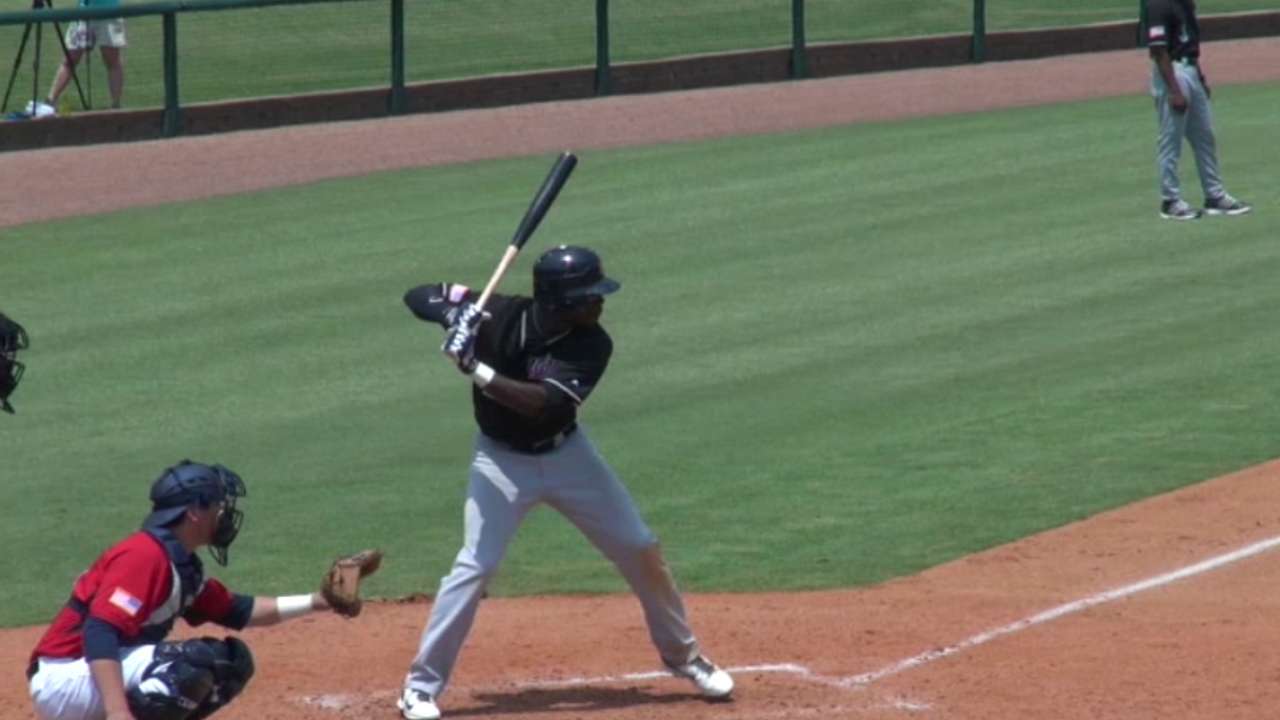 Jonathan Mayo is a reporter for MLBPipeline.com and writes a blog, B3. Follow @JonathanMayoB3 on Twitter. This story was not subject to the approval of Major League Baseball or its clubs.