MLB.com Columnist
Jonathan Mayo
Path to the Draft: Rodgers has proud supporters
Mom, dad of potential top pick recognized son's talent at early age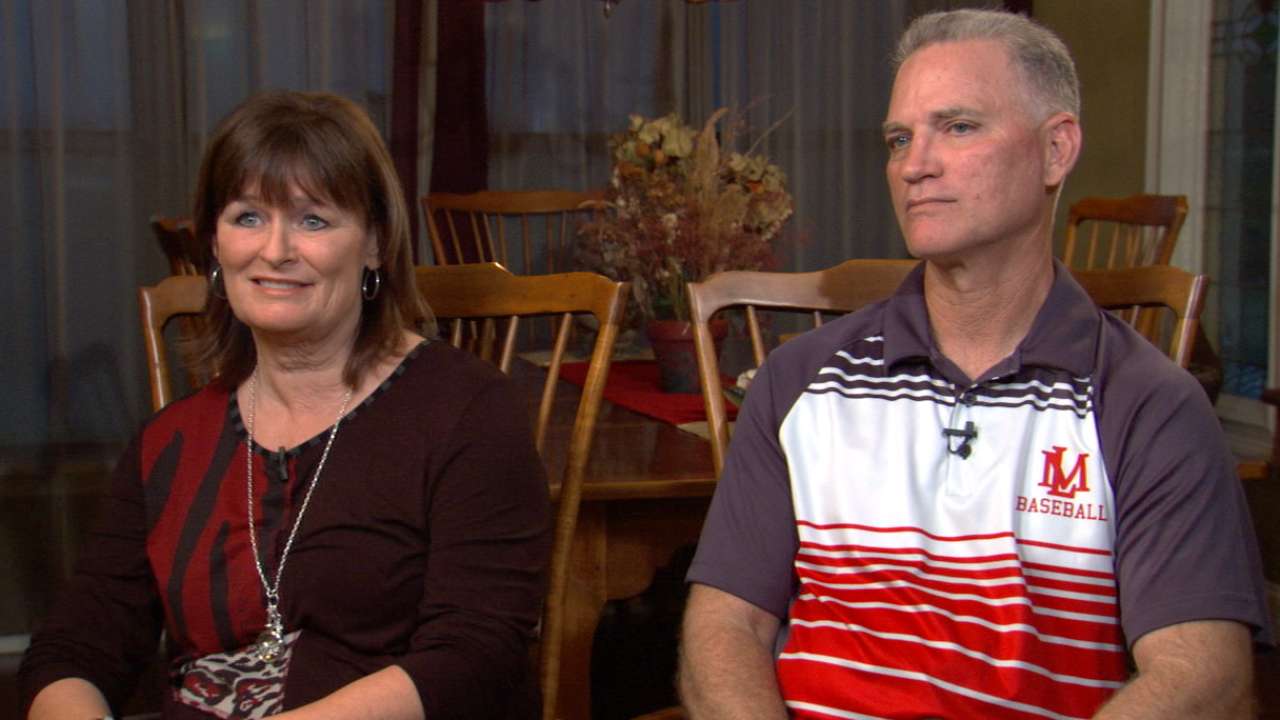 The spring before the Draft can be full of excitement and pressure for amateur players hoping to be selected by a Major League organization. Those in the discussion for top of the first round face even more scrutiny as June approaches. MLB.com will be following Brendan Rodgers, ranked No. 1 on MLB.com's Top 200 Draft prospects list, throughout the process. From the start of his senior year at Lake Mary High School outside of Orlando, Fla., all the way through Draft Day, Rodgers has given MLB.com full access to his life as the top Draft prospect in the country.
LAKE MARY, Fla. -- Spend any time around a Little League field, anywhere in the country, and it shouldn't be hard to find parents who are convinced their child is going to be the next Major League superstar. The vast majority of those parents end up being greatly disappointed on that front.
One exception to that rule is Greg and Julie Rodgers, who are on the cusp of watching their son, Brendan, be a very early selection in the MLB Draft on Monday night. The world will see when Rodgers comes off the board live on MLB Network and MLB.com, starting at 7 p.m. ET on Monday (the preview show begins at 6 p.m. ET). The family? They've seen it coming for some time now.
"We really noticed it, really [when he was] 5 or 6 years old," Greg Rodgers said.
"He did," Julie Rodgers added, sounding like she needed more time to be convinced.
"Dante Bichette was one of his first coaches, and he talked about him," Greg Rodgers said. "You'd see him take ground balls and swing the bat, a lot like he swings it now, at a young age. I kind of saw it early."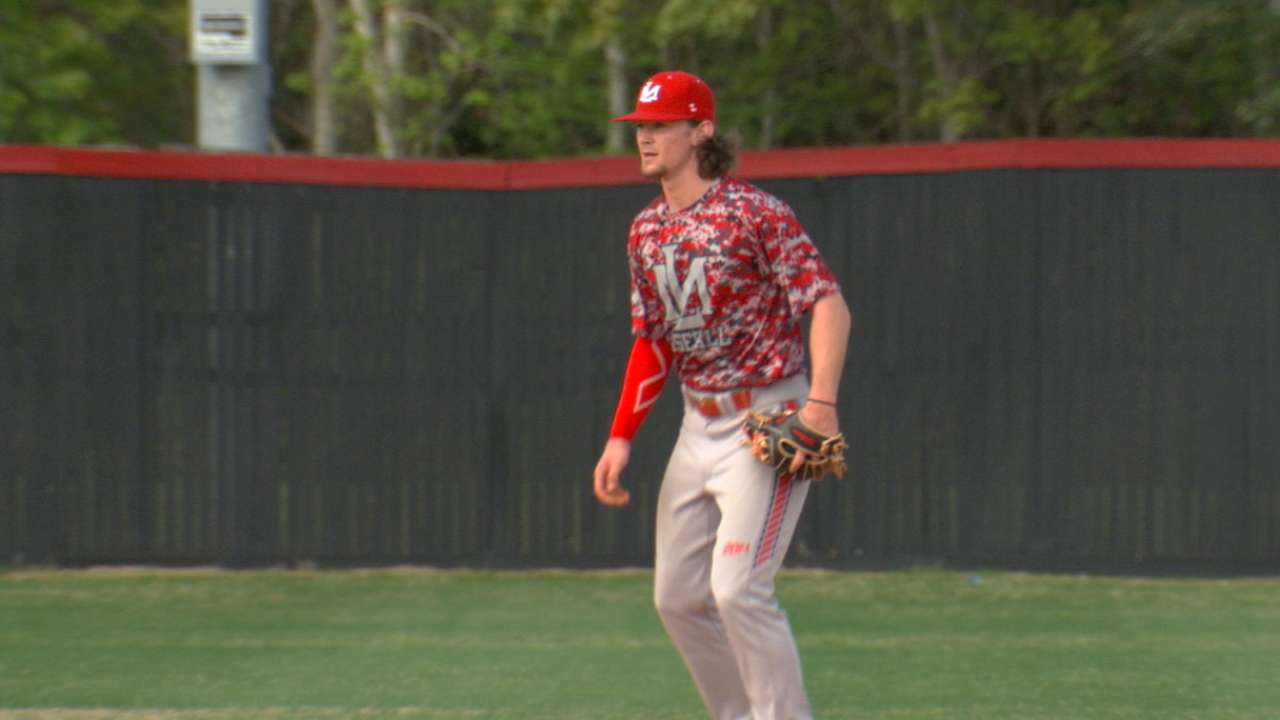 This isn't some kind of overbearing dad talk. Greg Rodgers didn't even play the sport growing up, focusing more on soccer than baseball. He isn't trying to live vicariously through his son, forcing him to fulfill his dream.
"Baseball wasn't really something we followed ourselves," Greg Rodgers said. "None of us really played the game. Over the last 12-13 years, we've watched numerous games, college and professional baseball, all the time just knowing where we thought he was going to be one day."
Where Rodgers is going to be is likely one of the top five picks in the Draft, perhaps as high as No. 2 to the Astros, as more signs point to the D-backs taking Vanderbilt shortstop Dansby Swanson. But Rodgers has been atop most talent rankings since the fall, with a really strong summer performance on the showcase circuit ensuring intense scrutiny from the scouting industry all spring.
Rodgers, for his part, has handled all of it well, creating one of those instances when parents learn from their children.
"He just stays so focused in the game, it doesn't really matter," Greg Rodgers said. "With more people watching him, he just continues to play the game at a very high level."
"He says he can't hear me on the field," Julie Rodgers said. "I video everything and take pictures. I've been known to..."
"Scream a little bit," Greg Rodgers offered.
"Scream a little bit when he does something good," Julie Rodgers confirmed. "I never say anything bad, but I do tend to get a little excited when he gets a big hit at the right time."
While the Rodgerses have learned to try and stay even-keeled through this process from their son, that doesn't mean the 18-year-old is infallible at all times. This is a high school senior, after all, and even the most well-meaning of that generation must need reminding of what's what, right?
"Oh, sure, he's a teenage boy," Julie Rodgers said. "He has his moments. I think on the baseball field, he's so focused. He's an 18-year-old kid off the baseball field. He has to be reprimanded, he thinks he knows a lot and everything.
"He has so many good people in his life. He has coaches, he has great friends who are great examples and everybody keeps him humble. Have I worried about it? Absolutely."
There is less worry about how Rodgers is going to handle this next chapter of his life. One of the biggest steps in the life of a Draft prospect is the home visit. When you're one of the top talents in the class, there are going to be several of the teams at the very top of the first round that will want to get to know Rodgers and his family well. Given the investment these teams will be making, knowing of any potential pitfalls or obstacles helps teams feel they can minimize the risk. Again, Rodgers' parents could take their cues from their son.
"The scouts have come to the house and they said, 'It's a job,'" Julie Rodgers said about something scouts tell potential draftees so they understand how much work has to go into having success at the next level. "He looks at us like, 'How can this be a job?'
"The scout visits, the first couple were unbearable. We were so nervous. Then we realized they're here for the right reasons."
After all the homework is done by teams, one of them at the top will take Rodgers. With that will come a life-changing amount of money. Every pick in the top four -- where most see Rodgers going -- has a pick value assigned to it of more than $5 million.
That kind of financial shift has changed more than one person, and not always for the better. As much as the Rodgerses have learned from how their son has dealt with the Draft process, this is a time where their impact can be felt. It's clear this is something that has already been discussed.
"You're going to be playing six days a week, so you don't really have a whole lot of time to be going out and buying anything," Greg Rodgers said. "You don't have a house. What are you really going to do? I think most of his money will be put away. He might get a car or a truck or something like that."
"Talking to people who have been in this situation, everyone says, 'You don't touch this money, you put it aside because you have to wait until you make it to the big leagues,'" Julie Rodgers added. "I don't think we're worrying about it yet."
Jonathan Mayo is a reporter for MLBPipeline.com and writes a blog, B3. Follow @JonathanMayoB3 on Twitter. This story was not subject to the approval of Major League Baseball or its clubs.