Doubleheader sweep just out of reach for Rox
Blackmon came inches away from snagging Guerrero's slam off Betancourt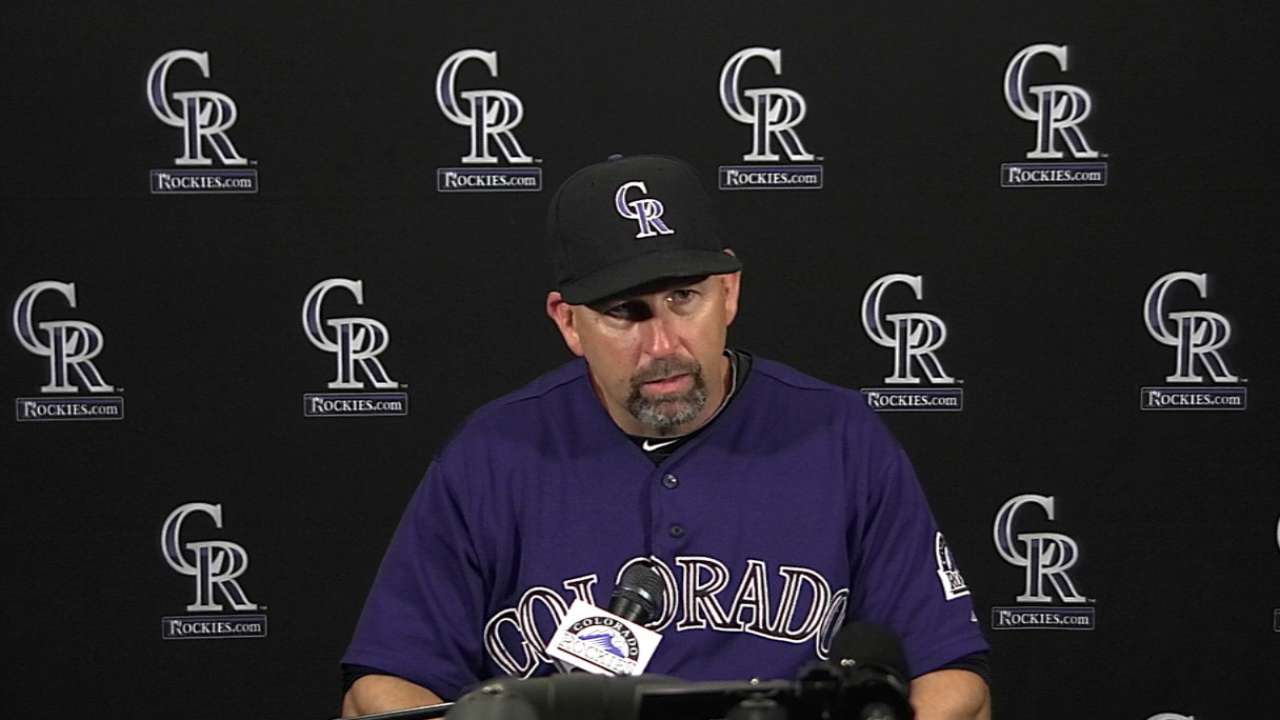 DENVER -- One strike away from a doubleheader sweep. One strike away from another comeback win. One strike away from no longer owning sole possession of last place.
That's what the Rockies' ninth-inning agenda looked like as veteran reliever Rafael Betancourt prepared to deliver a two-out, two-strike pitch to Dodgers utility man Alex Guerrero with the bases loaded. But the fastball caught the plate. Charlie Blackmon's leaping effort was not quite enough, and Guerrero's first career grand slam was the crushing blow in the Rockies' 9-8 loss on Tuesday at Coors Field.
It was the first four-run outing since June 7, 2008, for Betancourt, who declined to comment postgame.
"[Betancourt] has done a nice job for us and has been in that situation many times," said Rockies manager Walt Weiss, who added that closer John Axford wasn't available after saving Game 1.
"Looked like he was going to close the deal."
The ninth inning began inauspiciously for Betancourt, who surrendered singles to Alberto Callaspo, Jimmy Rollins and Chris Heisey to load the bases with nobody out. That generated a mound visit from pitching coach Steve Foster.
Whatever was said appeared to stick temporarily. Betancourt punched out Justin Turner on four pitches and then coaxed Joc Peterson -- who homered and tripled earlier in the game -- into an easy fly out to Brandon Barnes in left.
And even as Guerrero's eventual homer sliced through the Coors Field air and made it's descent, there was a glimmer of hope for Colorado. Center fielder Blackmon timed his jump perfectly and tumbled hard to the ground.
Had he just saved the Rockies' day?
"It touched my glove," Blackmon said. "It was never in the glove, but it touched it. Off the bat, I didn't think he'd gotten it. But it carried better than I thought."
Added first baseman Ben Paulsen: "I think everybody thought Charlie had that ball. That's why the stadium went silent for a moment."
Most of Coors Field remained that way as Guerrero trotted around the bases and into a jovial Dodger dugout.
"Tough loss, no doubt about it," Weiss said.
Dargan Southard is an associate reporter for MLB.com. This story was not subject to the approval of Major League Baseball or its clubs.