MLB.com Columnist
Anthony Castrovince
ASG debate: Crawford-Peralta a toss-up for top NL shortstop
Giants infielder may have slight advantage due to superior defense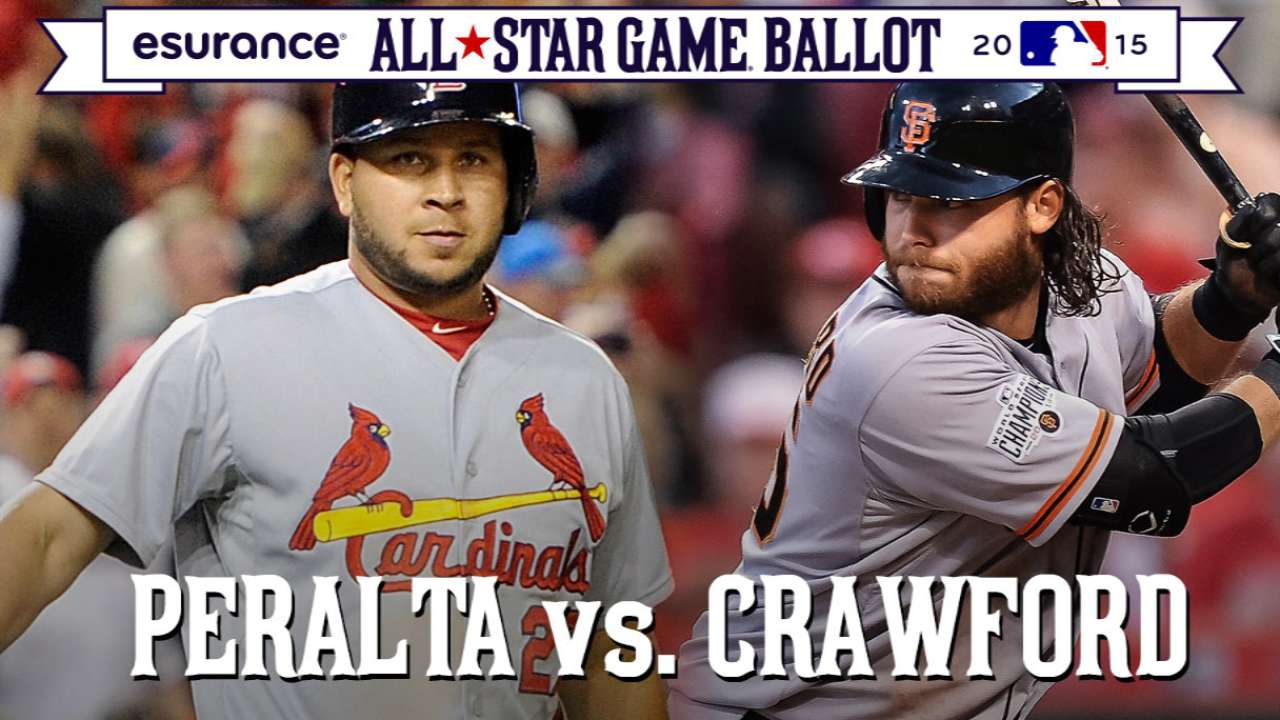 *** We will be doing daily ASG debates until balloting ends on July 2. We will frequently be pitting one player against another and have a writer make a case for one of them, but that doesn't mean there aren't other great candidates for that position. In fact, your comments could spark a new debate for us to tackle. So let us know what you think! ***
Brandon Crawford and Jhonny Peralta's offensive numbers this season are close. Like, really close. And appropriately, their 2015 Esurance MLB All-Star Game Ballot vote totals are close. Like, really close.
• VOTE NOW: Cast your All-Star ballot
So who is the National League's superior shortstop?
In terms of votes, Peralta had the slightest of edges in Tuesday's latest NL update, garnering 1,279,711 votes to Crawford's 1,103,884. Crawford had actually been fifth among NL shortstops in the first ballot update last week, but the voters wisely moved him closer to the top spot, and now we've got a true ballot battle on our hands.
The battle has plenty of statistical backing. Entering Tuesday's play, Peralta and Crawford had by far the two highest OPS marks among qualified shortstops in the Majors.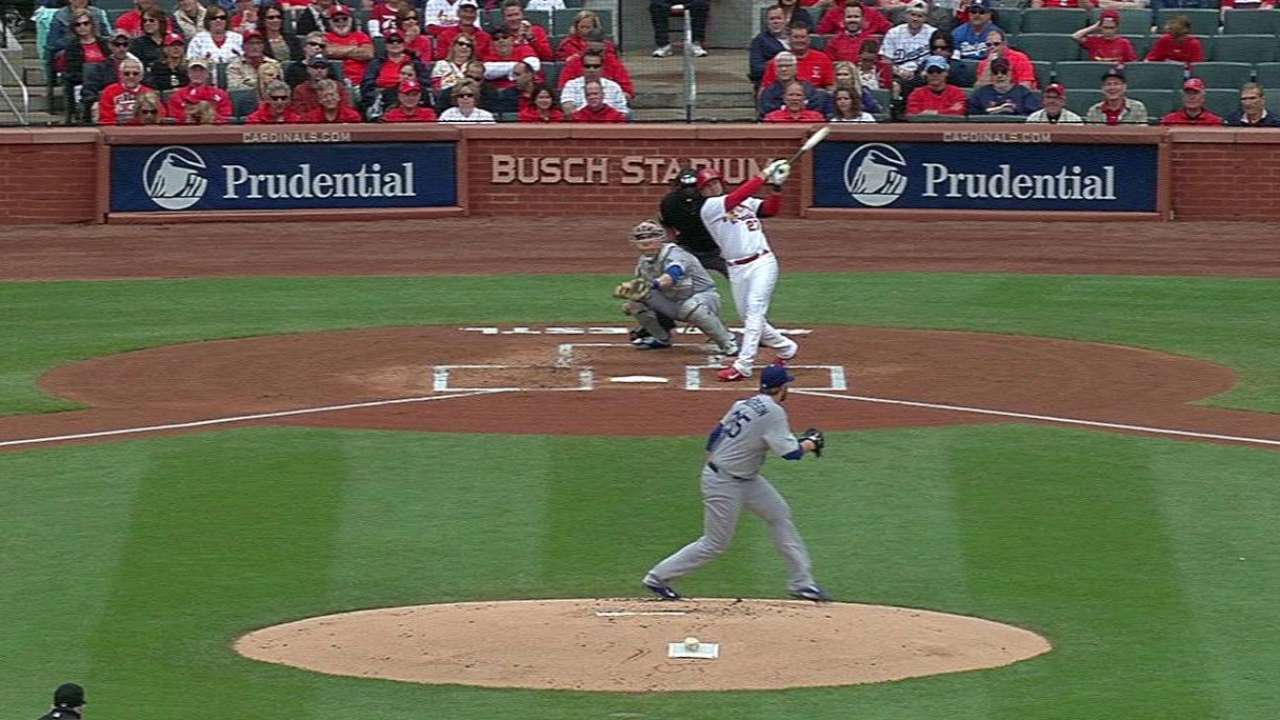 Again, the numbers are crazy close:
Peralta: .311 AVG, .376 OBP, .516 SLG, 8 HR, 15 2B, 0 3B, 30 RBI, 20 BB, 39 K, 2.0 WAR
Crawford: .292 AVG, .364 OBP, .494 SLG, 7 HR, 11 2B, 2 3B, 34 RBI, 15 BB, 40 K, 2.6 WAR
In other words, there are no wrong answers here.
That the 28-year-old Crawford is putting up elite offensive numbers at this position is something of a revelation. His bat is catching up to his glove. Before 2015, you could make an argument that he was the best defensive shortstop this side of Andrelton Simmons, and anything the Giants got out of his bat was a bonus. Last year, that bat delivered at essentially a league-average clip, which, when paired with the defensive range and arm, made Crawford a special player.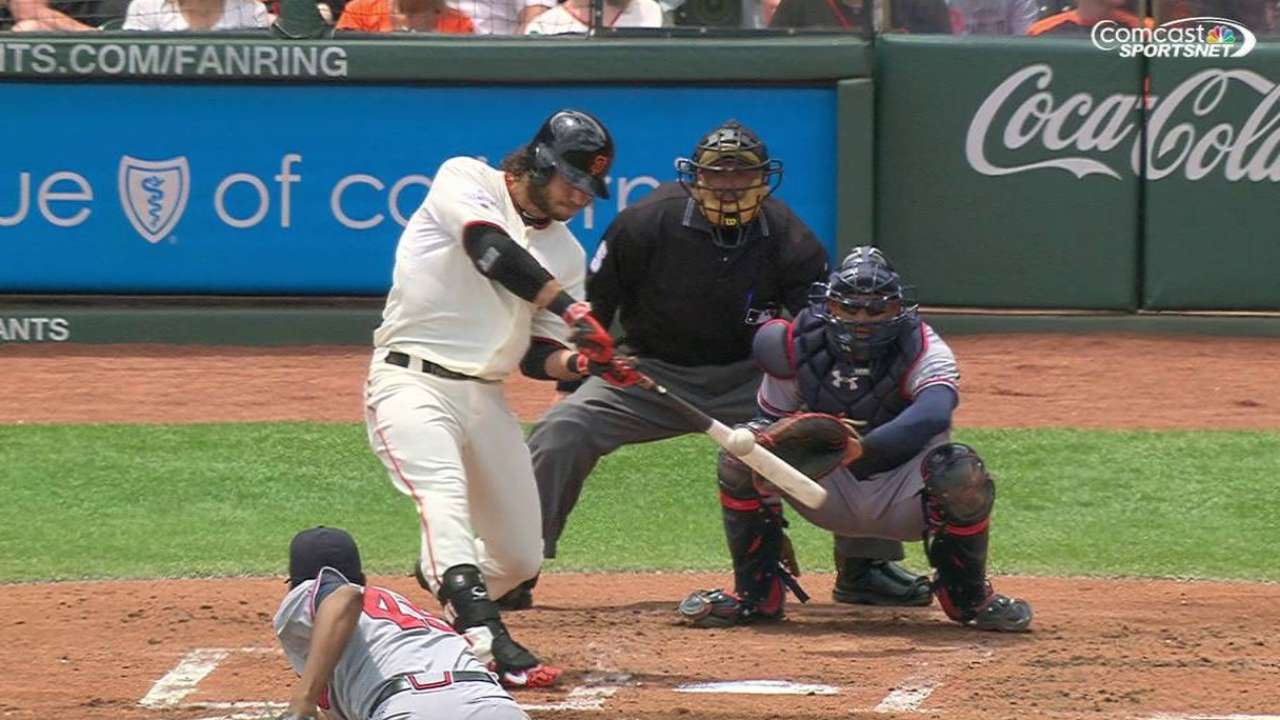 The Giants, though, are getting even more out of Crawford's bat this season, and that's been a big plus in their bid to make some odd-year magic for a change.
Of course, if we're going to praise Crawford's offensive gains, we also have to give a tip of the cap to Peralta for his defensive ones. Midway through his career, the Indians basically gave up on Peralta as a shortstop. But in 2009, the Tigers gave him an opportunity to reclaim his natural position, and, in the time since, Peralta has improved his positioning and cemented himself as a reliable, albeit unflashy, stalwart at that spot.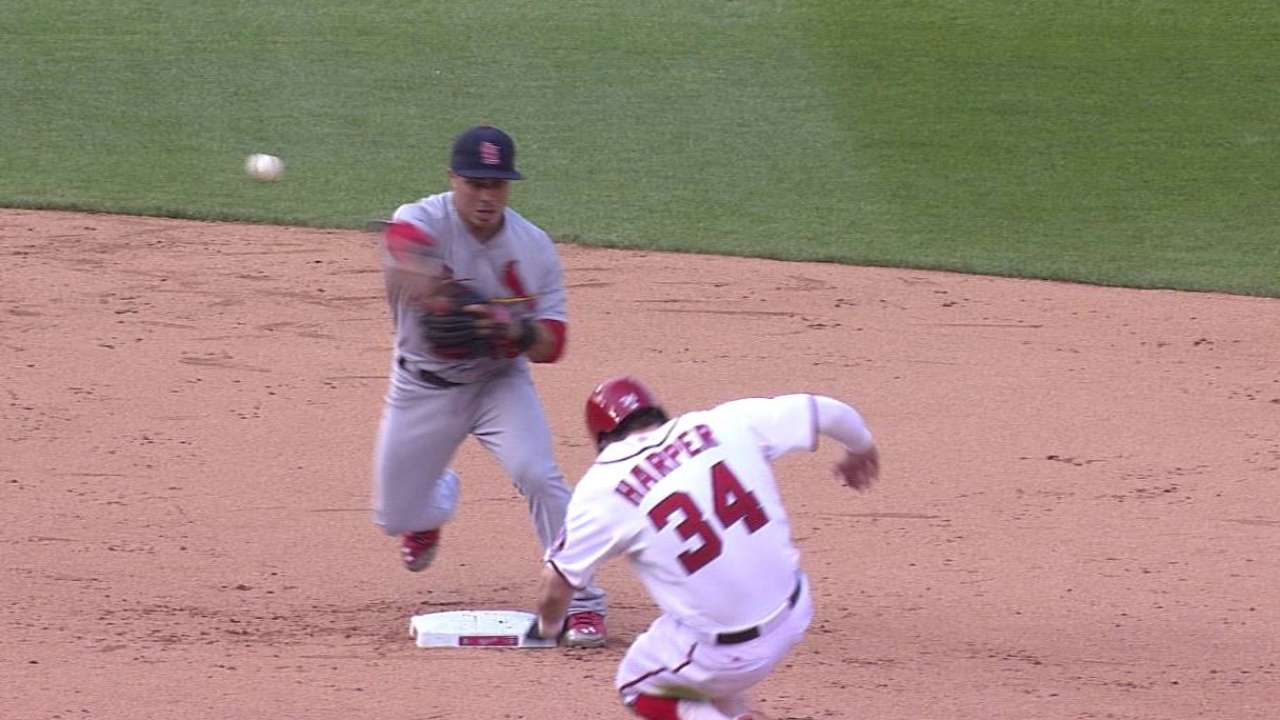 So this Crawford-Peralta debate is too close to call. To claim either guy is more valuable to his team than the other would, frankly, be splitting hairs. Crawford does have the greater defensive range of the two, which probably explains that slight advantage in a WAR stat that relies quite a bit on advanced defensive metrics. Again, though, no wrong answers here.
If you just want to see some fresh blood (or want to go for the guy with better hair), then go with Crawford. Though we've grown accustomed to seeing him on the October stage, he's never been to the All-Star Game, while Peralta has been there twice. But both guys are on track for a Cincinnati stop this summer.
Anthony Castrovince is a reporter for MLB.com. Read his columns and follow him on Twitter at @Castrovince. This story was not subject to the approval of Major League Baseball or its clubs.