Guerrero continues to prove his worth
Clutch ninth-inning grand slam quiets any doubters of young infielder
Guerrero, and the Dodgers, were down to their last strike and about to be swept in a make-up doubleheader by the last-place Rockies when the Dodgers' "other rookie" slugger drove a grand slam that just grazed the glove of leaping center fielder Charlie Blackmon and cleared the fence, erasing a three-run deficit in a classic Coors Field slugfest.
"This turned a down day into at least a split, coming from behind and getting done what we needed to get done," said manager Don Mattingly. "One thing, since his first day, he could swing the bat."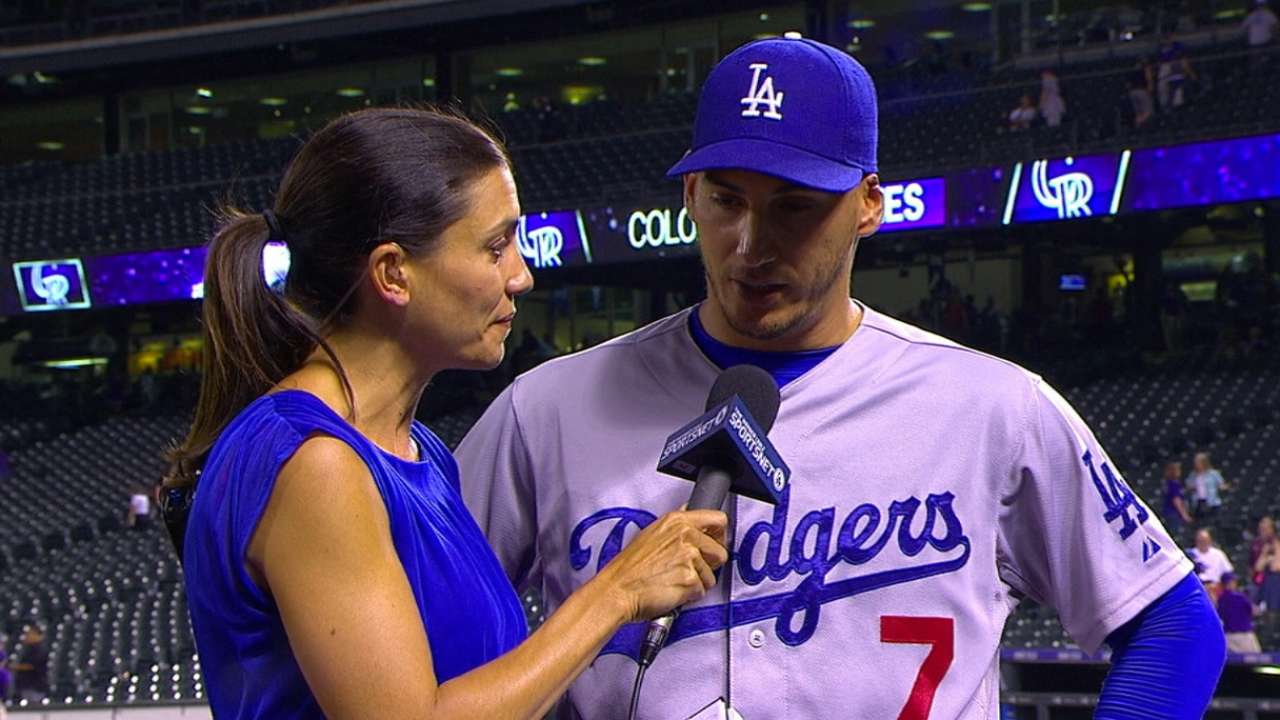 The Dodgers already had homers from Kiké Hernandez, Adrian Gonzalez and rookie phenom Joc Pederson, who also tripled in a tying run and homered in the opener. But Zack Greinke squandered a four-run lead while being roughed up for five runs on 10 hits and Yimi Garcia imploded again, allowing his fourth homer in the last 10 appearances.
But with Rockies closer John Axford used in the opener, setup man Betancourt allowed no-out singles to Alberto Callaspo, Jimmy Rollins and Chris Heisey. He struck out Justin Turner and forced Pederson to pop out on one pitch to bring up Guerrero, who was inserted in a seventh-inning triple-switch.
For the two innings before entering, however, Guerrero did what he does during games he doesn't start. He works in the batting cage with assistant hitting coach John Valentin, who said the 26-year-old Guerrero is a rookie in label only after playing seven professional seasons in Cuba.
That's why, Valentin said, Guerrero has been so adept performing in clutch, late-inning situations, with six of his 10 homers in the seventh inning or later. Three of his home runs came as a pinch-hitter.
"They play important, high-quality games in Cuba all the time," said Valentin. "He doesn't feel like a rookie. He feels he can play here every day. He's not like Joc, learning every day. He has more experience, and it shows."
The praise for Guerrero is far different from last year, when the world turned on him for being unable to make the defensive move from shortstop to second base. His first season in America was further disrupted when teammate Miguel Olivo bit off a chunk of his left ear in a dugout fight.
A year later and the Dodgers have traded Juan Uribe, in part because Guerrero has become more valuable playing third base and left field.
Offensively, Guerrero said Valentin simplifies facing pitchers he's not familiar with, presenting him a condensed scouting report with suggestions on what to look for from each one.
Valentin said the home run Tuesday, to dead center, was an example of Guerrero's ability to adjust. Most of Guerrero's early-season homers were on inside pitches he could pull. The home-run pitch was a fastball down that wasn't far enough outside.
"They're going to pitch him away now and he knows he'll have to hit that way," Valentin said. "That's what he did tonight."
The home run was the first go-ahead grand slam by a Dodger with two outs in the ninth inning or later since Nomar Garciaparra hit one in 2006 against Arizona.
Ken Gurnick is a reporter for MLB.com. This story was not subject to the approval of Major League Baseball or its clubs.