McHugh happy that May is in rearview mirror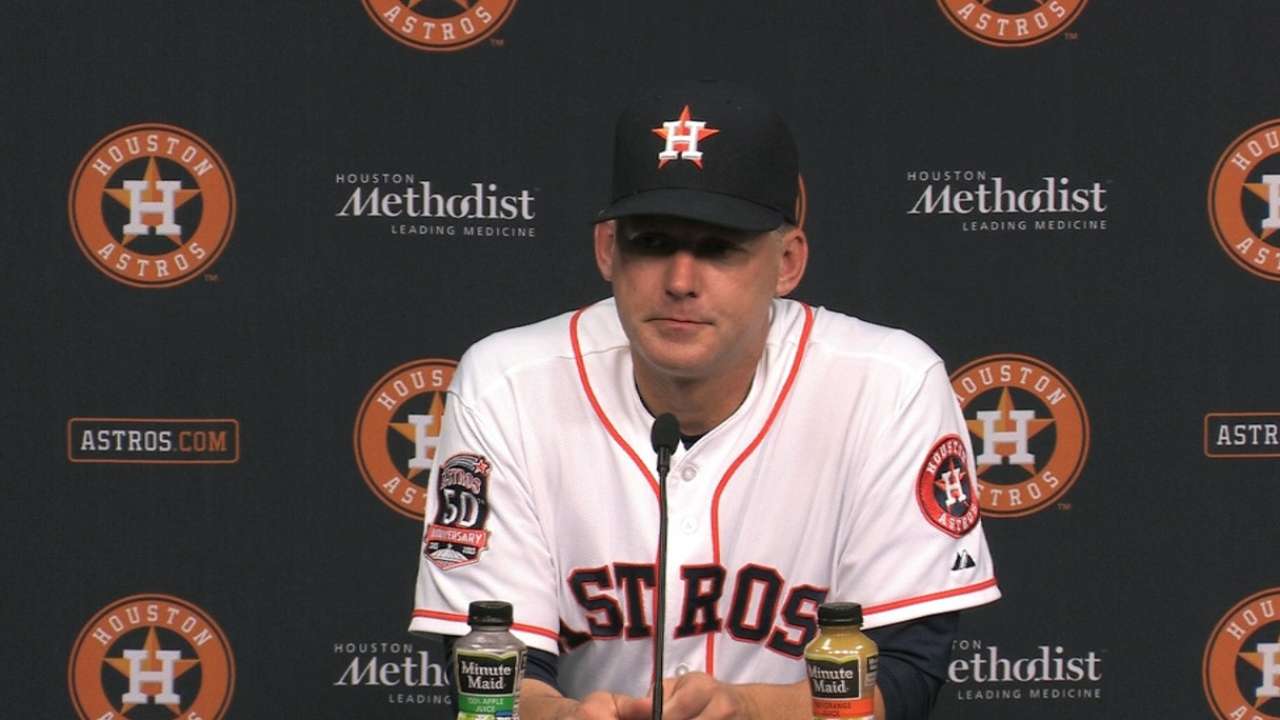 HOUSTON -- Collin McHugh flashed a wide smile on Tuesday night when asked if he is glad May is in his rearview mirror.
McHugh's May troubles briefly spilled over into June, as he gave up four runs in the second inning against the Orioles in his first outing of the month, but he rebounded to send down 15 of the final 16 he faced and pitch the Astros to a 6-4 win at Minute Maid Park.
"You don't have a choice," McHugh said of bearing down after the Orioles took a four-run lead in the second. "You have to forget about it. If you dwell on it, this game's too hard. And so like I said, you can either sulk and be mad at yourself that you gave up the lead or you can hang in there and see our team do some pretty amazing things, which they've done."
The Astros erupted for five runs in the third inning to give the lead back to McHugh, who didn't allow a hit in his final five innings of work. He worked seven innings and allowed four runs and six hits and struck out six batters after going 2-2 with a 5.08 ERA in May.
"I think he got a better feel for his breaking ball as the game went along," manager A.J. Hinch said. "They ambushed him and were very aggressive when they piled up a couple of hits in a row. I thought he did a better job getting into counts and using his breaking ball as the night went on."
McHugh (6-2) credited catcher Hank Conger with helping him navigate through the rocky second inning, which meant a change in approach.
Conger called McHugh's game "gutsy."
"I think the biggest thing, especially during that four-run inning in the second, there's just some days where some of his pitches don't work out," Conger said. "I came up to the mound, and we decided to bang the cutter for the most part, because it was flattening out, and from there he just adjusted and really battled. He comes up to me and he's like, 'Let's just pound the zone and go after it. If they hit it, they hit it. But let's not mess around, and [let's] go after them.' It definitely wasn't his best stuff today, but seven innings, to gut that out, was awesome."
McHugh returned to the form he showed in 2014 and in April of this season with an efficient five innings after the second inning went awry. He was still throwing in the low 90s as he cleared the 100-pitch barrier.
"Keeping his aggressiveness was a big part of that," Hinch said. "He stays pretty cool on the mound. He's pretty hard on himself in the dugout. I don't know how many he retired in a row until he walked a guy [in the fifth], and then he got the double play on the fly ball to center field, but it was [15 out of 16]. That's the only way he was going to get that deep in the game and hand the ball to [relievers Pat] Neshek and [Luke] Gregerson."
Brian McTaggart is a reporter for MLB.com and writes an MLBlog, Tag's Lines. Follow @brianmctaggart on Twitter and listen to his podcast. This story was not subject to the approval of Major League Baseball or its clubs.