Astros rebound in a big way vs. Orioles
Back-to-back HRs highlight comeback frame with Houston down by 4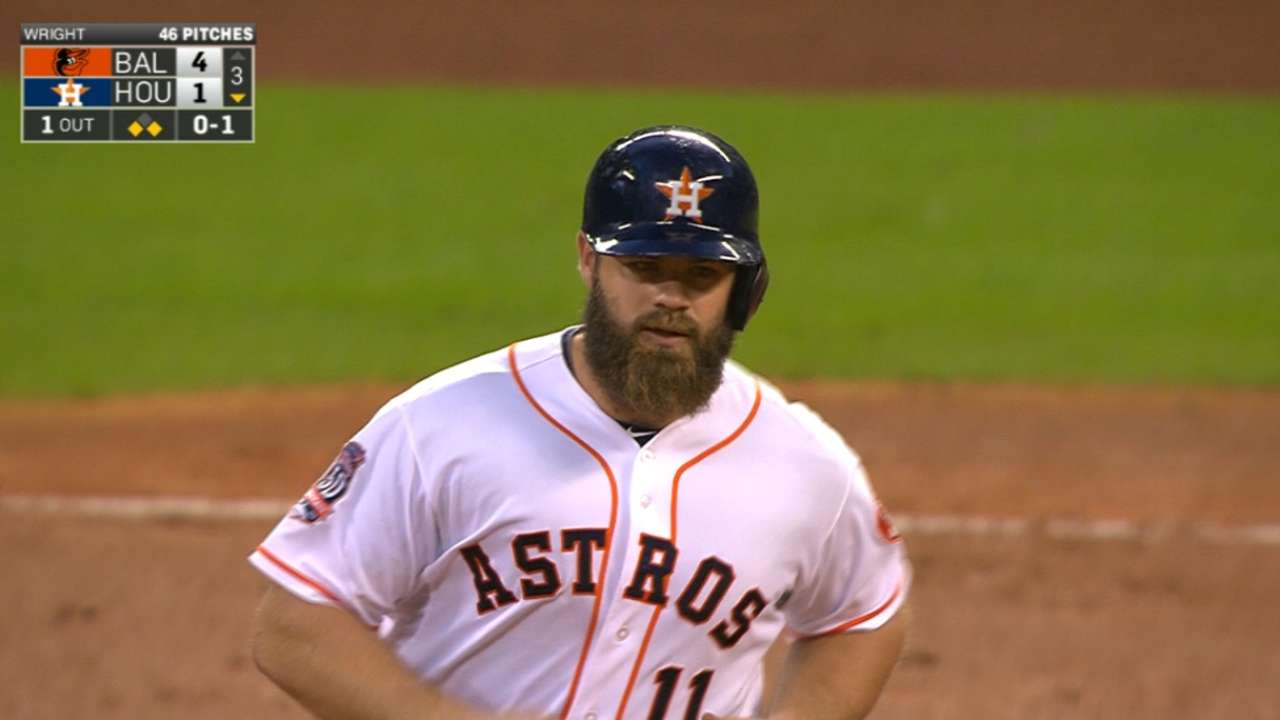 HOUSTON -- After putting up big innings, surging offenses look for shutdown outings from starting pitchers. And after rocky innings, struggling Astros pitchers seek what the team calls "rebound runs."
Houston got both on Tuesday night in its 6-4 win over Baltimore.
Starter Collin McHugh was roughed up in the second inning, surrendering five hits to a struggling Orioles offense and eventually returning to the dugout with a four-run deficit.
His offense, which has become notable for erasing deficits late in games, instead broke out immediately, with a six-hit, five-run third inning highlighted by back-to-back home runs from Evan Gattis and Luis Valbuena.
"It's rare, I think, in our game to sort of get punched in the mouth with a four spot and come back and answer an inning later," said manager A.J. Hinch. "Getting those runs early in that game, as the innings progress, four-run deficits, five-run deficits are really hard to overcome when you're running out of outs."
Gattis' shot, a no-doubter to the train tracks in left field on an 0-1 hanging offspeed pitch, sent home Jose Altuve and Preston Tucker, who had strung together consecutive singles.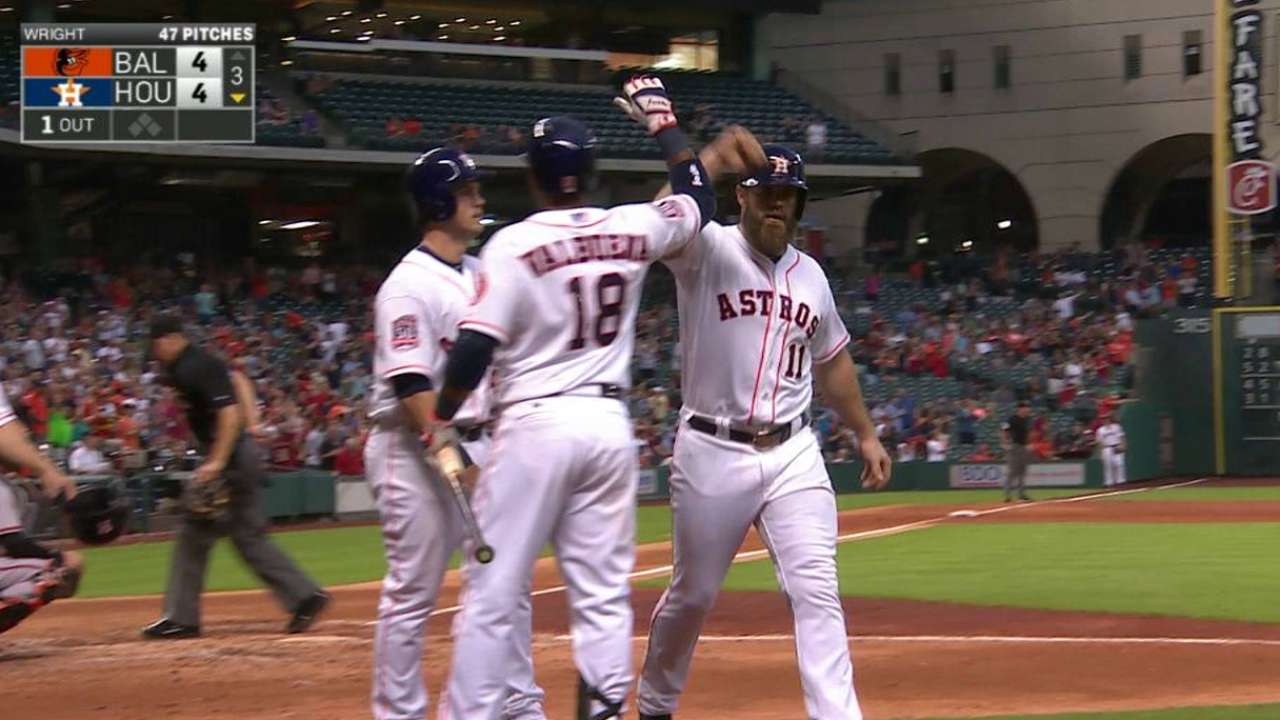 "Kind of had a feeling [Orioles starter Mike Wright would] go back soft, soft, but I thought he'd throw the same pitch again after I took the first one," Gattis said. "Just glad I could get a barrel to it."
Valbuena's homer came two pitches later on a slider, giving the Astros a lead they wouldn't relinquish.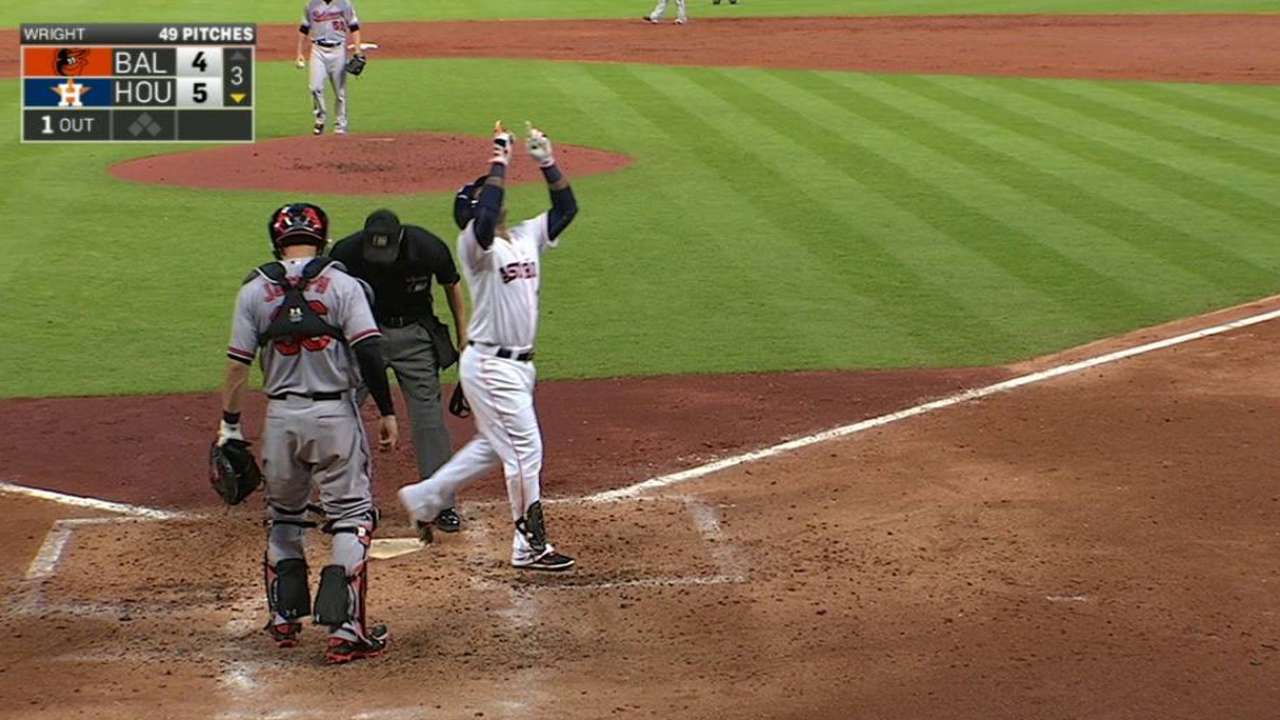 The shutdown inning came soon after, when McHugh dispatched the bottom third of the Orioles' order in the fourth, the second of five consecutive no-hit innings he'd toss after his struggles in the second.
"As a starting pitcher, it's nice, because you know even if you give up a run or two early, our guys are going to be right there," McHugh said. "I mean, it's huge. They talk about pitchers' shut-down innings where you score and go back out and shut down the other team that inning. I think [rebound runs are] just as important."
Chandler Rome is an associate reporter for MLB.com. This story was not subject to the approval of Major League Baseball or its clubs.