Reed, Walker among top performers in Minors Tuesday
A.J. Reed homers, Adam Brett Walker hits two dingers and they end night tied for Minor League lead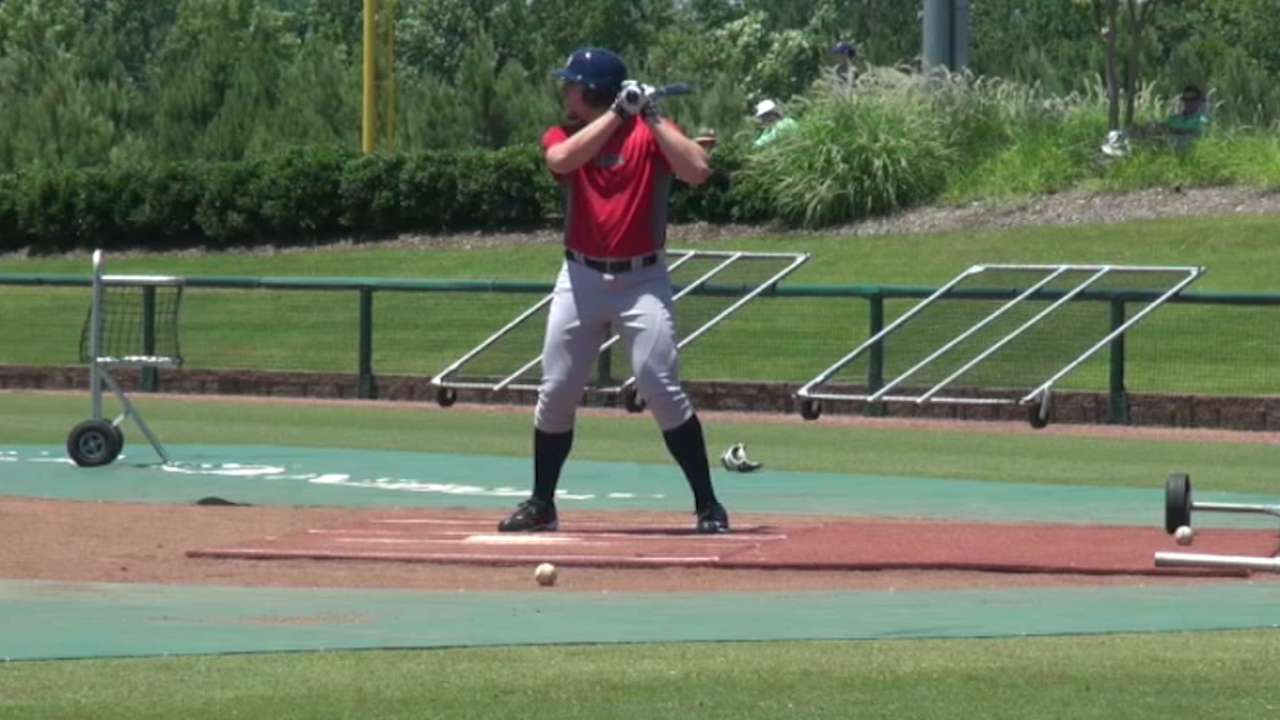 Astros No. 12 prospect A.J. Reed and Twins No. 13 prospect Adam Brett Walker put on their own version of a space race Tuesday night.
Both sluggers launched baseballs into the stratosphere to snag a piece of the Minor League home run lead. Reed smacked a three-run shot in the second inning of Class A Advanced Lancaster's 8-5 win over High Desert, while Walker swatted two homers in Double-A Chattanooga's 9-3 loss to Tennessee. Both currently stand at 14 dingers on the season, tied at the top of the Minors with Triple-A Fresno's Jon Singleton.
Reed has been on fire in his past three games, going 7-for-14 with two homers and eight RBIs. He's now third among Minor Leaguers with 46 RBIs. Walker is not far behind and has 42 RBIs of his own.
Standout performances from Top 100 prospects on Tuesday
• Mets No. 5 prospect (No. 74 overall) Michael Conforto went 2-for-5 with a double and three RBIs for Double-A Binghamton. Promoted on Saturday, the left fielder is now 3-for-10 with a double, triple and four RBIs at the Double-A level. He's also walked four times, giving him a solid .300/.500/.600 line.
• Athletics No. 2 prospect (No. 77 overall) Franklin Barreto continues to rake for Class A Advanced Stockton. The shortstop went 1-for-4 with a three-run double on Tuesday and is 5-for-13 with two homers and five RBIs over the past four games. On the year, he's hitting .260/.306/.426 with five home runs and 26 RBIs.
• Astros No. 4 prospect (No. 78 overall) Vincent Velasquez dazzled for Double-A Corpus Christi, spinning seven innings of one-hit, one-run ball. The right-hander took a no-hitter into the seventh inning before settling for his third straight win and an impressive 1.37 ERA. Velasquez currently sports a 37-to-9 K/BB ratio.
Other notable performances from around the Minor Leagues Tuesday
• Angels No. 7 prospect Nate Smith's run of losses is behind him. The Double-A Arkansas southpaw had dropped four out of five starts between April 30 and May 22 before reeling off two straight victories. On Tuesday, he allowed seven hits while striking out six in six innings of shutout work. He's back above .500 with a 5-4 record and his ERA sits at 3.43.
• Astros prospect Marc Wik hit for the cycle, capping the feat with an eighth-inning double for Class A Advanced Lancaster. While it's a rare accomplishment for any player, the fact that Wik pulled it off is incredible considering the second baseman had not hit a triple or home run in 24 games this season before notching his first in both categories against High Desert. Wik now has three doubles and 10 RBIs this year.
• Brewers No. 12 prospect Jorge Lopez tossed seven shutout innings for the second time this season. The Double-A Biloxi hurler gave up just three hits while striking out eight, nearly matching his May 10 start when he gave up one hit while striking out eight. However, Lopez couldn't get the 'W' on Tuesday and has not won since his May 10 start. On the year, he's 3-2 with a 3.38 ERA.
• Cardinals No. 10 prospect Tim Cooney and No. 13 prospect Jacob Wilson led Triple-A Memphis to a 6-0 win over Las Vegas, Cooney, the starting pitcher, tossed a complete-game shutout -- the second of his career -- while striking out four batters. He's now 5-2 with a 2.55 ERA. Wilson homered for the second straight night, launching a two-run shot. He has four dingers and 13 RBIs since getting promoted on May 18.
• Cubs No. 22 prospect Christian Villanueva homered for the second straight game. The Triple-A Iowa third baseman hit a two-run shot -- his fifth of the year -- on Tuesday, which followed a solo blast on Monday. Over the past three games, he's 7-for-14 with two homers and six RBIs.
• D-backs No. 21 prospect Mitch Haniger helped Double-A Mobile win the first game of its doubleheader against Pensacola by hitting a two-run shot, his first of the season. He's now hitting .273/.341/.391 with 16 RBIs.
• Giants No. 28 prospect Samuel Coonrod did not allow an earned run for the third straight start. The Class A Augusta right-hander gave up five hits while striking out five batters on Tuesday, giving him his second win of the year and cutting his ERA from 3.24 to 2.83.
• Marlins No. 9 prospect Brian Anderson brought home four runs Class A Advanced Jupiter on the strength of a 3-for-5 day that included a double and a triple. Tuesday's game marked the second time this year Anderson has knocked in four runs and he has four homers and 25 RBIs this year.
• Mets No. 9 prospect Dominic Smith has hit nine doubles in his past eight games for Class A Advanced St. Lucie. The first baseman went 2-for-5 with two two-baggers and an RBI Tuesday, extending his hitting streak to 15 games. Over that time, he's increased his slugging percentage from .237 to .406. Smith has 18 doubles this season, good for second in the Minor Leagues.
• Mets No. 18 prospect Casey Meisner went a career-high 8 1/3 innings for Class A Savannah, giving up eight hits and one earned run while striking out three. The big night resulted in Meisner's third straight win, and he's now 5-1 this year with a 1.88 ERA.
• Red Sox No. 22 prospect Bryce Brentz hit his sixth homer of the year, and first since May 18, for Triple-A Pawtucket. The outfielder went 1-for-3 with a two-run shot and a walk and now has 19 RBIs on the season.
• Rockies No. 6 prospect Raimel Tapia and No. 11 prospect Antonio Senzatela teamed up to power Class A Advanced Modesto to a 3-2 win over Visalia. Tapia began the game with a leadoff homer and finished the day 2-for-3. On the mound, Senzatela gave up just two hits and one unearned run in 5 2/3 innings of work, striking out nine batters in the game. The right-hander moved to 4-3 with a 2.32 ERA on the season.
• Royals No. 8 prospect Jorge Bonifacio broke up Astros No. 4 prospect Vincent Velasquez's no-hitter in the seventh inning on Tuesday. The Double-A Northwest Arkansas right fielder went 1-for-3 with a solo homer -- the only hiccup for Velasquez in his excellent day. Bonifacio now has eight homers and 28 RBIs this year.
• Yankees No. 18 prospect Tyler Austin hit a two-run homer for Triple-A Scranton/Wilkes-Barre. The blast was his fourth of the year and he now has 23 RBIs.
Alex M. Smith is a reporter for MLB.com. This story was not subject to the approval of Major League Baseball or its clubs.