Wright can't adjust in big inning vs. Astros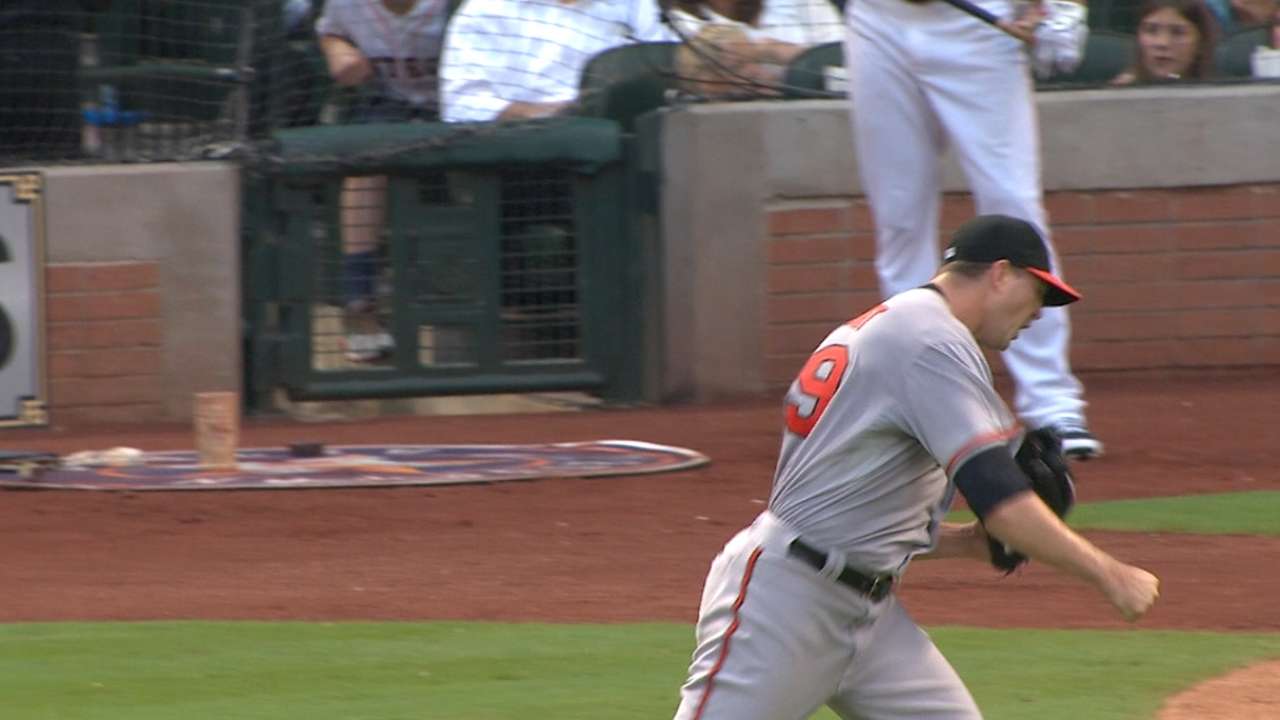 HOUSTON -- Mike Wright started the third inning on Tuesday with a four-run lead, but he couldn't hold it, allowing back-to-back homers in a decisive five-run third that paved the way for Baltimore's 6-4 loss.
"I think I need to make a little better adjustments," said Wright, who went five innings for the second consecutive start. "I knew in that inning my breaking stuff wasn't working, and I knew it was the right pitch, the scouting report proves that. And if I have my good stuff, maybe I'm not in that situation. But I've got to recover and make adjustments."
The defeat was the Orioles' fourth in a row and the latest in a frustrating stretch for a team that can't seem to get on the same page. On Tuesday the struggling offense was finally able to put together a four-run frame, only to watch the lead disappear.
The Astros hit three straight one-out singles, including one on a tailor-made double-play ball that took an unusual hop and bounced over second baseman Steve Pearce.
"That ball was an inning-ending double play, and that thing hit a divot and slingshot over my head," Pearce said of Preston Tucker's RBI single. "It was kind of bizarre, and then they took advantage of it. That's why they won tonight. We've got to take better advantage of the stuff that goes our way."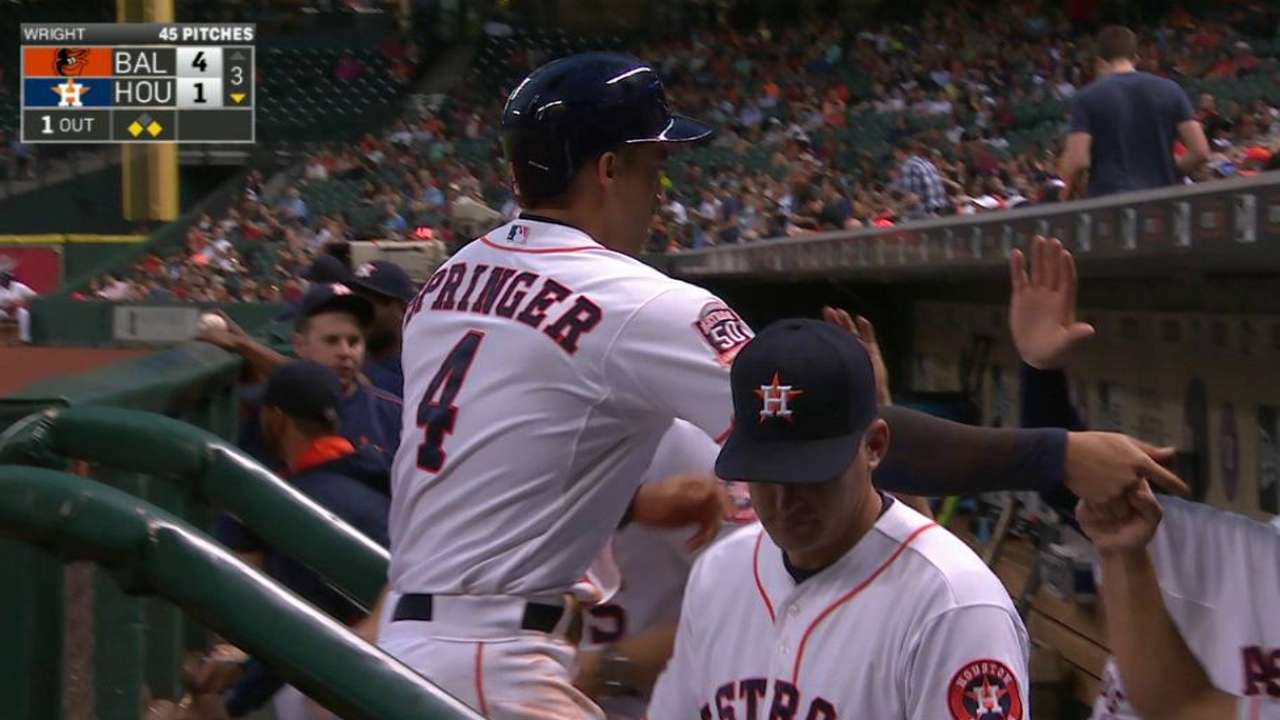 Wright allowed a three-run shot to the next batter, Evan Gattis, and Luis Valbuena followed with a solo shot.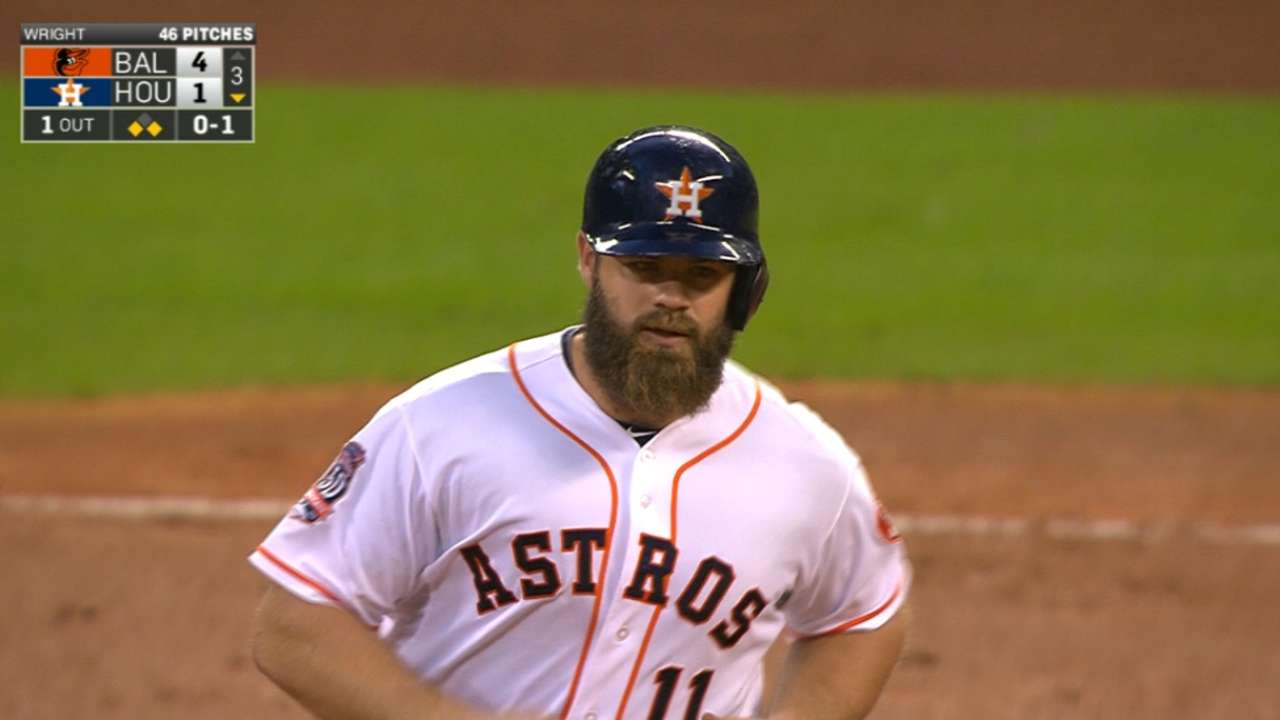 "Both of those pitches were really bad," Wright said of the homers. "I knew I wasn't supposed to throw any get-me-over breaking balls to Valbuena, and if I was going to throw a changeup to Gattis, I had to bounce it. Neither one of those things happened."
Wright, who pitched a combined 14 1/3 scoreless innings in his first two starts, has gone just five innings in each of his last two. He was charged with a season-high five earned runs on Tuesday.
"Mike made a lot of mistakes with his breaking ball tonight. I don't think they hit one ball hard off his fastball all night," manager Buck Showalter said. "That's a lesson learned. He's been very good for us. The ball is hit hard, but that's part of it. When you are not going well, those hops go against you."
Brittany Ghiroli is a reporter for MLB.com. Read her blog, Britt's Bird Watch, follow her on Facebook and Twitter @britt_ghiroli, and listen to her podcast. This story was not subject to the approval of Major League Baseball or its clubs.