Good Cravy! Counsell takes notice of rookie
ST. LOUIS -- Tyler Cravy did his part. Now his bosses must decide what's next.
Cravy allowed only one run and four hits in seven innings of Tuesday's 1-0 loss to the Cardinals at Busch Stadium, the deepest a Brewers pitcher has worked into a Major League debut since Steve Woodard outdueled Roger Clemens for eight innings on July 28, 1997. Cravy was a 7-year-old in California that day.
His outing was valuable for a Brewers team that had not gotten seven innings from a starting pitcher since Jimmy Nelson worked through the end of the eighth on May 19 -- 13 games earlier. But roster spots are also valuable during the Brewers' recent remodeling, and club officials may have planned to send Cravy back down following Tuesday's debut to use that opening for another need.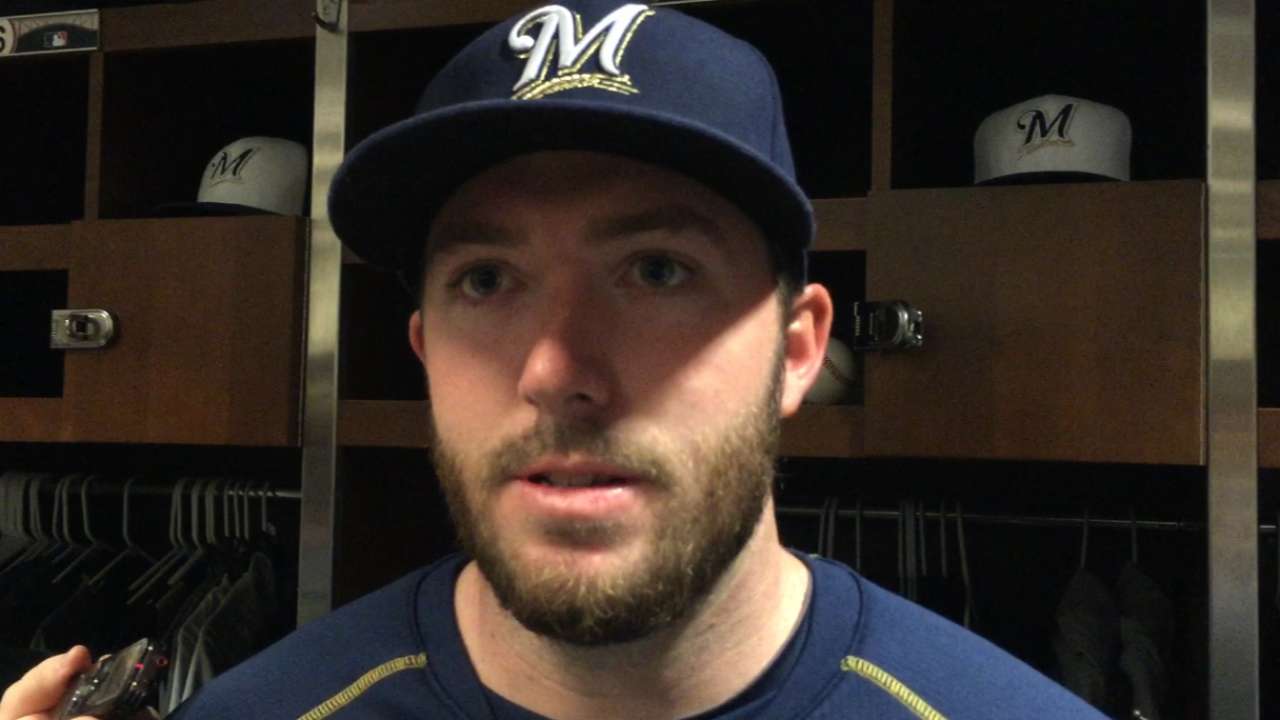 After praising Cravy's excellent effort, Brewers manager Craig Counsell could not yet commit to giving him another start.
"There's a potential for something to happen with that spot, yeah," Counsell said. "We'll have to figure that out. Someone pitches like that, you take notice, for sure."
On Wednesday morning, that something did happen. The Brewers optioned Cravy back to Triple-A and recalled outfielder Shane Peterson.
Cravy needed only 87 pitches to navigate his seven-inning debut and was removed for a pinch-hitter in the top of the eighth because the Brewers needed offense. He walked two batters in addition to allowing four hits, but struck out five and induced three double plays to keep the pitch count in check.
Throughout, Cravy pitched out of the stretch, a habit he picked up during a period of relief work in 2013. He topped out at 92 mph.
"He has a little funky delivery, has some good arm action going on," catcher Jonathan Lucroy said. "It's because he steps across his body and cross-fires. He has some arm-side run. It shoots in there pretty good."
Said Counsell: "You understand how he's been getting outs [in the Minor Leagues]. It's real."
A 17th-round Draft pick in 2009, Cravy took to a full-time spot in the starting rotations of Double-A Huntsville and Triple-A Nashville last season and finished the year with a 1.64 ERA. He was 5-4 with a 4.04 ERA this season for the Brewers' new Triple-A affiliate in Colorado Springs, but pitched to a 1.89 ERA over his final three starts there, including an eight-inning, one-run performance in his last outing before Tuesday's Major League debut.
The Cardinals' only run scored on Mark Reynolds' broken-bat hit in the second inning. Another inch or two outside, Cravy figured, and it might have been a different outcome.
"I tried to tell myself it's just the same stadium with a couple extra rows up," he said. "I tried not to put myself on that much of a big screen, I guess."
On which screen he pitches next remains to be seen.
Adam McCalvy is a reporter for MLB.com. Follow him on Twitter @AdamMcCalvy, like him on Facebook and listen to his podcast. This story was not subject to the approval of Major League Baseball or its clubs.