Carrasco satisfies Indians with solid outing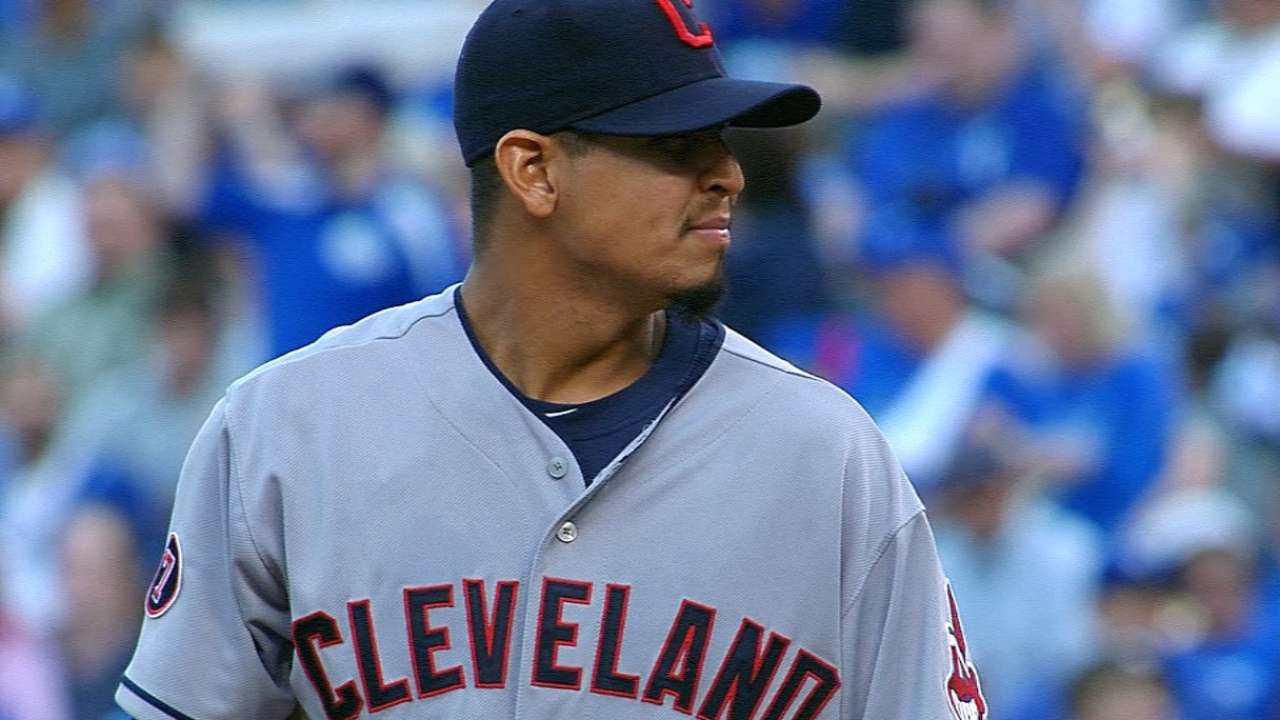 KANSAS CITY -- Prior to the eighth inning, there was some discussion in the Indians' dugout about whether to send right-hander Carlos Carrasco back out after seven sharp frames.
Carrasco said he wanted more, too.
Carrasco had struck out eight batters and given up just one run and two walks in the Indians' eventual 2-1 win over the Royals on Tuesday night at Kauffman Stadium.
But once the Tribe scored the go-ahead run in the top of the eighth, manager Terry Francona decided to give Carrasco a rest.
"When we got the lead, I just felt like -- I know it's a lot of trips to the mound -- but I felt like because he'd gotten that far, we could go ahead and match up," Francona said. "And instead of sending a guy out there that was maybe starting to get tired, we had fresh arms, and we were just going to keep zigzagging back and forth."
Carrasco's gem gave the Indians what they have needed for much of this season -- take some weight off their bullpen.
Outside of last weekend against Seattle, Cleveland starters have been relied on heavily this season to stretch deep into games and keep Francona from making trips to the mound.
Indians relievers went 0-4 with a 4.03 ERA in April, while improvements in May lifted those numbers to 4-8 with a 3.26 ERA and 12 saves prior to June.
Progress takes time, but Carrasco has played his part in letting his club have it, especially with wins in each of his past three starts.
In that stretch, Carrasco has given up no more than two runs and struck out no fewer than seven per game. He also walked just five batters across all three.
"I just work a lot between innings, and I just kind of go from there," Carrasco said. "I'm trying to do my job, and that's what it did for the last three starts. I need to continue to do that."
Carrasco lasted just as long in his previous outing in Kansas City at the beginning of May, though 10 runs from the Indians' offense in that game made for a much different night.
"I used more changeups today, a couple of strikeouts with my slider," Carrasco said. "But more importantly, I worked on using my fastball first, and they were swinging a lot, too, so you just kind of go from there."
The Royals only managed to turn one of their five hits into a run -- an RBI single from Eric Hosmer in the third inning -- when Carrasco threw a pitch farther inside than he intended.
"Because he only had two walks, he was able to pitch that deep into the game. And there were a couple of innings where he had some traffic on the bases, but he pounded the zone with his fastball, and it set up his changeup," Francona said. "But boy, I'll tell you what, man, you get that far and give up one, we'll take it."
Carrasco is now on a seven-game streak of six or more innings with six or more strikeouts and three or fewer walks -- the third longest stretch in franchise history behind Corey Kluber (9) and CC Sabathia (8).
Jordan Wilson is an associate reporter for MLB.com. This story was not subject to the approval of Major League Baseball or its clubs.