Elmore's clutch hit gives Rays room to breathe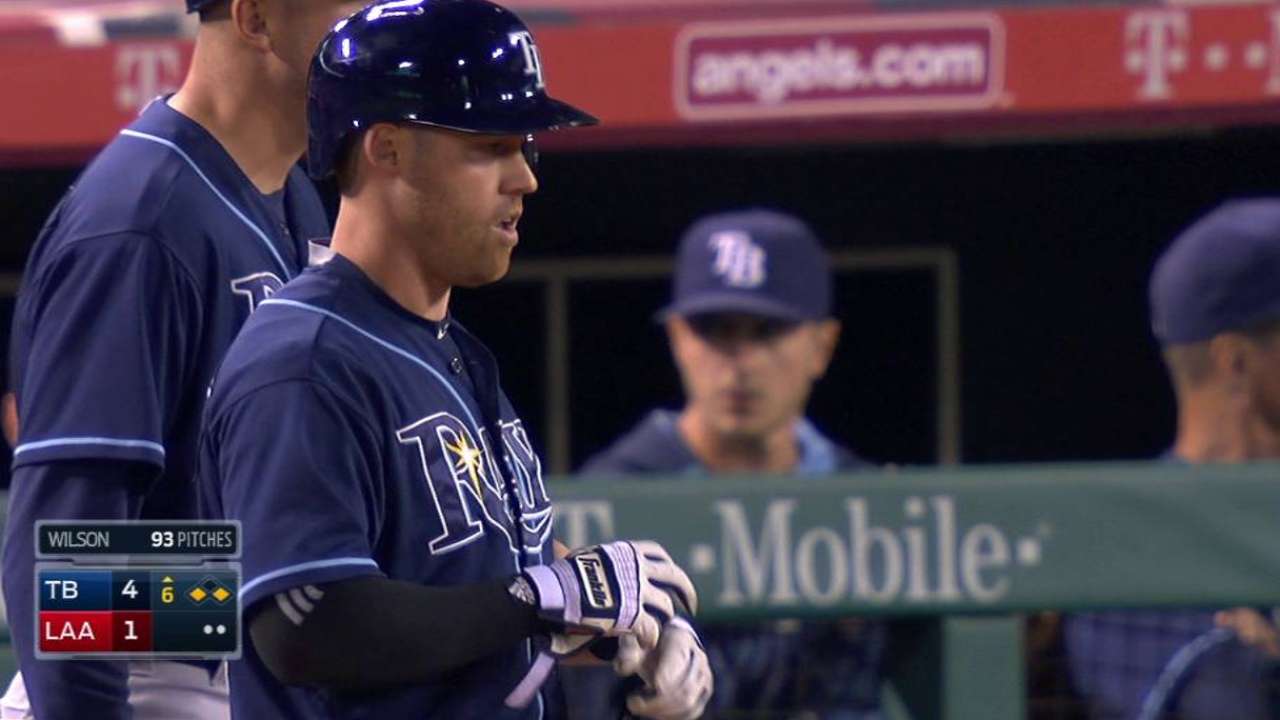 ANAHEIM -- Chris Archer was dealing Tuesday night, on his way to a franchise-high-tying 15 strikeouts in the Rays' 6-1 win over the Angels, but with two outs in the sixth inning, it was still a 2-1 game. The Rays had managed only two runs against Angels starter C.J. Wilson, on a Logan Forsythe homer in the first, and Wilson was on the verge of getting out of the inning.
But Wilson issued back-to-back walks to load the bases for Jake Elmore, who worked a 2-0 count, then took what he thought was ball three upstairs. Home-plate umpire Pat Hoberg called the pitch a strike, though, and Elmore didn't look too happy. Manager Kevin Cash didn't look too happy, either.
"At the time, we're thinking, borderline, could've changed the at-bat a little bit," Cash said. "But Jake has done a nice job of getting a lot of big hits for us while he's been around with us."
One pitch later, the Rays were plenty happy. Elmore sliced a soft line drive in front of Angels right fielder Kole Calhoun, who came within inches of making an inning-ending diving catch but couldn't quite get there. The ball short-hopped off the sprawled-out Calhoun, two runs scored, and Archer had just a little more room to breathe.
"I was talking to it. I won't tell you exactly what I said -- I said 'Get down ... ball,'" Elmore said. "I was definitely trying to coerce it to get down."
It was an important hit by the utility man Elmore, who's bounced between the Majors and Minors over his career and has played all nine positions -- including pitcher -- in the big leagues.
"You don't want to let a pitcher like C.J. Wilson set in a groove, and he did for a while, kind of shut us down, and then we had some good at-bats and we got some big hits," Cash said.
Elmore's wasn't the best-struck of those -- it was the bloop, not the blast -- but it opened up the game for Archer at a key time.
"Once we got to 4-1, I feel like it was kind of like a breath of fresh air," Elmore said. "Obviously the game's not over, but the way [Archer's] going, 97 with 92 mile-an-hour sliders, you feel pretty good about it."
David Adler is an associate reporter for MLB.com. This story was not subject to the approval of Major League Baseball or its clubs.