White Sox quick to forget painful loss to Texas
Club nearly at the end of 11-game, 4-city trip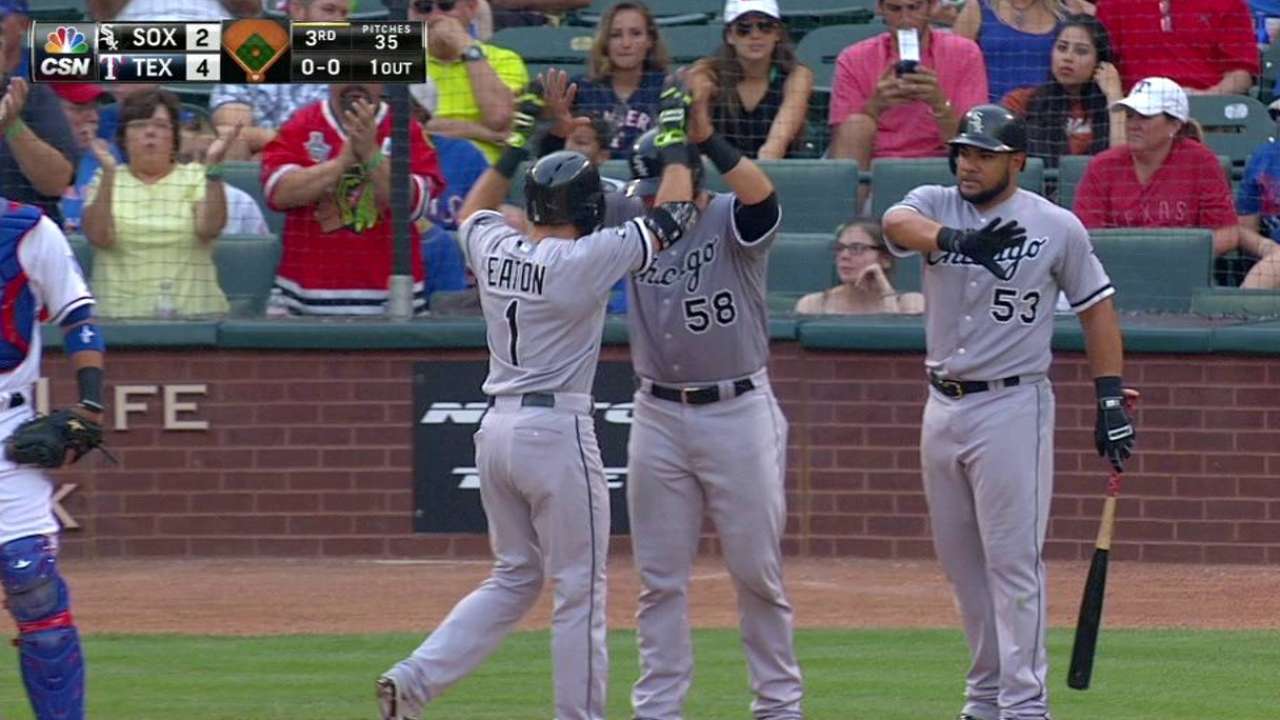 ARLINGTON -- As the media waited to get into the White Sox clubhouse following a 15-2 loss to the Rangers on Tuesday night at Globe Life Park, one of the team's announcers walked by the group, smiled and casually provided his assessment of the series opener by simply uttering, "Ouch."
This one word served as a perfect description for the Rangers' 19-hit drubbing, administered in the ninth game of this 11-game, four-city road trip for the White Sox.
It was a painful night for the White Sox in the sense that they seemed to take a step forward with a weekend series victory in Houston. It was a painful night for the White Sox following a much-needed Monday off-day after going 9-9 while playing 18 games in 17 days.
But it was a little less painful when considering that the White sox (23-27) never really were in this contest. It went from bad to worse to completely forgettable -- unless you were Texas rookie phenom Joey Gallo, who drove in four runs and homered in his Major League debut.
"We had no chance tonight," said White Sox manager Robin Ventura, comparing this setback to the relative heartbreak that comes from losing a close one or giving up a lead late in a contest. "You can put this one behind you and play tomorrow. This one, you just get [beat]."
"Today, nothing seemed to go right," said White Sox center fielder Adam Eaton, who provided the lone bright spot with a two-run homer off of Colby Lewis in the third. "Make a good pitch, they hit a homer. Make a bad pitch, they foul it off. Just didn't go our way. We'll put it behind us and go forward."
Since the team's underwhelming 8-14 start to the season, the White Sox have focused on winning series. That sort of consistency can put a team quickly back into contention.
There's just one problem: every stretch of three or four series victories in a row seems to be followed by a somewhat prolonged losing skid. As an example, the White Sox are 5-10 since winning six in a row against Milwaukee, Oakland and Cleveland. It's the look of a .500 team, at best, and a look that won't be good enough to get this revamped White Sox squad into October.
Tuesday's loss stands as a bad night overall. Jeff Samardzija was victimized by Gallo's bad-hop, two-out single over the glove of sure-fielding Adam LaRoche and four first-inning runs that contributed to his ongoing first-inning problems. The White Sox didn't hit Lewis, who is 5-0 over his last five starts against them, and their pitchers couldn't stop the Rangers.
The trick for Ventura's crew is not letting this one miserable game turn into a really bad week.
"Long winning streaks are always great, but do they happen that often? Not really," Eaton said. "I don't think six, seven, eight wins in a row happens too many times in a season. But we continue to go out there and battle and pitch it, catch it, throw it and hit it, I think we'll be all right. But we gotta do it a little more consistent."
Scott Merkin is a reporter for MLB.com. Read his blog, Merk's Works, follow him on Twitter @scottmerkin and listen to his podcast. This story was not subject to the approval of Major League Baseball or its clubs.