Cubs don't regret 'overzealous baserunning'
Russell, Maddon defend aggressiveness in ninth, when rookie was thrown out at second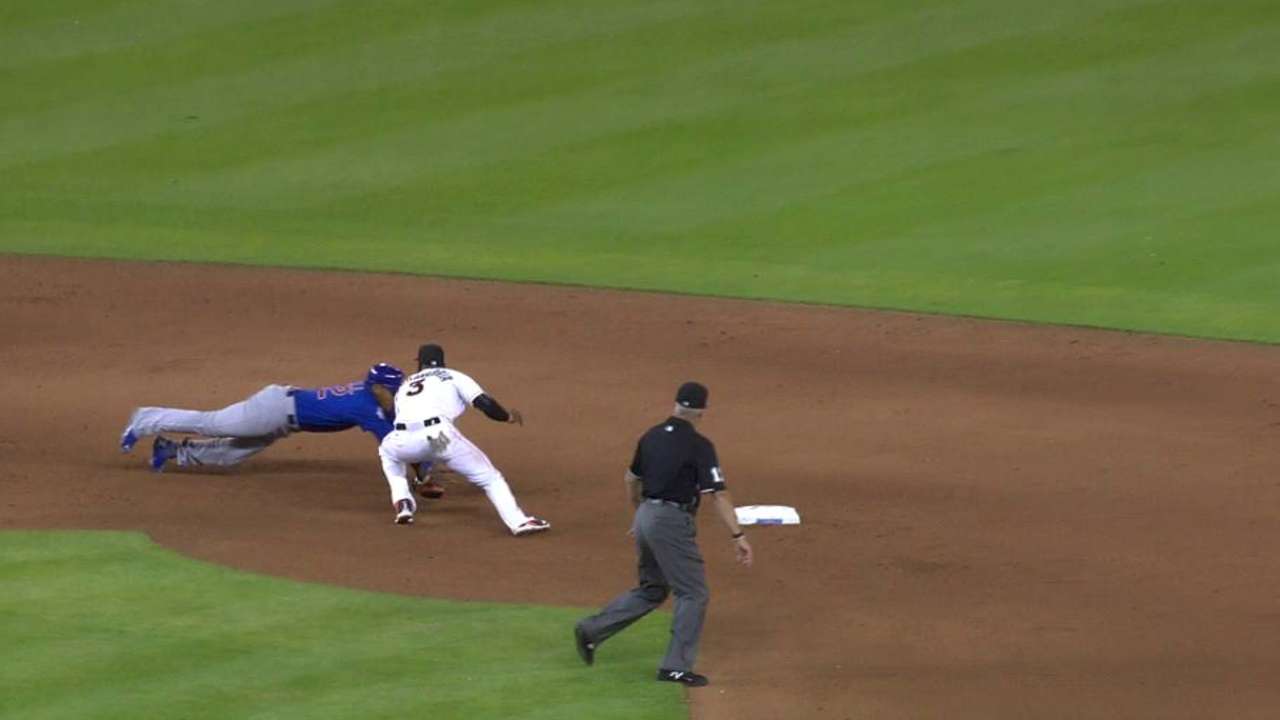 MIAMI -- Addison Russell knows his baserunning blunder in the top of the ninth inning of the Cubs' 5-2 loss on Tuesday night was a costly one.
On Chris Coghlan's one-out single to right field, Russell was thrown out at second base by Marlins right fielder Giancarlo Stanton when he rounded the bag too hard and couldn't scamper back in time. Instead of bases loaded and one out, the Cubs had two runners on and two outs. It was costly to the team's rally, but the rookie second baseman said he was just playing his game.
"I'm aggressive on the basepaths. I don't think it was stupid or a dumb play at all," Russell said. "I'm trying to get to third and put my team in a better position to win. But next time I have to keep my head up and make sure I pick up third-base coach [Gary] Jones and we'll keep the ball rolling."
Trailing by three runs, Starlin Castro singled off Marlins closer A.J. Ramos to start the ninth. Russell then walked, and after Matt Szczur struck out for the first out, Coghlan notched his single to right field. Russell's aggressiveness came back to bite him when Castro stopped at third.
"To be honest, they were up by three and I don't think they were worried about that run right there," Russell said. "I think that his whole intention was trying to throw me out at third. But I'm right there in his eye-view and he saw me off second, Castro was still at third and he made the throw to second."
Stanton supported that belief.
"I saw a huge stop and fall down," the Marlins' right fielder said. "I've done it with [shortstop Adeiny Hechavarria] before -- if he sees they're not going, he runs straight to second. That works very rarely. But it was a great time for it to work there."
Miguel Montero followed with a game-ending strikeout. Even with Russell's mistake, manager Joe Maddon liked what he saw in the ninth.
"At the end of the game, the energy was great," he said. "We had the opportunity to come back. We had overzealous baserunning at second, otherwise bases loaded with one out isn't a bad moment there. I loved the fight, man. I'll take it any day of the week."
Steve Wilaj is an associate reporter for MLB.com. This story was not subject to the approval of Major League Baseball or its clubs.