Franco's game-tying homer energizes team
Third baseman breaks out in big way to help carry Phils to walk-off win
PHILADELPHIA -- The Phillies knew a game-changing hit had to come sooner or later. They just didn't know from whom it would come.
In the midst of an 11-game slump, rookie third baseman Maikel Franco seemed as unlikely a candidate as any. The 22-year-old Dominican entered play Tuesday 5-for-42 since May 20 and started Tuesday's 5-4 win by reaching base on errors in back-to-back at-bats, dropping his batting average below .200.
It didn't stay there for long.
Franco laced a double in the sixth inning to break his seven-game streak without an extra-base hit, but he was stranded at second by a Cody Asche strikeout and an Odubel Herrera groundout. But his biggest contribution to the game came two innings later.
Franco came to the plate with two outs and a runner on second base with his team trailing by two. Reds pitcher Jumbo Diaz slung an 85-mph slider over the plate, and Franco turned on it. Showing shades of Sammy Sosa, Franco hopped a couple of times and started running the bases. There was no doubt in his mind he had tied the game up.
"When I hit it, I knew the ball was gone because I hit the ball good," Franco said. "It got a good fly, and I knew the ball was gone."
That home run energized the team. The Phillies came into Tuesday's game with one hit in their past 28 opportunities with runners in scoring position, and that one hit didn't even plate a runner. Franco's two-run job, along with Darin Ruf's pinch-hit walk-off single, broke the Phillies out of not only that funk, but a seven-game losing streak that was the team's longest of the season.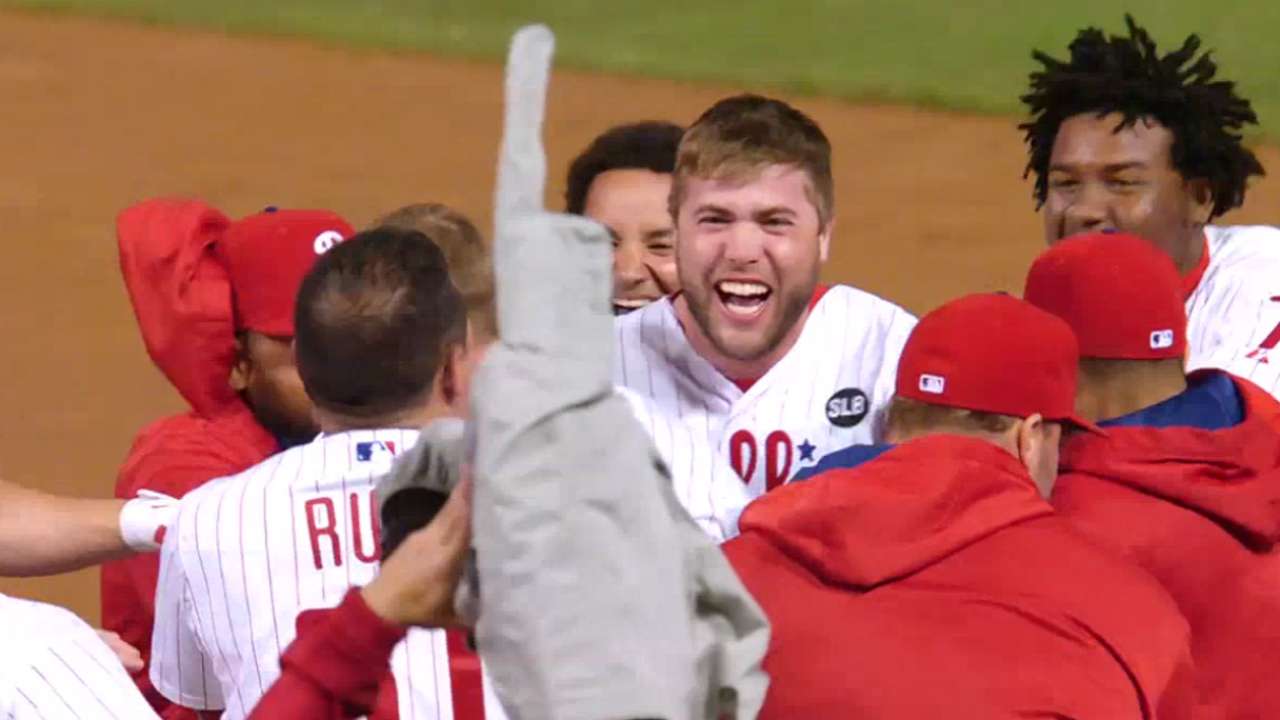 Despite the importance of his hit, Ruf acknowledged that it was Franco's home run that even made his walk-off possible, not just in terms of the score, but in terms of morale.
"We knew a big hit would come at some point for us," Ruf said. "For him to do it, it was just electric in the dugout."
Franco has now played 17 games this season since his mid-May callup. In games in which he has recorded a hit, the Phillies are 5-4. In games in which Franco has gone hitless, the Phillies are 2-6.
To manager Ryne Sandberg, Franco's night was different from his 16 other 2015 outings for one reason: It was better.
"I thought he looked as good tonight as he has since he's been here," Sandberg said. "I think it started with that double down the line. He really kept his front shoulder in there and reacted to a pitch aggressively. Once again, I think he built on that hit being able to come up and have the confidence to be able to hit the big two-run home run."
Nick Suss is an associate reporter for MLB.com. This story was not subject to the approval of Major League Baseball or its clubs.