How Jason Kipnis turned his season around
Cleveland star hit .556 against fastballs during historic May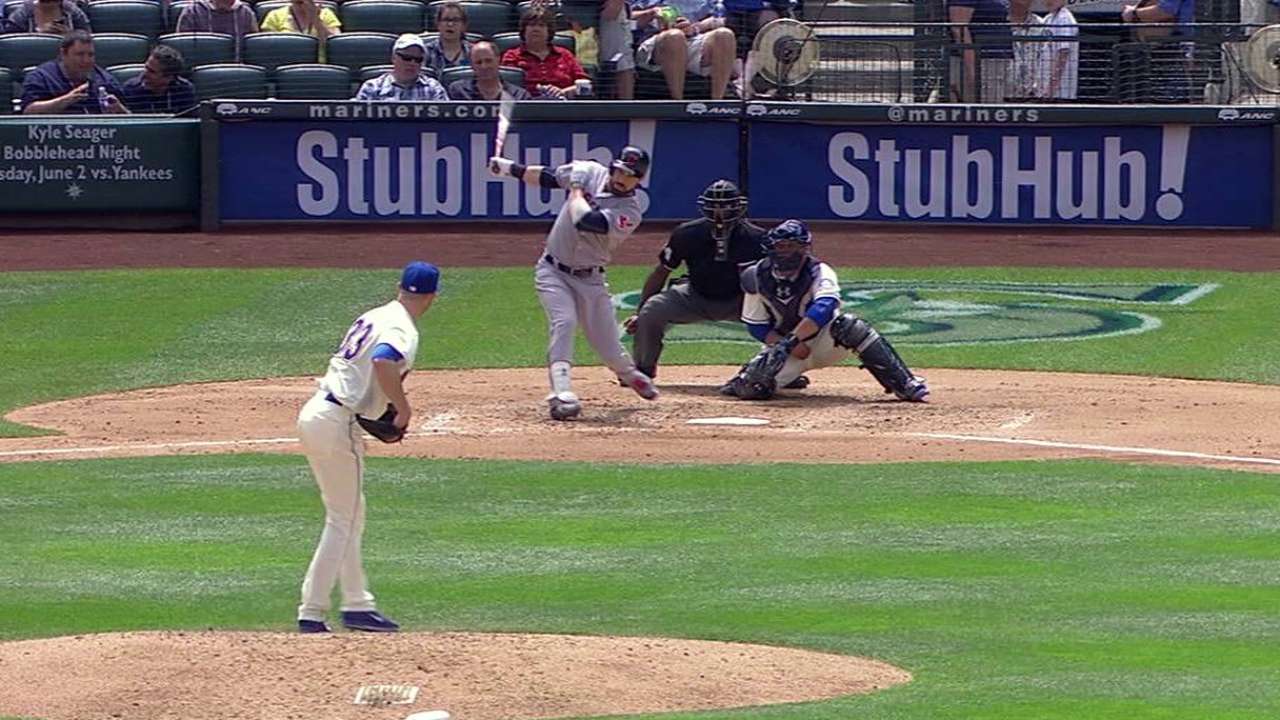 Did you give up on Jason Kipnis after the first month of the season? You'd be forgiven if you had.
Following an 0-for-5 showing on April 30 against Toronto, Kipnis' line was a disappointing .218/.263/.287. That could easily have been written off as merely a few bad weeks, if not for the fact that he'd also hit only .240/.310/.330 in 2014.
Kipnis had become one of the best second basemen in baseball in 2012-13, but ever since he signed a six-year, $52.5 million extension in April 2014, it had been a struggle.
That all seems so long ago now, doesn't it? Kipnis hit a ridiculous .429/.511/.706 in May, reaching base 74 times in 29 games. Kipnis was so good in May that he was worth 3.1 Wins Above Replacement in the month alone; he became only the third player, along with Hall of Famers Ty Cobb (1921) and Al Simmons ('25), to have 50 or more hits and 30 or more runs scored in May. It came as no surprise when Kipnis was named American League Player of the Month for May.
While there's some amount of good fortune in Kipnis' batted balls finding holes -- sorry, he's not keeping up that .475 May BABIP all season long -- clearly this is about a lot more than just favorable luck. It's about health, and a change in approach. Kipnis actually got off to a decent enough start last year before tearing his right oblique at the end of April, an injury that cost him a month of playing time. Though he returned before the end of May, he later admitted that the oblique had affected him all year, particularly in getting to offspeed or outside pitches.
On Opening Day, MLB.com's August Fagerstrom investigated Kipnis' claim about having trouble driving that outside pitch to the opposite field and found it to have merit:
Last year's Kipnis struggled all around. His production to the pull field dropped by about 20 percent [per wRC+]. His production to the middle of the field dropped by about 20 percent. But his production to the opposite field -- his biggest strength -- cratered 90 percentage points all the way down to league average, rendering it no longer a strength at all.
That's no longer a problem, since Kipnis has a 185 wRC+ (read as "85 percent above league average") when hitting to the opposite field this year, almost back to where it had been in 2011-13. Of course, since he's hitting the ball well to all fields, with nearly identical marks to center and pull fields as to his opposite field, it's no longer about which way is his strength. It's about a hitter who now has the health to reach out to the ball and hit it where it's pitched, more often than not with great success.
It's also about the confidence to do so, because it can't be glossed over that Kipnis' entire April was a struggle. In the first month of the year, he offered a swing at only 50 percent of the 58 strikes he saw on the outer third of the plate. Despite swinging at only 2 percent more strikes overall in May, Kipnis' outer-third strike swinging percentage shot up more than 11 percent, up to 61.9 percent. He may have been healthy, but he also had to work his way out of last year's forced bad habits.
Despite Kipnis' assertion that offspeed pitches were tying him up last year -- and he is indeed better against them this year, having already collected nine hits on offspeed balls in play after only seven all of last year -- it's really been his dominance against fastballs that has brought him much of his success in 2015. In May, 66.9 percent of the pitches he saw were a fastball of some type, the highest monthly total he'd seen since 2013. Kipnis punished those to the tune of a .556 average and a .917 slugging percentage. Last year, against fastballs? .291 and .399.
Pitchers will adjust back and throw Kipnis fewer fastballs. As the sheer realities of BABIP set in, his performance will dip back to some level between where he was in April and what he did in May. But Kipnis had a clear idea of what limitations his injury had caused, and he set out to overcome them. So far, so good, for a player who not that long ago was considered one of baseball's brightest young stars. After what we just saw in May, it's hard to not think of Kipnis that way again.
Mike Petriello (@mike_petriello) is an analyst for MLB.com. This story was not subject to the approval of Major League Baseball or its clubs.