Utley's average continues to climb
Second baseman's average climbs to .207 after 3-for-4 game with homer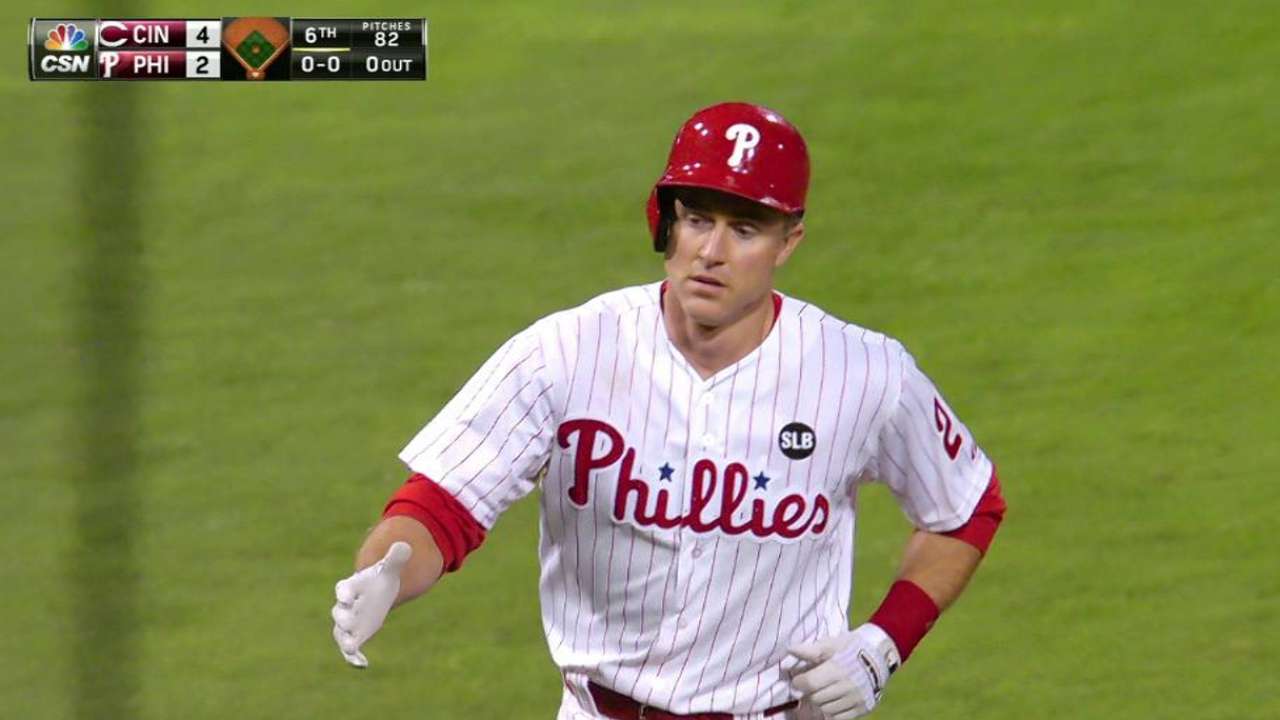 PHILADELPHIA -- Chase Utley finally has his head above the Mendoza line.
It has been a long climb since his batting average dropped to .099 on May 8, which was the lowest batting average among qualified hitters through a team's first 30 games since 1914. But Utley went 3-for-4 with a home run in Tuesday night's 5-4 victory over the Reds at Citizens Bank Park to raise his average to .207.
It was the first time his batting average had hit .200 since April 14.
"Obviously the first month didn't go as planned," Utley said. "But you can't really change that. You've got to continue to move forward. The last month or so has been a little better. You just try to build on it."
Utley has hit .347 (25-for-73) with six doubles, one triple, one home run, eight RBIs and an .908 OPS in 22 games since May 8.
Perhaps Utley's luck has finally turned in his favor.
His batting average on balls in play had been .079 through May 8, which was easily the worst BABIP in baseball. But his .393 BABIP since seems to be evening things out.
"It became a little frustrating at times," Utley said, "because you know you're putting some decent at-bats together hitting balls, maybe not perfect, but well enough where you feel like you may deserve a hit here and there. For whatever reason, they weren't really falling. You try not to change too much, but mentally it can be tough."
Utley started Tuesday's game with a bunt single down the third-base line. Cincinnati had employed the defensive shift with Reds third baseman Todd Frazier essentially playing shortstop. Phillies manager Ryne Sandberg had been begging his hitters to drop a ball down the line to beat the shift, and Utley finally did it.
"I figured I'd try it," he said. "I think over the course of a year, guys should try it. Whether it works out or not, at least it'll get the defense thinking a little bit."
Utley singled to left in the third before homering in the sixth. It was his first homer since May 1 in Miami.
"They say they all even out," Utley said. "We'll see if that happens."
Todd Zolecki is a reporter for MLB.com. Read his Phillies blog The Zo Zone, follow him on Twitter and listen to his podcast. This story was not subject to the approval of Major League Baseball or its clubs.