Kinsler's gut-reaction throw proves costly
DETROIT -- As the Tigers headed out of Anaheim on Sunday night following a four-game sweep, Ian Kinsler warned about the dangers of putting extra pressure on yourself. That didn't seem to be the case Tuesday night.
As Kinsler fielded Eric Sogard's seventh-inning ground ball, he saw something and reacted to it. But the out he thought he saw wasn't there. And as the inning unraveled, capped by Ben Zobrist's go-ahead grand slam for a 5-3 Tigers loss to the A's, the reaction to Detroit's fifth straight loss was more shock than frustration. As manager Brad Ausmus said, it was a punch to the gut.
"We just need to be free and play. That's really it," Kinsler said. "Just trust our abilities and play. And that's what I was doing on that play.
"There was no press with that play, It was just complete reaction. It just so happened that they scored five runs in that inning. We had an out at third base in that inning, we didn't come up with it. They capitalized on it. Right now, baseball has a funny way of humbling you, making it tough, so we just need to continue to play hard."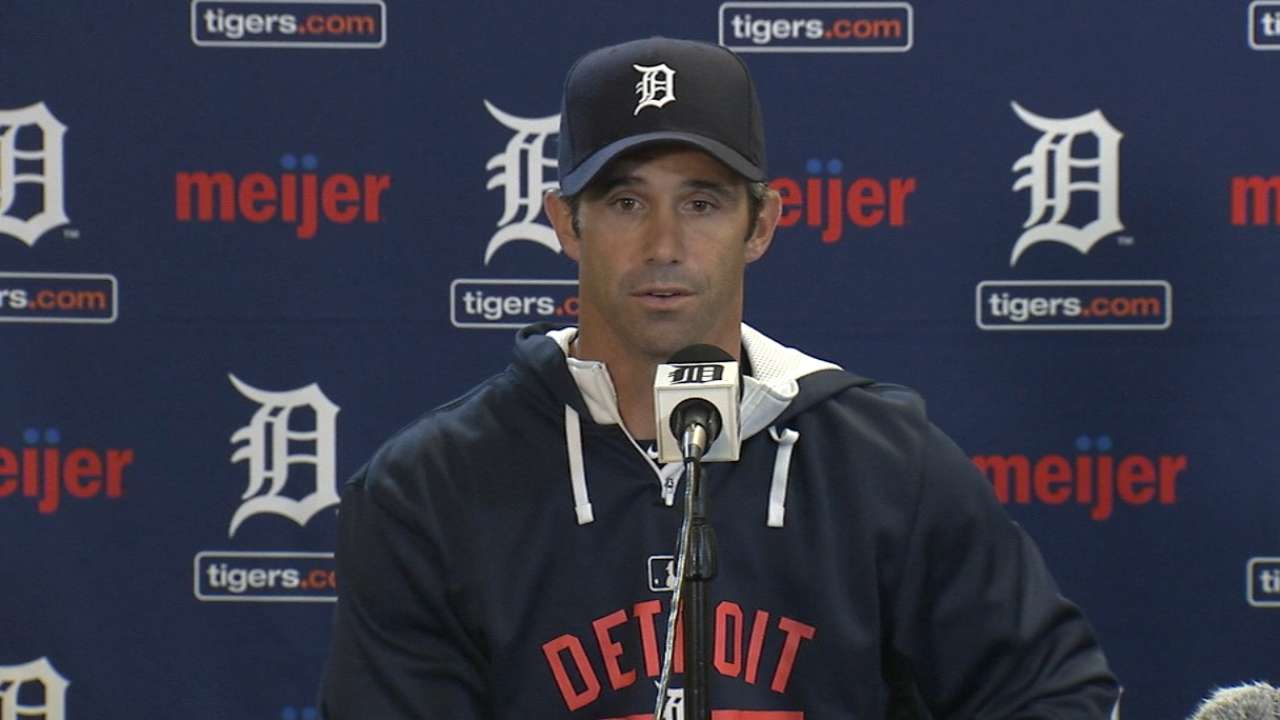 The out at third base was a tougher play on Marcus Semien's ground ball that took shortstop Jose Iglesias deep into the hole and led him to an off-balance throw as Nick Castellanos tried to scoop the ball out of the dirt and remain close enough to the bag to tag Brett Lawrie advancing from second.
"You've got to worry about [Lawrie] coming in, and you've either got to pick it or wait for it to come to you," Castellanos said. "You don't really know exactly, so I just decided to try to get it and go. Lawrie's notorious for coming into bags pretty hard, so I didn't think I was going to have time to go get it and come back and tag, so I decided to just wait there and try to get it, and put a tag on quick."
Kinsler's play was in the open field, with Lawrie again involved.
"It was just a complete reaction play," Kinsler said. "I had to pick up a tough hop and turn toward the outfield. And my first look was at second base, to see if I could get an out there, and I couldn't. And as I was continuing to move, to throw the ball to first, I saw [Lawrie] take three hard steps, and I just reacted to the play."
Lawrie wasn't far enough off the bag to force a rundown. He had gotten back to third rather easily around the time Kinsler's throw reached catcher James McCann.
"I think if he could do it over again, he probably would just take the out," Ausmus said. "But it was an instinctual reaction."
Jason Beck is a reporter for MLB.com. Read Beck's Blog, follow him on Twitter @beckjason and listen to his podcast. This story was not subject to the approval of Major League Baseball or its clubs.