Graveman impresses A's with mettle on hill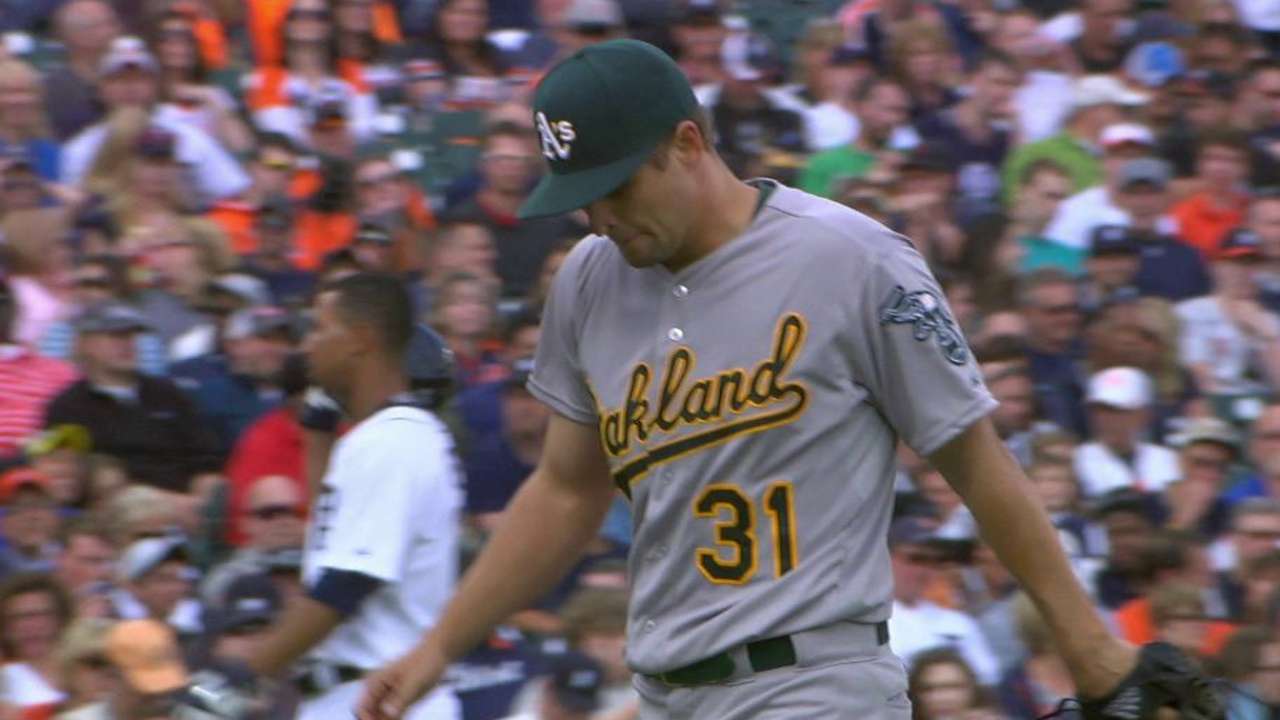 DETROIT -- Kendall Graveman's third career win didn't come easy. Three times, his manager was ready to take him out of the game. Three times, Graveman gave him a reason not to.
And so the maturing process continues for the right-hander, who bounced back from a three-run fourth inning to give the A's two more scoreless frames in a 5-3 series-opening victory in Detroit on Tuesday.
"This was a little bit of a struggle for him," said manager Bob Melvin. "I was one batter away from taking him out several different times, so to be able to persevere and get through six innings with three runs, we'll take that. He's shown some grit in games like this."
Graveman was one pitch away from escaping a bases-loaded jam in the fourth when he sent a 1-2 sinker past catcher Stephen Vogt for a wild pitch, scoring a run. One pitch later, Nick Castellanos notched a two-run single, giving Detroit a 3-0 lead. Another base hit followed, but Graveman proceeded to induce an inning-ending groundout from Anthony Gose to limit the damage.
"I think he's definitely gaining more confidence when he gets into trouble," said Vogt. "He could've very easily regressed back to old habits, or old memories, and he didn't. He got himself out of that inning and limited the damage from then on out and really settled down and did a nice job getting us to the seventh."
Graveman worked around a baserunner in the fifth and two more in the sixth, finishing the night at 99 pitches ahead of his teammates' five-run seventh inning.
"You want to see that kind of maturity from a young pitcher," said Melvin. "Probably early in the season, he wasn't able to do that. Now he's feeling good about himself to be able to get big outs when he has to to stay in the game."
"I got a little quick out of the stretch in the fourth and didn't make as many pitches as I needed to in order to get out of that inning, but keeping this team close, understanding what we can do offensively, and to stay within striking distance, that was big," said Graveman. "I feel like I'm really close to being able to go deeper in the ballgame. That's one thing I've been trying to focus on."
Jane Lee is a reporter for MLB.com. This story was not subject to the approval of Major League Baseball or its clubs.