Former All-Star closer Bell talks life after baseball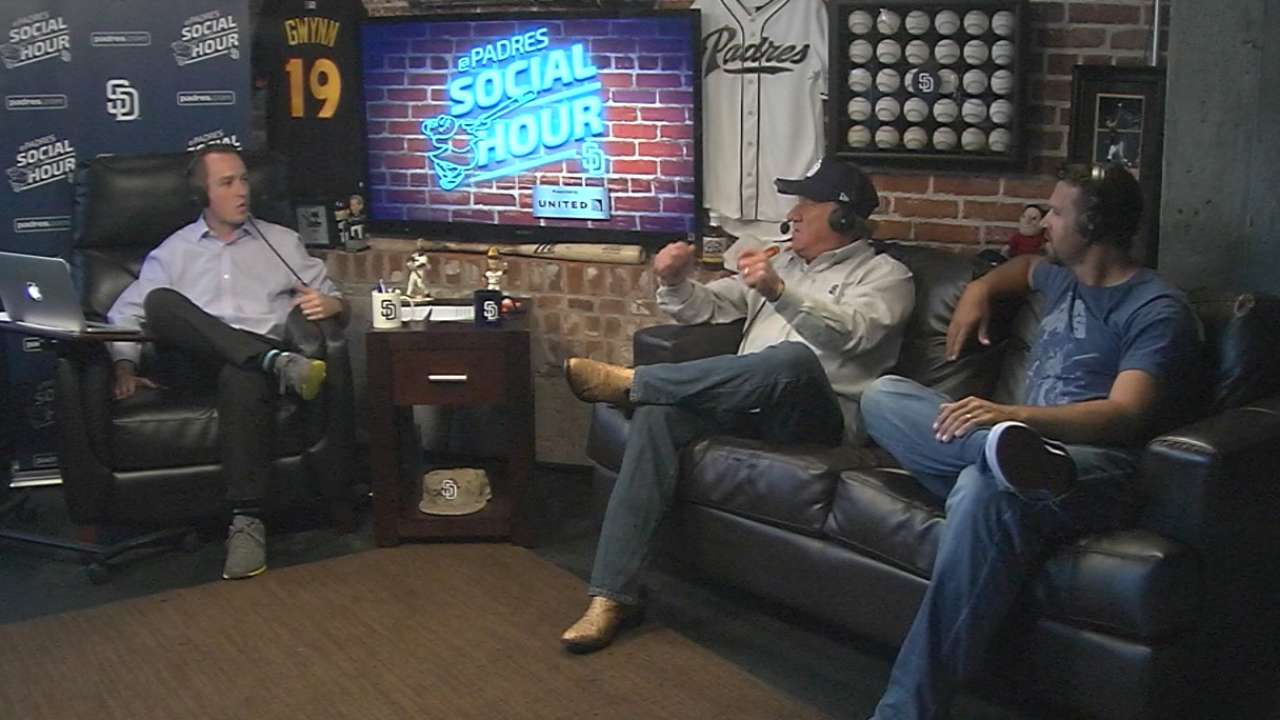 Padres Social Hour had a special guest stop by on Monday as former Padres closer Heath Bell dropped in to talk about life after the game, what it's like to officially be a "Padres fan" again and the wonderful opportunities that have arisen in retirement. Bell, who most recently pitched in the Majors in 2014 with the Tampa Bay Rays, was happy to discuss what has been going on in his life since he announced his retirement before the start of the 2015 season.
"How is Heath Bell's world? Well, Heath Bell's world is more like my kid's world," said Bell.
Bell has been focusing on adjusting into a life away from the game and focusing more on time with his kids. Although he no longer finds himself working as a professional on the field anymore, Bell still finds his way to the diamond every so often as a coach for his son's T-Ball team.
"I don't think the game goes as fast for him," quipped Bell with a smile on his face. "He's often just kicking dirt around and letting the ball go by, so I'm helping coach from time to time."
Although Bell ultimately retired before the start of the 2015 season, he had signed a Minor League deal with the Washington Nationals where he found himself fighting for a spot on a big league roster. But with the state of the team's health and a relaxing family life looming in his mind, Heath had to make an important decision.
"This last offseason I signed with Washington and I was doing really well with the team and I was pitching well, and it looked like I had a really good shot at getting up with the team ... but we just kept having guys get hurt ... so I told [manager] Matt Williams, 'Hey, if I'm not going to make a roster spot, then let me go,'" Bell said.
Bell's decision ultimately came down to what his kids had to say, and it's safe to say that he has never looked back.
To hear more about Heath Bell's experiences after the Majors and his transition into being a full-time dad, be sure to watch the video above to check out his interview with Randy Jones and Jesse Agler. And for more interviews, highlights and Padres content just like this, be sure to check out padres.com/socialhour.