Wright optimistic, but his return is uncertain
Diagnosis of spinal stenosis has clouded the third baseman's future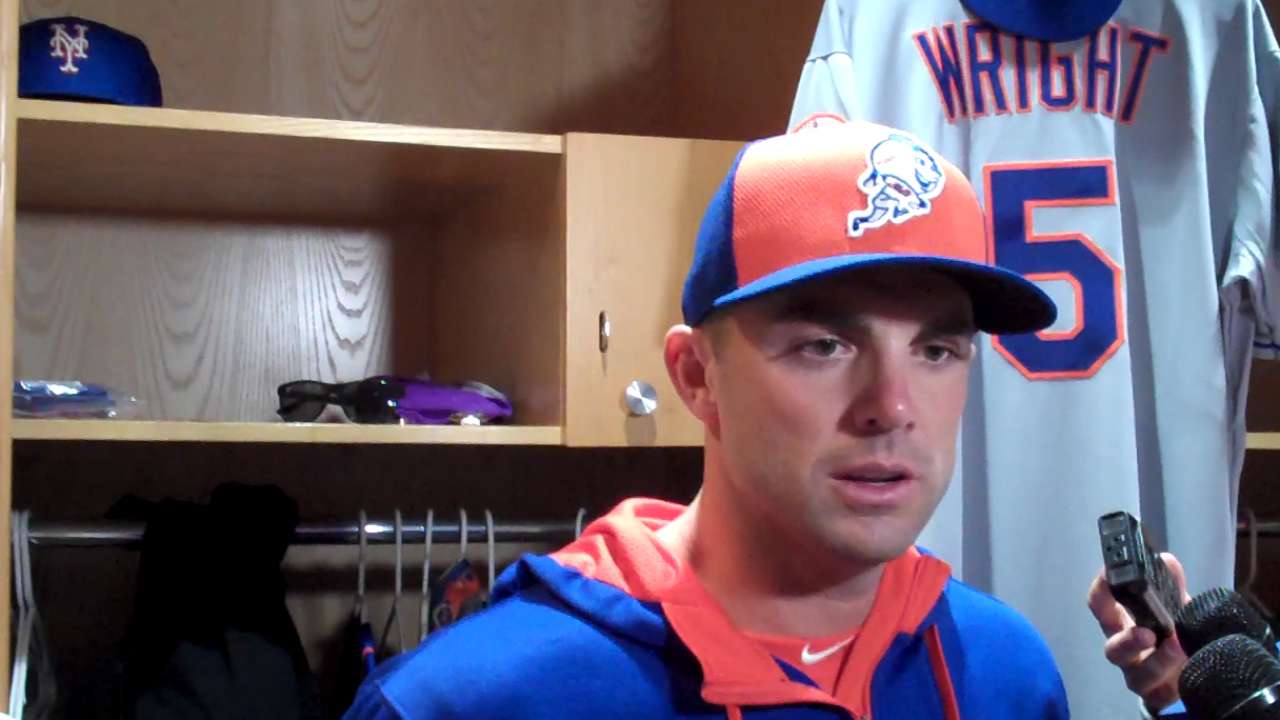 SAN DIEGO -- When Mets third baseman David Wright received his diagnosis last month of spinal stenosis, a narrowing of the spinal column, the first thing doctors told him was not to Google it. The first thing Wright did was Google it. The second thing he did was ask when he would be able to play again.
"Well, it's not that easy," Wright said Tuesday during an emotional 23-minute interview at Petco Park, his first since receiving the diagnosis.
Visiting with teammates, at times joking but often serious, Wright offered no concrete updates on his status. Instead, he painted a picture of continued uncertainty.
Wright has spent his recent days two hours north of Petco near Los Angeles, where back expert Dr. Robert Watkins has devised weekly plans for his treatment and physical therapy every Monday. Though Wright is confident he will play again this season, stressing multiple times that it should be "sooner rather than later," he offered nothing regarding a concrete timetable. All Wright knows is that he will take his time, seeking to avoid a life-altering type of back surgery that doctors have told him he is too young to undergo.
"It's easy to speculate," Wright said. "But from the moment that I was diagnosed with this, the information-gathering stage, there's never been a question in mind that not only am I going to come back, but I'm going to come back sooner rather than later."
It has been nearly two months since Wright pulled up on April 14 with what appeared at first to be a relatively benign hamstring strain. During his rehabilitation from that injury, Wright began experiencing lower-back pain, which prompted another round of examinations and, ultimately, his stenosis diagnosis. The Mets' longest-tenured and most important player, Wright still has five seasons and $87 million guaranteed on his contract after this year, making his speedy return even more important to the Mets. (The team does own partial insurance on Wright's contract, general manager Sandy Alderson indicated.)
Yet until Dr. Watkins gives Wright permission to ramp up his activities, he will remain relatively idle. He also hopes to remain relatively upbeat.
"You've got two options," Wright said. "Either you allow this to get to you and you just kind of check out and moan and groan, or you keep your head up and you push, and every day in the rehab you challenge yourself to do the best you can, and understand how good it's going to feel when you get back and get a chance to put the uniform on for real and go out there and play."
Tuesday, that took the form of visiting with teammates, loitering in the trainer's room and watching batting practice from behind the cage. If not for the tremors in Wright's voice and the redness in his eyes during his 23-minute interview, it would have been easy to believe that nothing was wrong.
"He's got one of those personalities that just gets you," manager Terry Collins said. "He walks in with a big smile on his face like there's nothing wrong. And then you have a conversation with him and you can hear and feel the frustration."
Alderson took a more realistic view than Wright, saying that the Mets are "not on the edge of our seats waiting for David to come back at this point," and discussing possible alternatives should his absence linger. For now, the Mets will remain in-house, starting Ruben Tejada at third base every day. Alderson is reticent to move Daniel Murphy or Wilmer Flores off their Opening Day positions of second base and shortstop, respectively, if there is a chance Wright can return soon.
Until someone directly tells him otherwise, Wright is also clinging onto that hope.
"This is probably overused, but you don't understand how much you miss something until you're away from it for so long," Wright said. "This definitely got me motivated to get back, get in uniform and go back out there and take the field."
Anthony DiComo is a reporter for MLB.com. Follow him on Twitter @AnthonyDiComo and Facebook, and listen to his podcast. This story was not subject to the approval of Major League Baseball or its clubs.