De La Rosa grinds through pain to top LA
Cut on left middle finger acts up, but lefty handles adversity on hill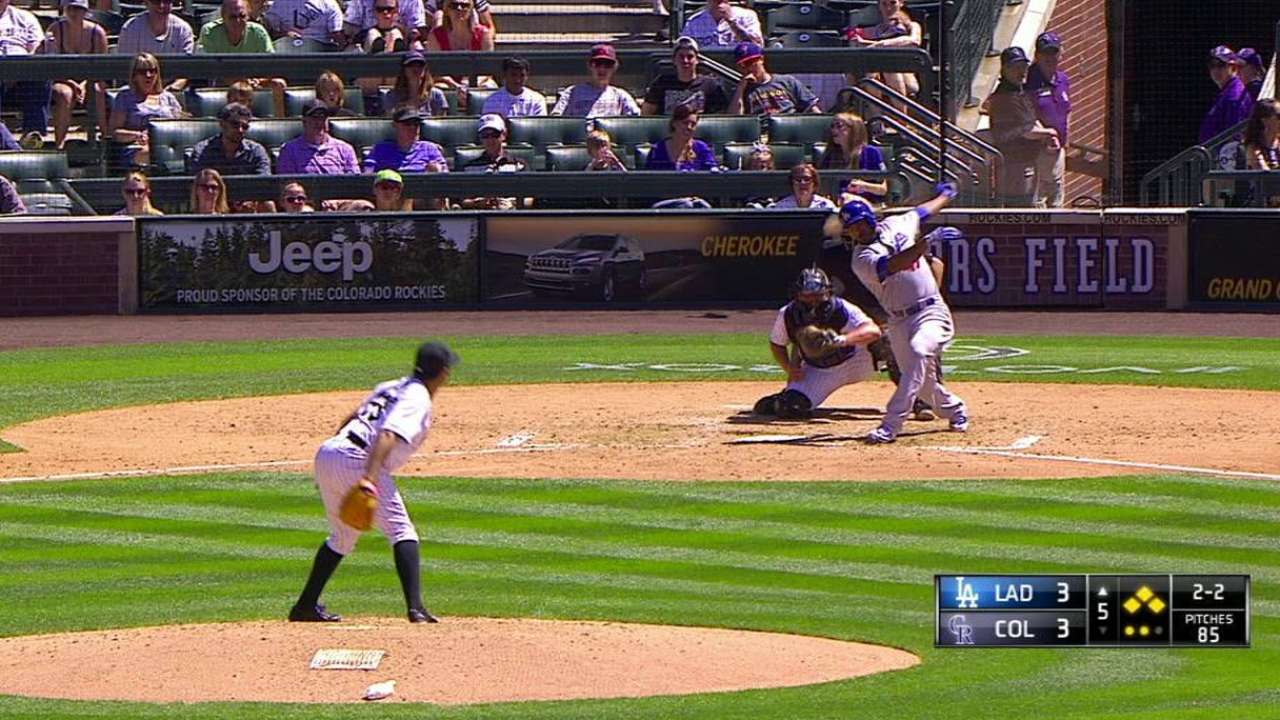 DENVER -- Jorge De La Rosa wouldn't let it slow him down a third time.
A cut on his left middle finger scratched the Rockies left-hander from two starts last week, but De La Rosa finally returned to the mound in Game 1 of Tuesday's doubleheader. He sifted through a treacherous fifth inning with limited damage and ultimately pitched six quality frames, propelling Colorado to a 6-3 win over the Dodgers at Coors Field.
"I think the first three or four innings, [De La Rosa's finger] was a non-issue," Rockies catcher Michael McKenry said. "I think in the fifth, he started to feel it. I don't think it affected him completely, but it was there. He came back in and did a little work on it, and he had a great sixth.
"He gave us an opportunity to win and pitched a great ballgame -- quality start. That was huge for us and huge for him."
De La Rosa yielded three runs and four hits, walked four and struck out six. He essentially cruised through the first four frames -- aside form Joc Pederson's mammoth third-inning homer. In that span, De La Rosa racked up five of his six strikeouts and needed just five pitches to get through the fourth.
But trouble started bubbling with two outs in the fifth as De La Rosa's command soon disappeared. Three walks and a single immediately followed, and the Dodgers looked for the knockout punch with the bases loaded.
They couldn't deliver it, though, as De La Rosa buckled down and struck out cleanup hitter Howie Kendrick on his 42nd pitch of the inning.
"We were throttling [Kendrick] in and out, and [De La Rosa] threw an absolutely nasty changeup/split [for the strikeout]," McKenry said. "Got us out of that jam, which was huge. Right there, the ballgame could've gotten out of hand really fast, and that's what your big boy ace does all the time. It was huge."
The sixth went much smoother -- three batters, three groundouts, 12 pitches. Even with the cut, De La Rosa said he didn't have much trouble implementing his full arsenal of pitches -- the only real problem being fastball command.
Everything else was just keeping it simple.
"I tried to stay calm and just throw the ball to McKenry," De La Rosa said. "That's the thing that works."
Dargan Southard is an associate reporter for MLB.com. This story was not subject to the approval of Major League Baseball or its clubs.