Draft profile: Kolby Allard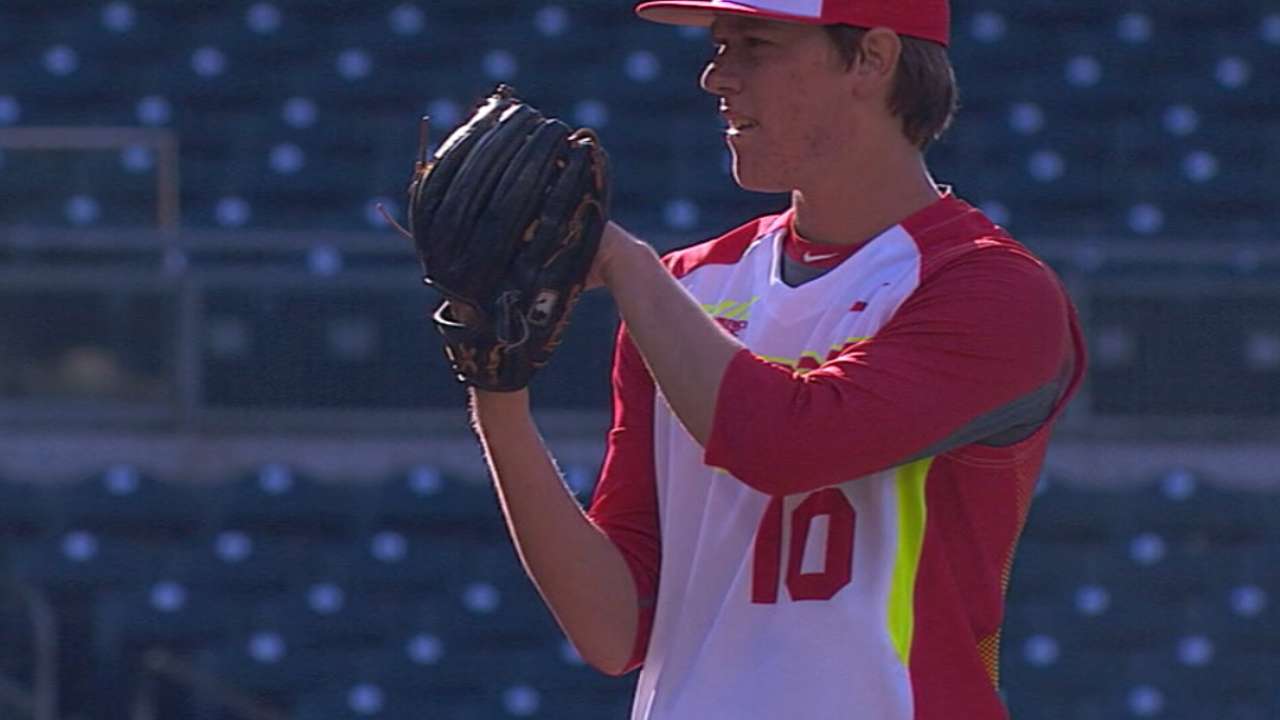 *** With the 2015 First-Year Player Draft fast approaching, we take a closer look at the top prospects in this year's class. ***
Name: Kolby Allard
Position: LHP
School: San Clemente HS (Calif.)
Rank on Draft Top 200: 16
DOB: 8/13/1997
Bats: L Throws: L
Height: 6'0" Weight: 170 lbs.
College commitment: UCLA
Tools
Future grades on 20-80 scouting scale
30: Well below average
40: Below average
50: Average
60: Above average
Fastball: 60
Slider: 60
Changeup: 50
Control: 60
Overall: 55
Stats
Games: 5
Games started: 2
ERA: 0.00
WINS: 2
IP: 7
K's: 9
Hits allowed: 5
Runs allowed: 2
Earned runs allowed: 0
BB: 6
Average against: .143
OBA: .179
Scouting report
While Allard may not be big in stature, he had a huge summer on the high school showcase circuit. The 6-foot, 170-pounder won MVP honors at the Perfect Game All-American Classic in San Diego by needing just 12 pitches to strike out the side in the second inning. A month later, he pitched Team USA to a gold medal at the 18-and-under Pan American Championships in Mexico, fanning 17 of the 29 hitters he faced. Injury prevented Allard from being able to repeat those performances in the spring leading up to the Draft. He suffered a stress reaction in his back in late March, which was expected to sideline him for about two months. A UCLA recruit, he has two plus pitches in his 92-94 mph fastball that tops out at 96 and a tight curveball. Allard's third pitch is a changeup that needs more work. He has an easy delivery that enhances his ability to command his pitches and his chances to remain a starter despite his smaller build.
MLB comp: A young Mark Langston
Fun fact: Allard struck out the side and was named the most valuable player of the Perfect game All-star game at Petco Park in 2014 won a gold medal with the USA 18U national team in Mexico.
He said it: "I watched [Kershaw and Bumgarner] on TV all the time and take what they're doing and try to model myself after them a little bit, take some of their strengths and make them my strengths. Kershaw goes right after hitters. He's not scared of anyone. Bumgarner is a bulldog on the mound. Nothing's going to get in his head. He just wants the ball in big situations. I'm kind of the same way. I'd love to pitch in Game 7 of the World Series some day. That would be my dream come true."
--Allard told the LA Times in February
They said it: "When you see it, it kind of opens your eyes. The way the ball comes effortlessly out of his hand, his mechanics are smooth and it just seems natural."
--San Clemente High School baseball coach Dave Gellatly
Jamal Collier is a reporter for MLB.com. This story was not subject to the approval of Major League Baseball or its clubs.