MLB.com Columnist
Fred Zinkie
Fantasy Q&A: Zinkie tackles Twitter questions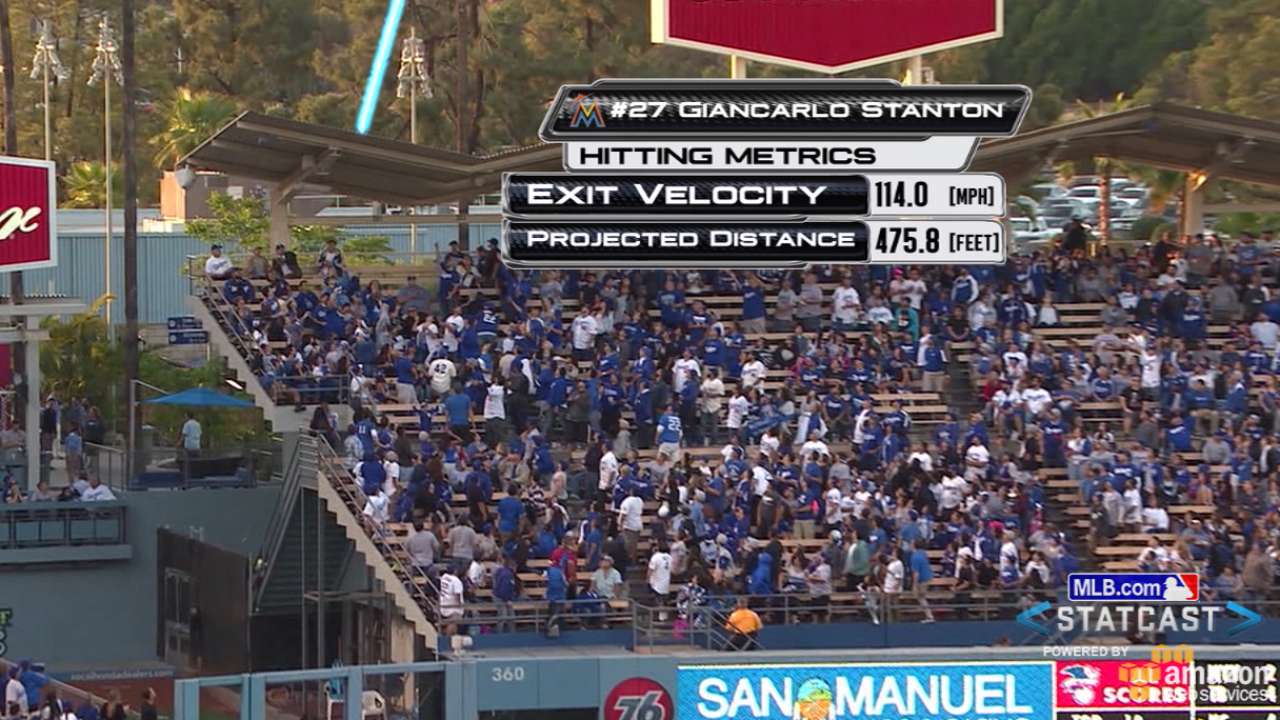 MLB.com fantasy guru Fred Zinkie fielded questions from fans during a live Twitter chat at @Fantasy411 on Tuesday. Check out the chat transcript below and check out the @Fantasy411 Twitter handle and MLB.com's fantasy home. Questions and answers have been edited for clarity.
Question: @JRRispoli3166 I have been offered Yoenis Cespedes and Lance Lynn for Giancarlo Stanton. I don't know if the upside on either is worth the swap.
Fred Zinkie: You should want more for a top-five hitter such as Stanton.
Question: @xman94mcd Yasmany Tomas or Billy Burns? Please rank, based on better overall five-stat numbers for the rest of the season.
Zinkie: Tomas will have more balanced production, but Burns will have more fantasy value because of his elite speed.
Question: @Larry2626 Trade Bryce Harper for Joey Bautista and Cole Hamels?
Zinkie: If you need an ace, it is a decent deal. But my inclination is to demand a little more for Harper.
Question: @rdb313 Joey Gallo over Michael Cuddyer?
Zinkie: Yes. Gallo could flop, but his upside is terrific. And Cuddyer is replaceable.
Question: @JMatthewsStl What is your opinion on Sonny Gray for Jose Abreu?
Zinkie: Gray is very valuable, but not valuable enough to get an elite hitter such as Abreu.
Question: @dyaeger13 Any rumors on the next prospect to jump to the Majors?
Zinkie: Now that Gallo has received the call, Francisco Lindor and Jose Peraza could be the next impact additions.
Question: @Birdman315 Who should I add as a DL player: Matt Cain, Doug Fister or Hisashi Iwakuma
Zinkie: Iwakuma. He could be back by the end of the month, and he was excellent in 2014.
Question: @jdougherty80 Pick one for rest of season -- Greg Holland, Joakim Soria or Kenley Jansen.
Zinkie: Jansen. He is excellent and the Dodgers will get him chances. Minor concerns over Holland. Soria is a tier below.
Question: @Craigers88 Johnny Cueto and Jose Fernandez for Brian Dozier, Starling Marte and Adrian Beltre -- which side wins?
Zinkie: Dozier side by a wide margin. It is much easier to find replacement pitchers on waivers.
Question: @rockstardann 10-team head-to-head points league. Should I give Dallas Keuchel and A.J. Burnett for Andrew McCutchen?
Zinkie: Yes. McCutchen is back on track, and is an elite hitter even without racking up steals.
Question: @ZPaugh86 Brandon Crawford, Alexei Ramirez, and Marcus Semien -- please order them in a Head-to-Head league?
Zinkie: Semien, Crawford, Ramirez. I believe more in Semien's emergence than Crawford's.
Question: @ericlubanski What do u think of Dee Gordon and David Robertson for Adam Jones and Carlos Correa?
Zinkie: If you could use steals and saves, I prefer the Gordon side. Correa is enticing, but may not arrive soon.
Question: @andrewkdewhirst I have Matt Wieters coming off the disabled list this week and I have Derek Norris. Which player should I keep?
Zinkie: If possible, leave Wieters on your disabled list for a week or two, and make him prove that he is back to full health.
Question: @kyle7may Does Noah Syndergaard's value decrease now that the Mets are going to a six-man rotation?
Zinkie: Not to a large degree. These things have a way of working themselves out. Could be back to five-man soon.
Question: @snorkel99 Should I keep, trade or release the following pitchers: Stephen Strasburg, Ian Kennedy and Rick Porcello?
Zinkie: In a shallow league, Porcello can be dropped for sure, and likely Kennedy too. Would try to keep Strasburg.
Question: @ewmay32 In 10-team roto, should I keep Jorge Soler, Carlos Correa, Neil Walker or Marcus Semien or drop one and grab either Joey Gallo, Billy Burns or Joe Panik?
Zinkie: Would be fine to drop Walker and grab either Gallo or Burns, depending on your needs.
Question: @brianle53115041 Is Sean Doolittle droppable in a 10-team roto league where all closers are owned?
Zinkie: Yes, he can likely be dropped in shallow leagues.
Question: @sritsema11 Should I drop Maikel Franco for Joey Gallo or Pedro Alvarez? I also have Zack Cozart and need a better shortstop, but league is deep. Do you have any ideas?
Zinkie: Would add Gallo. As for SS, might have to look the trade route. The position is shallow this year.
Question: @brianle53115041 Is Marcus Semien droppable in a 10-team roto league? I have Anthony Rendon coming back.
Zinkie: If you don't need Semien, someone else likely does. Shortstop is shallow this year. You could trade him.
Question: @xjippyx Who will be better at second base for rest of season -- Daniel Murphy or Addison Russell?
Zinkie: Murphy. Russell's value is limited by his spot in the batting order.
Question: @isiaaah_ Madison Bumgarner and Jose Altuve for Adam Jones and Matt Carpenter -- who wins the trade?
Zinkie: On pure value, Bumgarner side. But because he's the only pitcher, it depends on need.
Question: @C_hermz When Anthony Rendon comes back who should I drop in a points league, Addison Russell or DJ LeMahieu?
Zinkie: Russell. LeMahieu is playing well and generally hits higher in the lineup.
Fred Zinkie is the lead fantasy baseball writer for MLB.com. Follow him on Twitter at @FredZinkieMLB.
This story was not subject to the approval of Major League Baseball or its clubs.