Votto getting back into swing of things
First baseman's approach coming together after last season's injury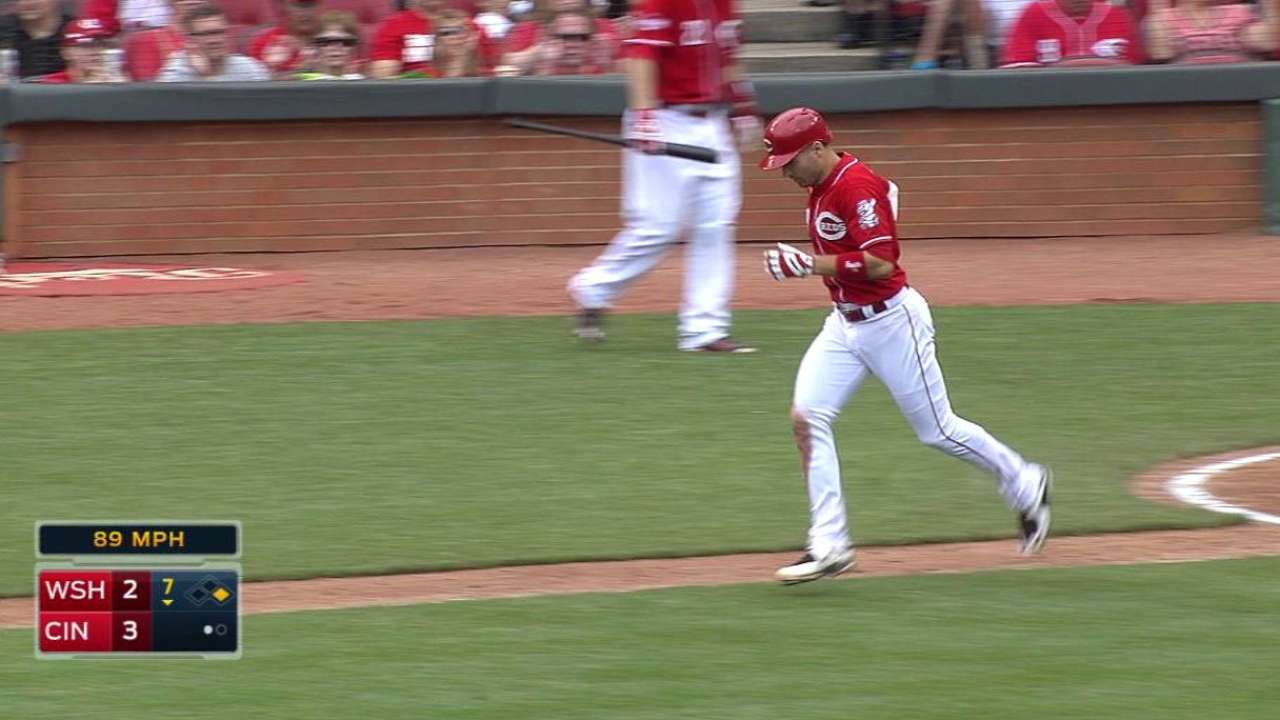 PHILADELPHIA -- Joey Votto is keenly aware that his swing and approach are starting to come together again. What the Reds' first baseman did not know on Sunday, until after the fact at least, was that he took a walk vs. the Nationals with only three balls in the count.
In the seventh inning vs. lefty Matt Grace, Votto went to first base after a 2-2 pitch was called a ball. No one, from home-plate umpire Paul Emmel to the Nationals' bench, or broadcasters from either side, noticed. Votto also claimed he was unaware of what he did.
"No, I looked up on the board, and it was 2-2, two pitches beforehand," Votto said on Tuesday. "I just took the at-bat and didn't think anything about it. I didn't even realize. To this very moment, I don't remember there being three balls. It felt like a ball."
The issue didn't surface until the media was told after the game. Votto said he was informed by Reds video coordinator Rob Coughlin of the strange moment.
"More than anything, I was surprised," Votto said.
What hasn't surprised Votto at all was his performance at the plate during the first two months of the season, as April and May were contrasts in numbers and production. He batted .317/.423/.646 with seven home runs and 17 RBIs in April, and then dipped to .253/.349/.358 with two homers and seven RBIs in May.
Votto's first extra-base hit last month didn't come until he hit a double on May 17. He went a full month -- from April 28 until Friday -- without hitting a home run and then hit another one on Saturday. He likened his improved swinging near the end of the month to being like he "finally found [his] wallet."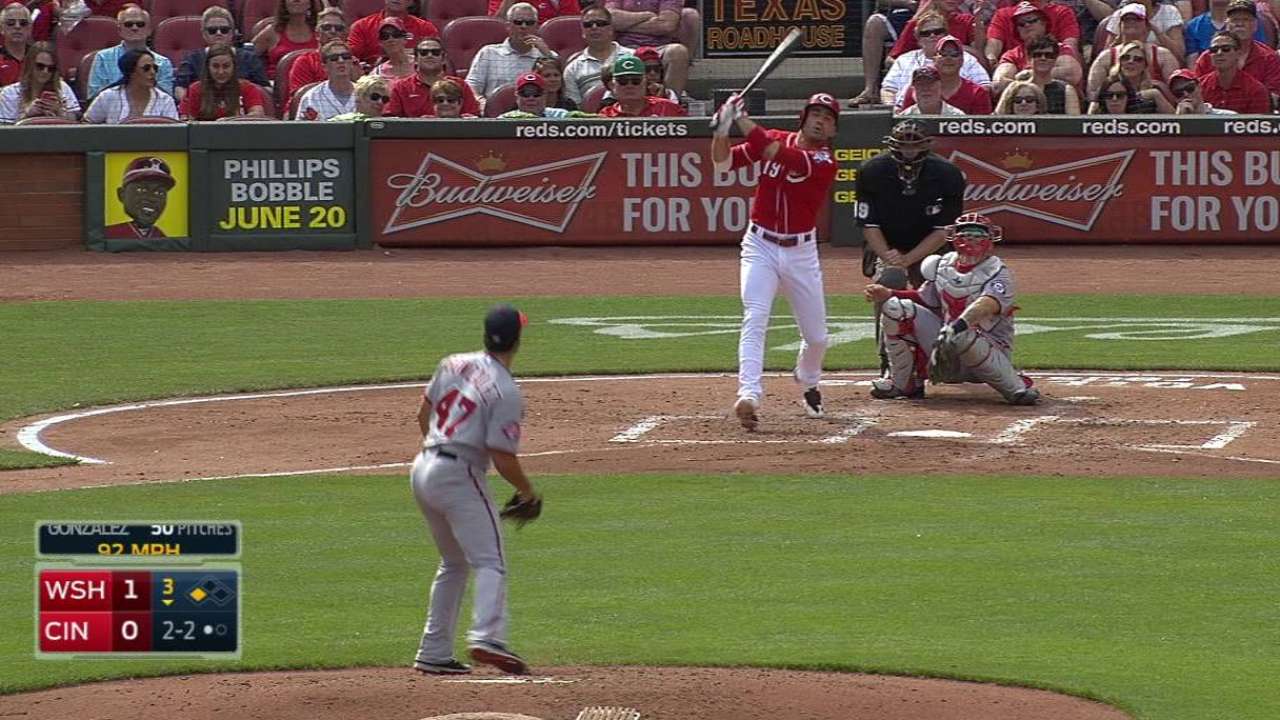 "I think part of it was the length of time that I took off since last year," Votto said. "I think there was a progression to hopefully get back to a good place physically to be able to repeat a swing, the same swing I had used in previous years. The first couple of months of the season, it was just an adjustment period. April, I knew I was in big trouble despite the success. It wasn't a lasting approach, a lasting swing. It was the adjustment period. It took a little while there to get back to my old swing."
During last weekend's three-game series sweep of the Nationals, Votto was 4-for-10 with two homers and two walks.
Votto, 31, missed 100 games last season, including the entire second half of 2014, because of a distal strain of his left quadriceps. When he arrived to Spring Training, there was a great deal of scrutiny about his health until he quickly showed that he could play without limitations.
With the injury talking point removed, Votto is pleased to be evaluated again strictly by his on-field performance and not through the lens of health issues.
"Oh, certainly," Votto said. "I made that comment during Spring Training, that I was hoping it would be part of the past and that it wouldn't be a subject that we brought up, and all we had to do was talk about my baseball, my role on the team and us winning and losing. It's good to not have to talk about it anymore."
Mark Sheldon is a reporter for MLB.com. Read his blog, Mark My Word, follow him on Twitter @m_sheldon and Facebook and listen to his podcast. This story was not subject to the approval of Major League Baseball or its clubs.