Manfred: Detroit a model for baseball cities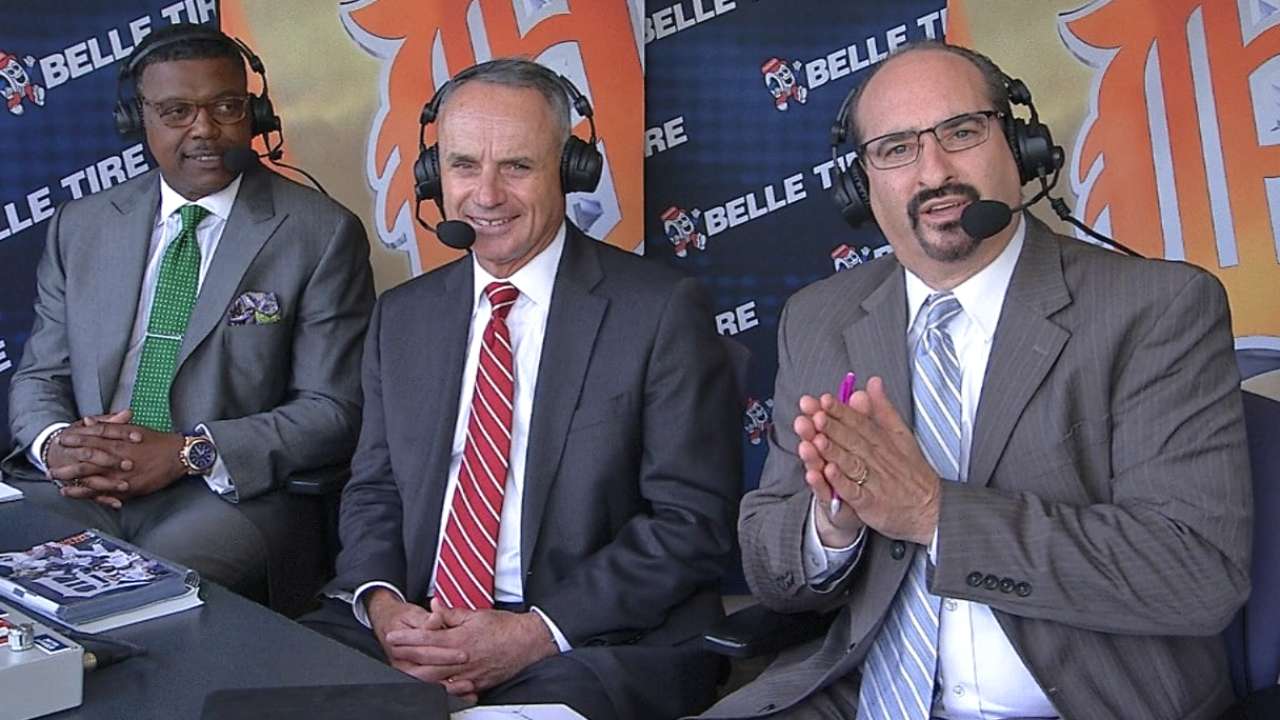 DETROIT -- First-year Major League Baseball Commissioner Rob Manfred had already visited a couple dozen teams before he made his way to the Tigers on Tuesday. He offered up Detroit as an example for other big league markets, and not just because his wife is from here.
From the Tigers' success on the field to the support off of it, Detroit has gone from a struggling baseball market in the 1990s and early 2000s to a model now.
"This is my week of great sports towns. I was in St. Louis yesterday. I'm here today," Manfred told reporters Tuesday. "And I really do believe that they are two -- by no means the only -- but two examples of communities where fans show unbelievable support for their franchises through thick and thin.
"I think right now, at this moment in time, Detroit has done an unbelievable job of having a really competitive team, maintaining the competitiveness of that team, providing their fans with a beautiful, beautiful ballpark to go see the games. And I think it's an example of what we would like to see in all of our communities in terms of the success of Major League Baseball -- all that due in no small measure to the great work that [owner] Mike and Chris Ilitch and [team president/general manager] Dave Dombrowski have done here."
In that sense, Manfred didn't have much of a pressing issue to address regarding Detroit. He did acknowledge interest in an MLB Urban Youth Academy that would utilize the playing field on the site of Tiger Stadium, though organizers are still working on securing funding for such a project.
"We are in the process of evaluating a number of sites for additional Urban Youth Academies -- I don't mean in Detroit, I mean around the league," Manfred said. "Urban Youth Academies are huge investments for us. They require a partnership with the club and the market in order to make them work effectively. And right now, we probably have more markets that are interested in doing them than we have the capacity to move forward with all at once. But it is something that will remain a priority in terms of expanding the game into areas where kids don't have adequate opportunities to play."
Manfred said increasing minority involvement in the game remains a "huge priority for us. I think it's a priority because baseball has a unique place in the history of the Civil Rights movement. Jackie Robinson,obviously, probably one of the most important moments in baseball history, and we feel a unique responsibility to make sure that we provide opportunities for kids to play -- particularly in communities where there is not adequate opportunity."
The Tigers have also been involved in renovating youth ballfields in the community through the Detroit Tigers Foundation and Play Baseball Detroit. The Miguel Cabrera Foundation has also provided money toward renovating fields in Detroit, Miami and Cabrera's native Venezuela.
Jason Beck is a reporter for MLB.com. Read Beck's Blog, follow him on Twitter @beckjason and listen to his podcast. This story was not subject to the approval of Major League Baseball or its clubs.