Span misses doubleheader with sore knee
Center fielder hopeful for Wednesday return; decision likely after BP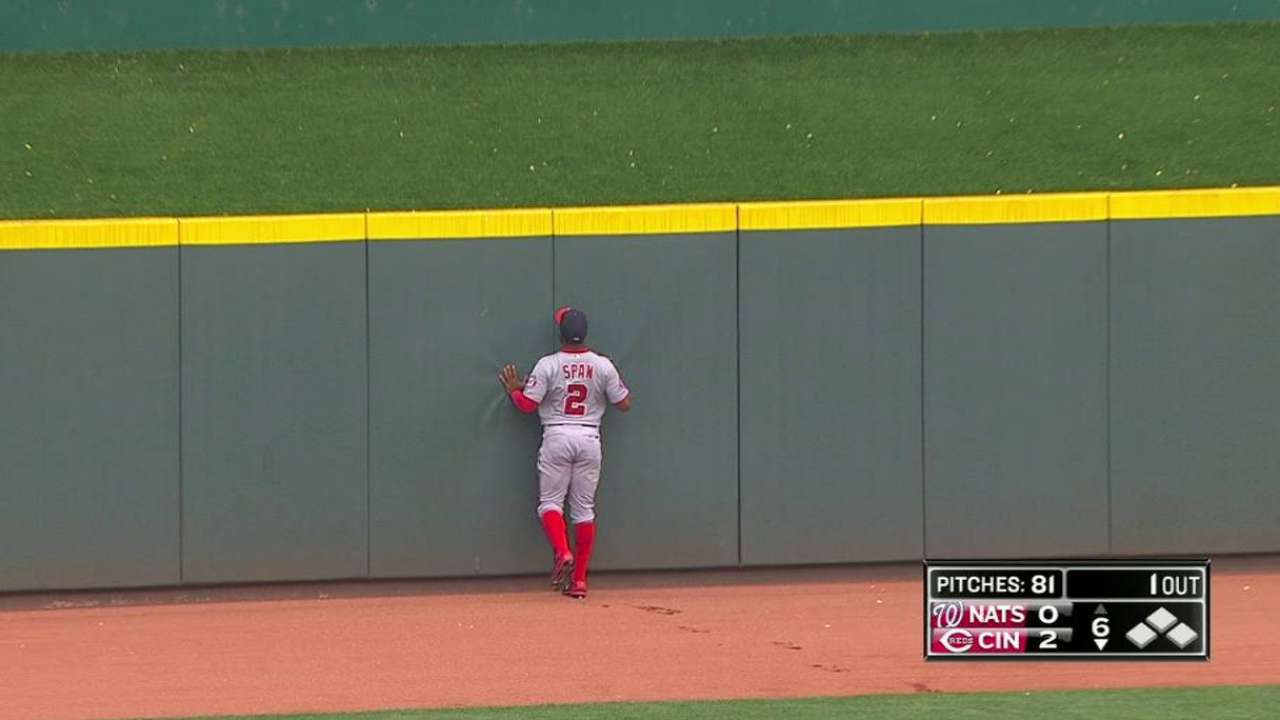 WASHINGTON -- Nationals outfielder Denard Span missed both games of Tuesday's doubleheader against Toronto as he continues to deal with a sore right knee.
He said he hopes to be ready to go Wednesday, after the Nationals won the opener, 2-0, and dropped the nightcap, 7-3, to split the twin bill.
"I'm pretty confident that I hopefully will play in the game," Span said. "That didn't sound too confident, though."
Manager Matt Williams also hopes to have his everyday center fielder back in the lineup.
"We'll see how he is [Wednesday]," Williams said. "A couple days off hopefully are good for him."
Span injured the knee last week against the Cubs when he slipped trying to track a ball, but the pain grew worse Sunday in Cincinnati, and he was removed from the game in the eighth inning.
"I'm trying not to worry," Span said about potential lingering issues. "I'm a big worrier. I've had a couple injuries already this offseason and Spring Training, so I'm trying not to worry myself. I'm just trusting in the training staff and the doctors. ... They said it should be OK."
His treatment has consisted of rest, ice and anti-inflammatory gel and pills, and the swelling has been reducing.
Span hopes to make a decision after Wednesday's batting practice.
"Mentally, I'm hoping [Wednesday] is the day to at least test it out in a game, for sure," Span said.
Jacob Emert is an associate reporter for MLB.com. This story was not subject to the approval of Major League Baseball or its clubs.