'Disappointed' Henry believes in Sox leaders
Owner calls club's start 'unacceptable,' but is not interested in shaking up roster, staff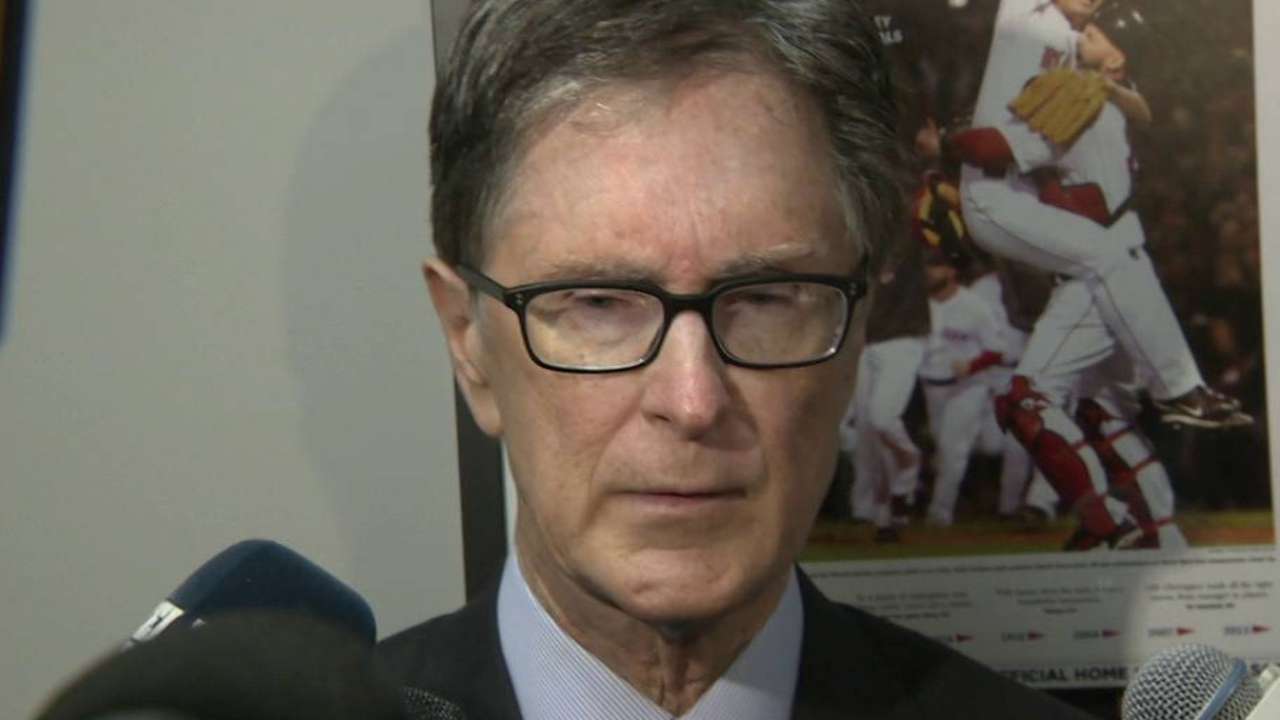 BOSTON -- Red Sox owner John Henry was unusually blunt while discussing the performance of his struggling team before Tuesday's game. But he also expressed confidence that a rebound can happen without a roster shakeup. Henry also gave strong backing to general manager Ben Cherington and manager John Farrell.
"Very disappointed," said Henry. "It's been an unacceptable 50 games. There's probably no one in the organization that does not feel that way. These guys have got to turn it around."
Henry is a lot more focused on finding the right solutions internally rather than shaking up the roster or staff.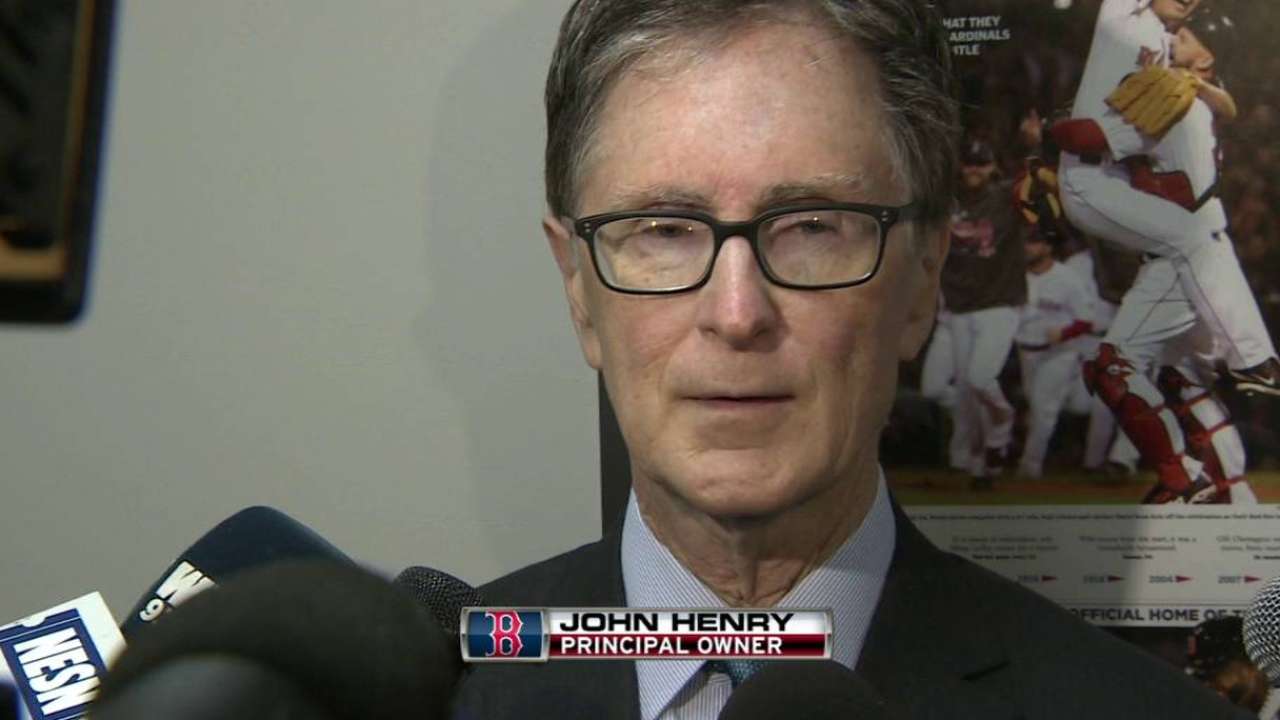 "There won't be drastic changes," Henry said. "I think this is the right team. I think a couple of times now [2012, 2014] we've had to reset the team and make drastic changes. I don't see that happening this year. I think this is the right team. They just have to perform."
More specifically, they need to hit.
"This is a great offensive team," Henry said. "They have not shown it. They're going to have to do it. Maybe they won't do it. But I believe they will."
In particular, Henry would like to see his hitters make quicker adjustments within a game or a series.
"They've got to be able to make the adjustments that happen in this game. Our pitchers have made adjustments. I've discussed this a lot with John, Ben, others, that our hitters need to make an adjustment," said Henry. "There's a gameplan in this league when it comes to Red Sox hitters, and we probably have to be a little more aggressive, but I think more than anything else, there's too much tentativeness when it comes to at-bats.
"We're not driving the ball. We're not hitting line drives. We play in a doubles park. I think we're last in the league in doubles. We're hitting fly balls and ground balls. We've got to make an adjustment."
The results haven't been easy to watch for Henry. But he also doesn't think this is the time to be pointing fingers.
Is there a date the Red Sox need to get back on track by?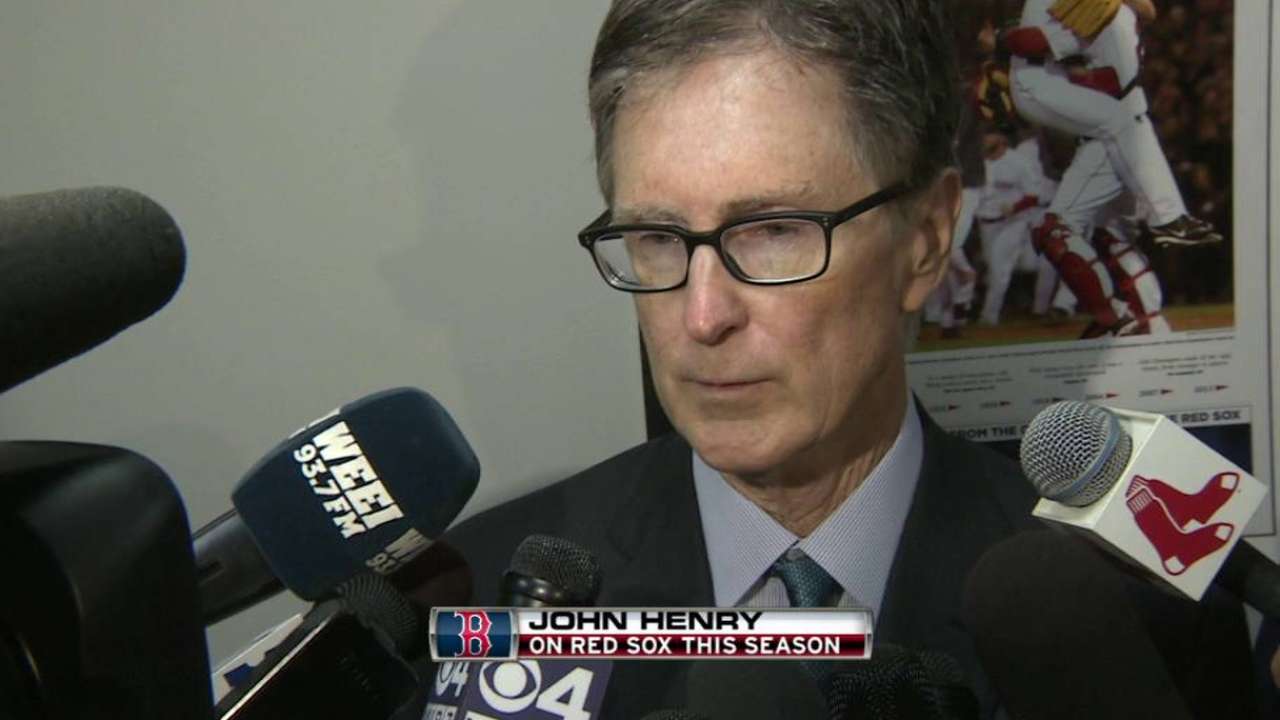 "No, there's no deadline," Henry said. "I really think, and everybody in the organization feels this is the right team. If anything, I think we should be supportive at this point. I know it's difficult for the fans. I wouldn't be supportive if I was a fan. Some of these games have been abysmal. We have played like bleep. But there is a resolve to turn it around, and I believe it will happen."
One of the hallmarks of the offensive attacks the Red Sox had early in Henry's tenure as owner was the patience. But that "MoneyBall"-style approach doesn't always work in 2015.
"The strike zone is larger than it used to be, so you can't be as patient as you used to be," said Henry. "The game of baseball has changed a lot. The standings reflect that. You have Houston playing extremely well. You have the Yankees and the Red Sox -- the whole of the American League East, typically the best, for a long time perhaps the best division in baseball, is now, at least of today, it may be the weakest -- so this is a game of adjustments, and that's one adjustment that I believe we probably have to make."
Henry was asked specifically for the reason he believes so strongly in Farrell and Cherington.
"John has provided the kind of leadership that we need through a really tough period. I just don't think you can blame the manager for this. I watch these games. They've been painful games to watch. To me, it's not the manager's fault the way that we've been playing. I just don't see that," Henry said.
And Cherington?
"The general manager is going to be the general manager of this club for a very long time. I have nothing but respect for him and the job that he does. I think we've been on the same wavelength, so you have to blame ownership as much as you can blame the general manager," said Henry.
"We have a certain philosophy. We've talked a lot about adjusting that philosophy. I'm not sure it's just the players that need to make adjustments. In fact, I'm sure about that. There are adjustments we need to make as an organization. Ben will make those adjustments, and he'll lead that process. I think he and his people are the right people to do that."
Ian Browne is a reporter for MLB.com. Read his blog, Brownie Points, and follow him on Twitter @IanMBrowne. This story was not subject to the approval of Major League Baseball or its clubs.