MLB.com Columnist
Roger Schlueter
Stats of the day: deGrom in rare company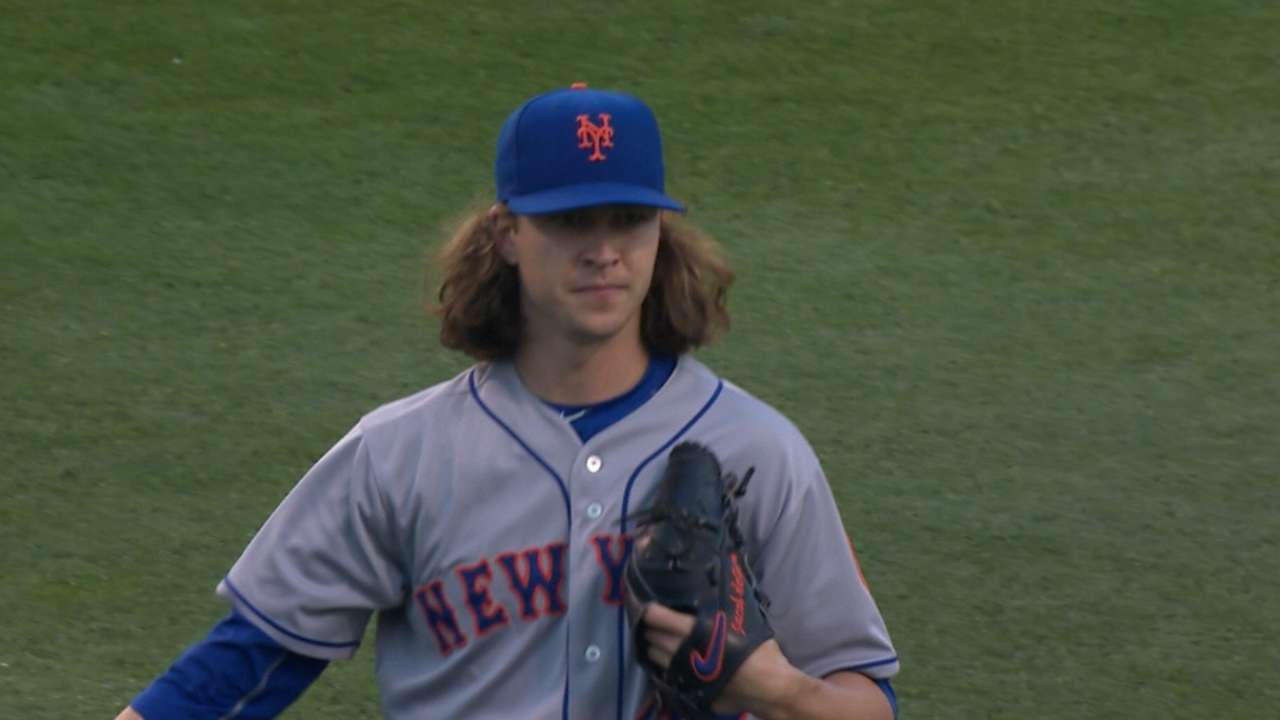 Jacob deGrom's bid for perfection on Monday ended in the sixth inning, but the Mets right-hander finished his outing with two hits allowed, no walks and eight strikeouts in eight innings. Behind deGrom, the Mets blanked the Padres, 7-0.
On May 21, deGrom threw eight scoreless innings on one hit and no walks, while fanning 11. deGrom is the first Mets pitcher since Steve Trachsel in 2003 to have multiple outings of at least eight innings, no runs and no more than two hits allowed. He is the first Mets pitcher in history to, in one season, have two outings featuring at least eight innings, no runs or walks and no more than two hits allowed. The only pitcher to have had two such games in his career with the Mets is Tom Seaver, who had one in 1968 and another in '69.
• The Cubs defeated the Marlins, 5-1, with starter Jason Hammel allowing one run and no walks while recording 11 strikeouts. The combination of strikeouts and walks is unusual for the number of innings thrown by Hammel: 6 2/3. Hammel is one of just 30 starters since 1914 to have at least 11 strikeouts, no walks and fewer than seven innings thrown -- and all 30 such games have occurred since 1995. Rick Ankiel is the king of this sort of thing, with three such performances, while Randy Johnson and Collin McHugh each had/have two.
• Francisco Rodriguez closed out the Brewers' 1-0 victory over St. Louis for his 357th career save. That leaves him one save shy of catching his former Angels teammate, Troy Percival, for ninth on the all-time list.
• The Cardinals' Matt Holliday was 1-for-3 with a walk to extend his 2015 on-base streak to 45 games -- the fifth longest since 1914 to begin a season. The four longer streaks are:
Derek Jeter: 53, 1999
Frank Thomas: 52, 1996
Mark McGwire, 48, 1996
Alvin Davis, 47, 1984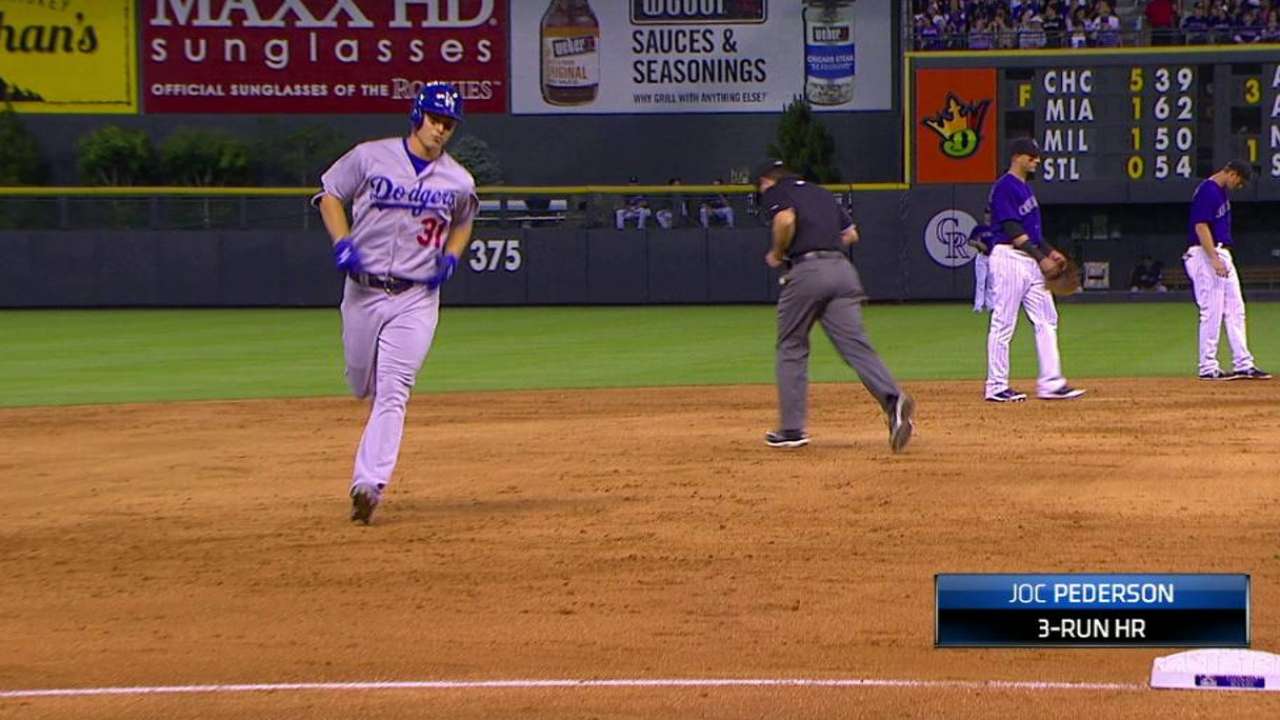 • The Dodgers defeated the Rockies, 11-4, improving their record to 30-20. Joc Pederson hit his 14th homer of the year, which ties him with John Roseboro (1958) and Bill Sudakis (1969) for the 17th most in history by a Dodgers rookie. A 15th homer would pull Pederson even with Don Zimmer (1955), Ron Cey (1973) and James Loney (2007). Mike Piazza owns the most homers by a Dodgers rookie with 35 in 1993.
Clayton Kershaw picked up the win, allowing two runs and striking out seven in seven innings. The seven strikeouts give Kershaw 1,535 for his career, the 11th most by anyone through his age-27 season and one more than Pedro Martinez had.
In the Dodgers' win, Adrian Gonzalez went 4-for-4 with two doubles and now has a 1.206 OPS in 40 plate appearances against the Rockies this season. Barry Bonds has the highest OPS for any player in any season against the Rockies (minimum of 50 plate appearances) at 1.749 in 2004. Jeff Conine's 1.523 OPS from 1996 is the second highest.
• Freddie Freeman homered as part of a three-hit night and Andrelton Simmons doubled as part of his own three-hit line in the Braves' 8-1 win over the D-backs. While Freeman (playing in his age-25 season) is comfortably over a 100 OPS+ (he is at 136), Simmons (playing in his age-25 season) is hovering just above the mark (101). The Braves have never had a first baseman and shortstop in a season -- each in his age-25 or younger season -- qualify for the batting title and finish the year with an OPS+ of at least 100.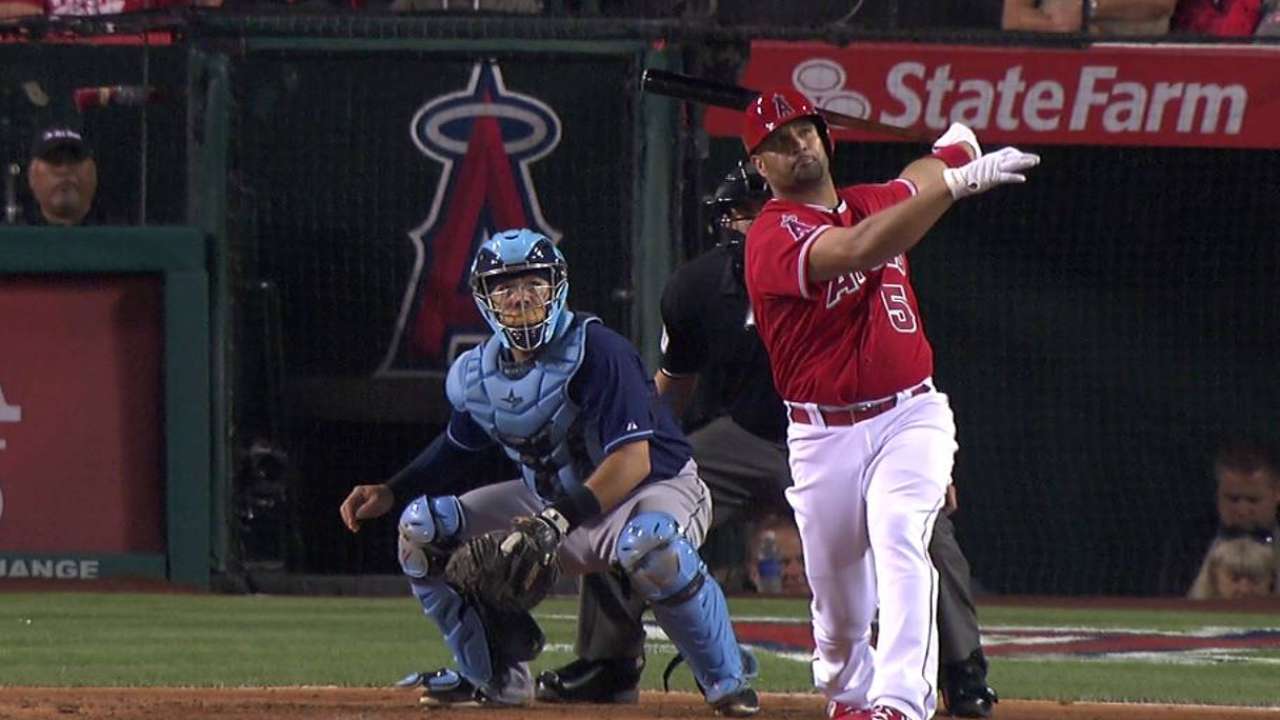 • Albert Pujols homered twice and Mike Trout had one round-tripper as the Angels defeated the Rays, 7-3.
Pujols' 49th career multihomer game gave him 533 career home runs, one shy of tying Jimmie Foxx for 17th on the all-time list. With his 49 games of two or more home runs, Pujols is tied for the 12th most in history.
BETTER THAN ONE
| Multi-HR games | Players |
| --- | --- |
| 72 | Babe Ruth |
| 71 | Barry Bonds |
| 69 | Sammy Sosa |
| 67 | Mark McGwire |
| 63 | Willie Mays |
| 62 | Hank Aaron |
| 61 | Alex Rodriguez |
| 55 | Jimmie Foxx, Ken Griffey Jr. |
| 54 | Frank Robinson, Manny Ramirez |
| 49 | Mel Ott, Eddie Mathews, Carlos Delgado, Albert Pujols |
Trout has 111 career homers, a career 166 OPS+ and 1,136 total bases. Among players through their age- 23 seasons:
• Trout's 111 home runs tie him with Jose Canseco for 15th most
• Trout's 1,136 total bases are the 20th most
• Trout's 166 OPS+ is the third highest (min. 2,000 plate appearances). Ted Williams leads, at 190, and is followed by Ty Cobb's 171
• Trout also has 259 extra-base hits, 294 walks and 110 steals. No other player has reached those three numbers through his age-23 season.
• The Yankees got to Felix Hernandez for seven runs in 4 2/3 innings and defeated the Mariners, 7-2. In his previous 13 starts against the Yankees, Hernandez had been 8-2 with a 2.11 ERA. The seven runs allowed in this contest were more than Hernandez had surrendered in his previous five outings combined against New York.
Roger Schlueter is the senior editorial coordinator and researcher for Major League Baseball Productions. This story was not subject to the approval of Major League Baseball or its clubs.