Three goes into two with one in the bullpen
Kennedy, Morrow, Despaigne on collision course for two rotation spots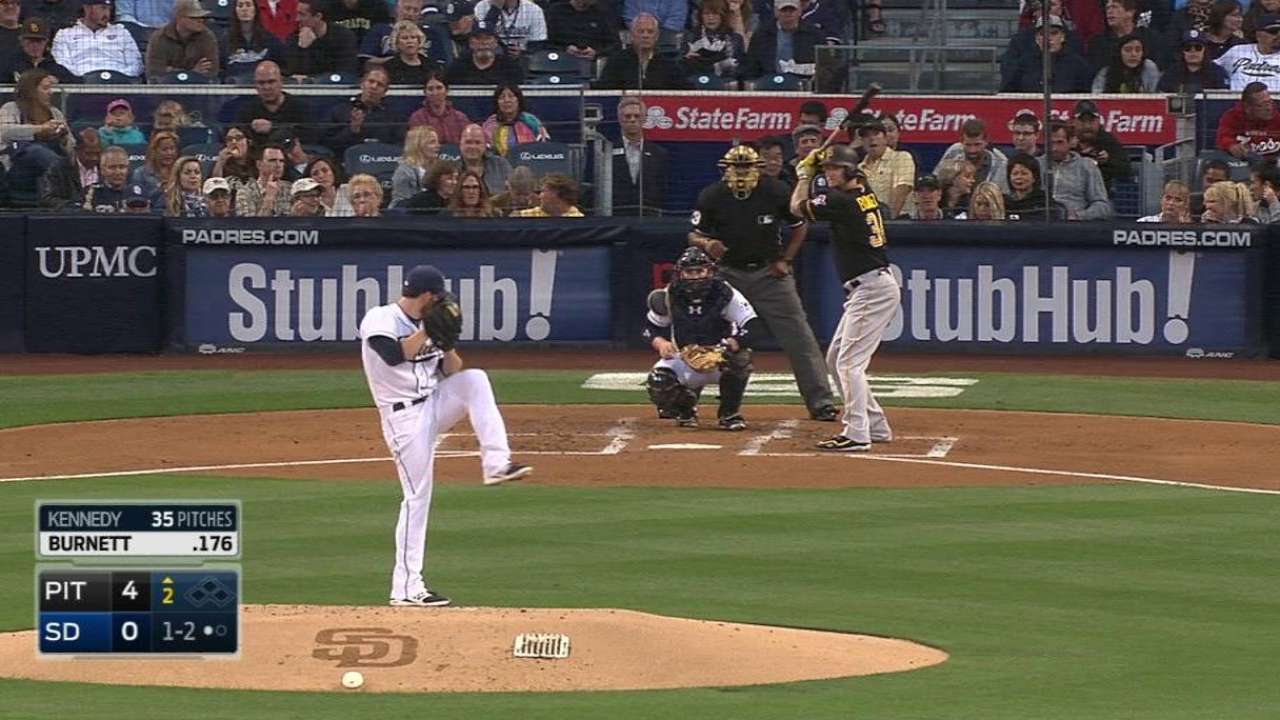 Bill Center, longtime sportswriter for U-T San Diego, is an employee of the Padres.
How important is Ian Kennedy's start Tuesday night against the Mets at Petco Park? The right-hander has spent this week working on mechanics with pitching coach Darren Balsley after his ERA sky-rocketed to 7.15 after last Thursday night's season-worst outing against the Pittsburgh Pirates.
Kennedy allowed seven runs on seven hits, including three homers, in just 3 2/3 innings. It was his worst outing, but not by much. On April 25, in his first start back from the disabled list, Kennedy allowed eight runs on eight hits in 4 1/3 innings against the Dodgers at Petco Park.
In seven starts since coming off the disabled list, Kennedy is riding a roller coaster.
Three outings have been quality starts, with Kennedy pitching to a 2.37 ERA. But in his other four starts during the span, Kennedy has allowed 25 runs on 26 hits and nine walks in 17 2/3 innings, for an ERA of 12.73. In those four starts, Kennedy has given up nine homers.
Meanwhile, right-hander Odrisamer Despaigne has made three straight solid starts -- 1.35 ERA over 20 innings -- and right-hander Brandon Morrow begins his rehab assignment at Double-A San Antonio on Tuesday ... on the same time schedule as Kennedy's spot in the rotation.
Padres manager Bud Black discussed the Kennedy-Despaigne-Morrow situation Monday and said two of the three will be in the rotation when Morrow returns (likely on June 12). But which two?
"We have several options," said Black. "Despaigne made three good starts; no doubt about it. The options are when Brandon comes back, move Morrow into the rotation and move either Ian or Despaigne to the bullpen . . . or put Brandon in bullpen."
When the season started, it was Despaigne in the bullpen with Kennedy and Morrow starting. Despaigne might again make more sense in the bullpen because of his style and durability. Morrow has also pitched in relief. Kennedy hasn't.
Black believes Kennedy will rebound from his recent struggles.
"We're creating a better angle for Ian out of windup and stretch," said Black of the work Kennedy has been doing with Balsley since his last start. "Kennedy's trying to get his release point a little higher for a better downward angle.
"It's a little different for Ian, who is more of a drop-and-drive, long-stride thrower. There are subtle adjustments. Fastball command has been an issue. Physically he feels fine, just a couple minor mechanical adjustments. In the games he's pitched well, he's located his fastball and his secondary pitches landed in the strike zone. We want to get Ian back to being the pitcher we've seen here."
As for Morrow, there are still questions. He hasn't pitched in a game since going on the disabled list May 3 with right shoulder inflammation. Morrow will likely make two rehab starts with San Antonio.
"Brandon has to pitch well and feel good Tuesday," said Black. "He'll probably have to do it again Sunday. Sixty pitches Tuesday and then bump to 75-80, so when he comes back he'll be capable of 90, 95, 100 pitches."
From the scorebook
• Speaking of pitching lines, right-hander starter Andrew Cashner set a strange Major League record Monday night. He became the first pitcher to have 12 strikeouts and allow 10 or more hits in less than five innings. Cashner had his shortest and worst outing of the season against the Mets, allowing six runs (five earned) on 11 hits in 4 2/3 innings. He also set his career best with 12 strikeouts. A dozen Mets didn't put the ball in play. But 11 of 13 who did got hits. Weird.
• Could we be seeing more of Clint Barmes at shortstop, even against right-handed pitchers? Barmes made two recent starts against right-handed starters as the left-handed-hitting Alexi Amarista continued in his season-long hitting drought. Barmes got San Diego's first hit Monday night and is 5-for-10 in his past four games to raise his average from .218 to .262. Amarista, meanwhile, has one hit in his past 13 at-bats and hit .162 (11-for-68) in May with two doubles, seven RBIs and four runs scored. He drew six walks for a .227 on-base percentage.
• Third baseman Will Middlebrooks got the Padres' second hit Monday and has hit safely in seven of his past nine games. During the span, Middlebrooks has hit .343 (12-for-35) with two doubles, three homers, eight RBIs and six runs scored.
• Right-handed reliever Kevin Quackenbush has allowed runs in three of his past four appearances, giving up four runs on eight hits and three walks in just 3 1/3 innings. His ERA has jumped from 1.88 to 3.57 during the four-game slump.