Rangers banking on impact with fourth overall pick
Club may target seasoned college player rather than one with raw talent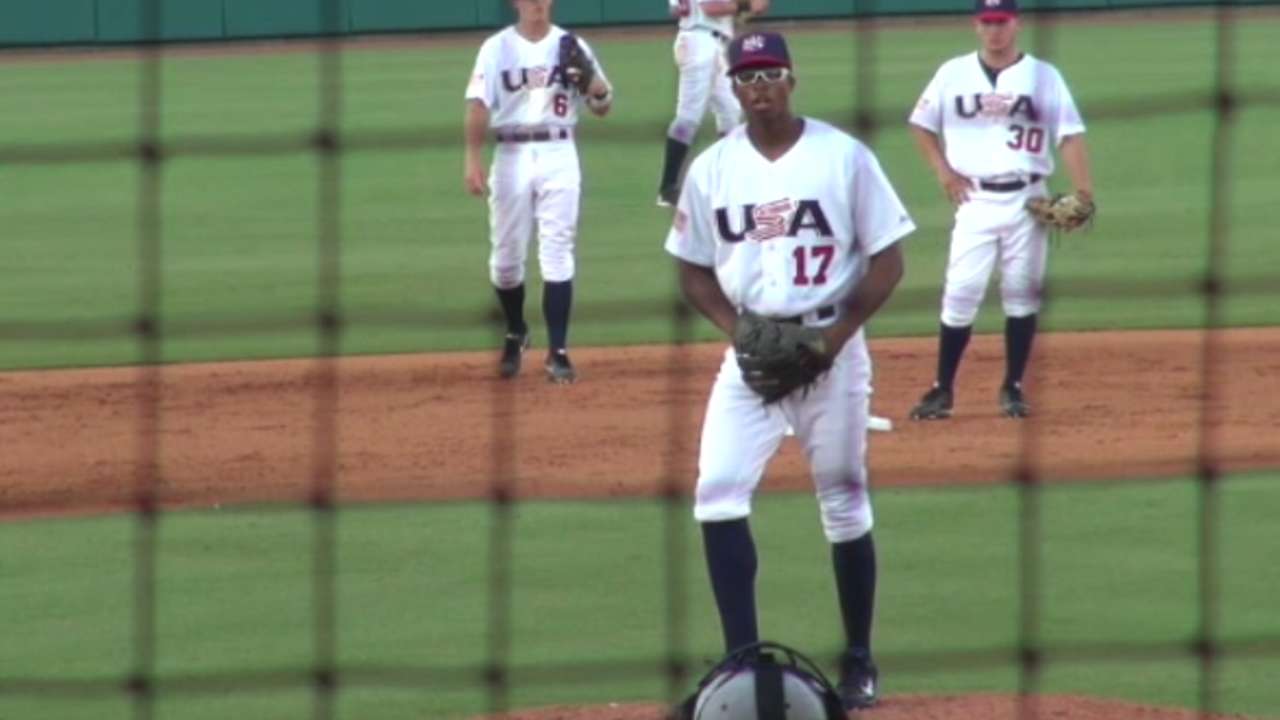 The 2015 Draft will take place from Monday, June 8, through Wednesday, June 10, beginning with the Draft preview show on MLB.com and MLB Network on Monday at 5 p.m. CT. Live Draft coverage from MLB Network's Studio 42 begins at 6 p.m., with the top 75 picks being streamed on MLB.com and broadcast on MLB Network. MLB.com's exclusive coverage of Day 2 begins with a live Draft show at 11:30 a.m. on Tuesday, with exclusive coverage of Day 3 beginning at noon on Wednesday.
MLB.com's coverage includes Draft Central, the Top 200 Draft Prospects list and Draft Tracker, a live interactive application that includes a searchable database of over 1,700 Draft-eligible players. Every selection will be tweeted live from @MLBDraftTracker, and you can also keep up to date by following @MLBDraft. And get into the Draft conversation by tagging your tweets with #mlbdraft.
Here's how the Draft is shaping up for the Rangers, whose first selection is the fourth overall pick.
In about 50 words
This is the highest the Rangers have drafted since taking pitcher Kevin Brown with the fourth overall pick in the 1986 Draft. They had the fifth overall pick in 2001, when they took Mark Teixeira. That tells you what you need to know. Texas needs an impact player, although this is not a good Draft to have a high pick.
The scoop
The Rangers have an affinity for high school pitchers with potential power arms and athletic players in the middle of the diamond at catcher, shortstop and center field. But they have done well lately collecting some offensive firepower in Joey Gallo and Nick Williams. It may be time to go with a more advanced college talent than to gamble on another long-term project.
First-round buzz
Outfielder Daz Cameron from Eagle's Landing Christian Academy in McDonough, Ga., fits the Rangers' profile: an athletic outfielder with multiple talents. Pitcher Dillon Tate of UC Santa Barbara has the potential to reinforce Texas' upper-level pitching inventory, although his future may be as a reliever. Vanderbilt shortstop Dansby Swanson and LSU shortstop Alex Bregman would satisfy their desire to hoard middle infielders.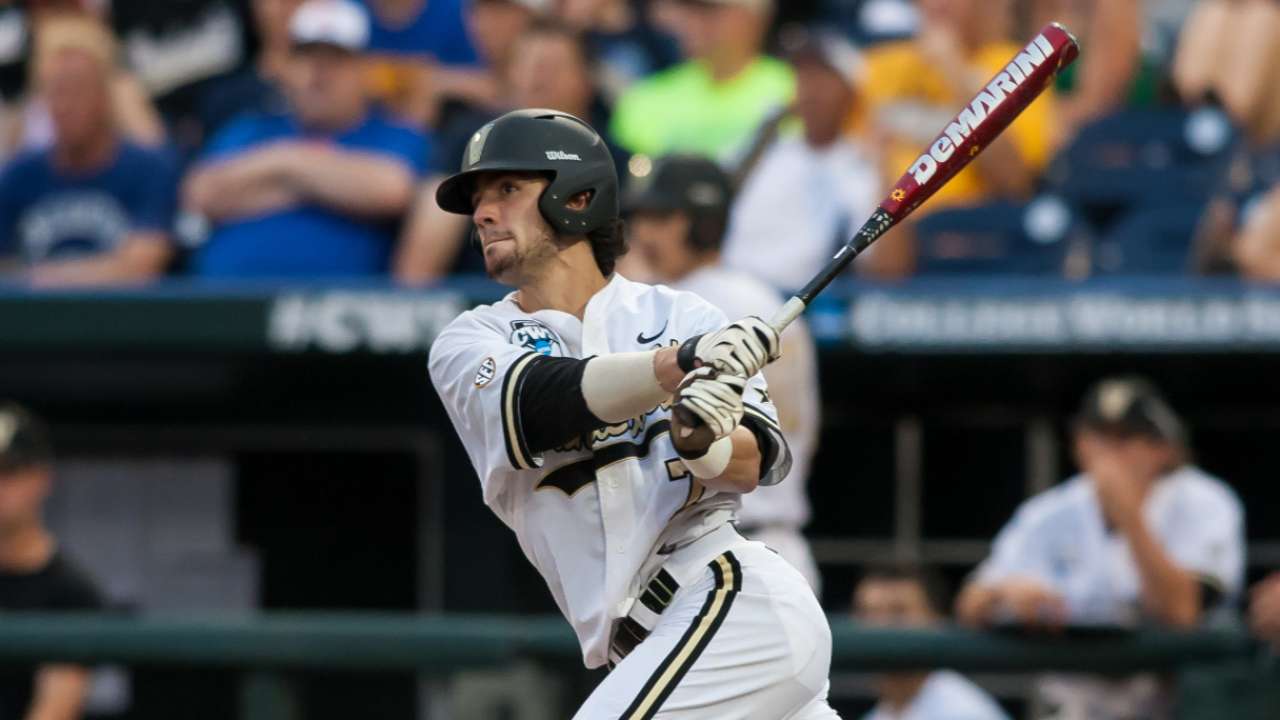 Money matters
Under the Collective Bargaining Agreement, each team has an allotted bonus pool equal to the sum of the values of that club's selections in the first 10 rounds of the Draft. The more picks a team has, and the earlier it picks, the larger the pool. The signing bonuses for a team's selections in the first 10 rounds, plus any bonus greater than $100,000 for a player taken after the 10th round, will apply toward the bonus-pool total.
The Rangers' bonus pool
| Pick | No. | Value |
| --- | --- | --- |
| 1. | 4 | $5,026,500 |
| 2. | 45 | $1,360,100 |
| 3. | 78 | $777,600 |
| 4. | 108 | $528,000 |
| 5. | 138 | $395,300 |
| 6. | 168 | $296,000 |
| 7. | 198 | $221,700 |
| 8. | 228 | $176,300 |
| 9. | 258 | $164,700 |
| 10. | 288 | $153,700 |
Any team going up to 5 percent over its allotted pool will be taxed at a 75 percent rate on the overage. A team that overspends by 5-10 percent gets a 75 percent tax plus the loss of a first-round pick. A team that goes 10-15 percent over its pool amount will be hit with a 100 percent penalty on the overage and the loss of a first- and second-round pick. Any overage of 15 percent or more gets a 100 percent tax plus the loss of first-round picks in the next two Drafts.
The Rangers have been assigned a pool of $9,099,900. The value assigned to Texas' first-round pick is $5,026,500.
Shopping list
The Rangers have a well-balanced farm system with good prospects across the diamond. They have upgraded the offensive power potential in the Minor Leagues over the past few years, now they could use some speed. Pitching is always a need, and Texas' could use more left-handed pitching. Most of the organization's best prospects are right-handed.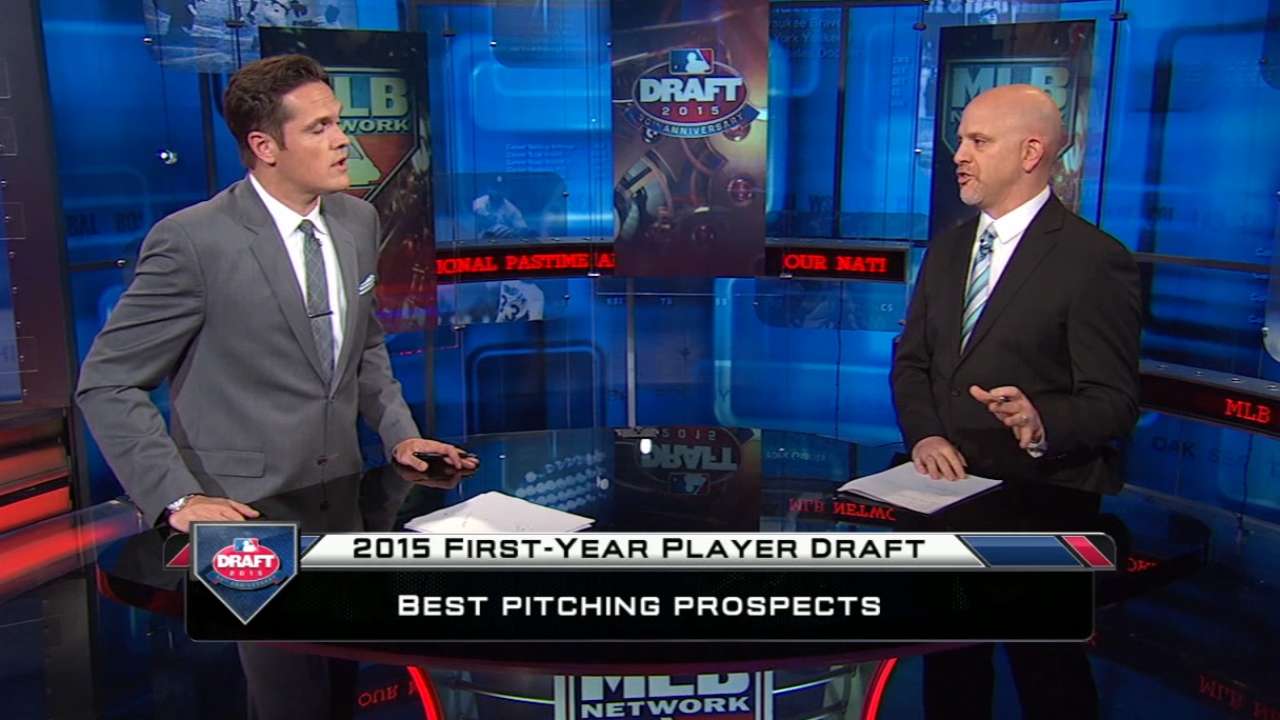 Trend watch
The Rangers have had 21 first or compensation-round picks over the past nine years since Jon Daniels has taken over as general manager. Of those 21 picks, nine were high school pitchers and five were high school outfielders. From the college side, Texas took four position players and three pitchers.
Recent Draft history
Rising fast
Left-hander Brett Martin was taken by the Rangers in the fourth round of the 2014 Draft out of Walters State (Tenn.) College and is off to a strong start at Class A Hickory. He is 3-1 with a 2.50 ERA in seven starts with a 0.917 WHIP.
Cinderella story
Nick Martinez was an 18th-round Draft pick by the Rangers in 2011. He was an infielder at Fordham University and only an occasional pitcher. Texas saw Martinez's potential as a pitcher, and now he could be an American League All-Star in only his second season in the big leagues.
In The Show
The Rangers have five players who were drafted by the organization on their 25-man roster. Besides Martinez, they are Chi Chi Gonzalez (first, 2013), Keone Kela (12th, 2012), Tanner Scheppers (first, 2009) and first baseman Mitch Moreland (17th, 2010).
The Rangers' recent top picks
2014: Luis Ortiz, RHP, Class A Hickory
2013: Chi Chi Gonzalez, RHP, Rangers
2012: Lewis Brinson, OF, Class A Advanced High Desert
2011: Kevin Matthews, LHP, Released
2010: Jake Skole, OF, Double-A Frisco
T.R. Sullivan is a reporter for MLB.com. Read his blog, Postcards from Elysian Fields, follow him on Twitter @Sullivan_Ranger and listen to his podcast. This story was not subject to the approval of Major League Baseball or its clubs.