Strasburg to rest after neck strain confirmed
Fister has bullpen session, says it went well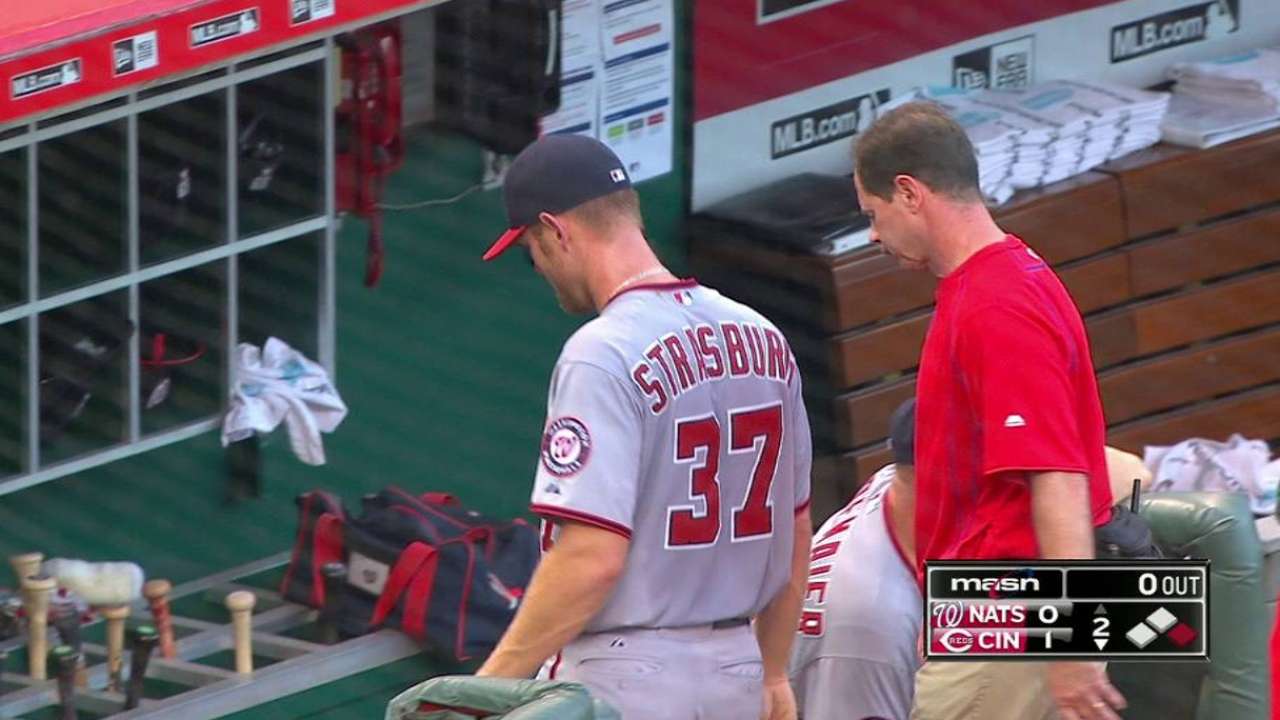 WASHINGTON -- A doctor's appointment on Monday night revealed no surprises, as Nationals right-hander Stephen Strasburg was diagnosed with a left trapezius strain.
Washington placed Strasburg on the 15-day disabled list on Saturday, a day after he left his start at Cincinnati in the second inning. The injury affects Strasburg's neck and upper back, according to manager Matt Williams, and he won't resume throwing until the tightness goes away.
"He's getting that calmed down, and as we go along here, we'll get him back to throwing at some point," Williams said. "But it's confirmed what we thought."
It's been a tough season for Strasburg, who is 3-5 with a 6.55 ERA through 10 starts. He also left his May 5 outing against the Marlins after three innings due to back tightness, but that was on Strasburg's right side, and Williams said the team doesn't know if the two problems are related.
Meanwhile, the Nats' staff has looked at Strasburg's mechanics "extensively," but they found nothing concrete.
"There's minor adjustments that guys make during the course of a season, but nothing that glares at us that he's changed or that's drastically different," Williams said.
• On Monday, Doug Fister completed his first bullpen session since going on the DL with right forearm tightness on May 15. He threw 20-25 pitches, all fastballs, and said on Tuesday that the session "went as well as expected." Fister will throw another bullpen session within the next couple of days, mixing in some secondary pitches.
"I think [the tightness] pretty much subsided completely, and that's a good thing," Fister said.
Fister had been experiencing some nagging tightness, but the problem worsened during his May 14 start at San Diego, in which he surrendered seven runs over two innings, raising his ERA to 4.31.
"You know, it was really just more tight than complete, utter mayhem," Fister said. "So I mean, it wasn't a bad issue. It was more of just I really need a break for some reason -- there's so much tightness going on that we really need to address it."
• Center fielder Denard Span was out of the Nationals' lineup for Game 1 of Tuesday's doubleheader against the Blue Jays, but Williams did not rule him out for Game 2. Span banged his right knee last week in Chicago, came out of Sunday's game in Cincinnati after seven innings and wasn't in the lineup for Monday's game before it was postponed by rain. Williams said an MRI revealed no damage, but Span continues to get treatment for swelling and soreness.
• Infielder Anthony Rendon is still scheduled to continue his Minor League rehab assignment by playing nine innings at Double-A Harrisburg on Tuesday night, weather permitting.
• The Nats have not settled on a starting pitcher for Wednesday's game against Toronto, but Williams said the team is "looking at" righty Taylor Jordan, depending on what happens during Tuesday's doubleheader. Jordan last pitched on Friday, throwing 4 2/3 innings in relief of Strasburg.
Andrew Simon is a reporter for MLB.com. Follow him on Twitter @AndrewSimonMLB. This story was not subject to the approval of Major League Baseball or its clubs.