Even in win, Richards finds ways to improve
Right-hander solid in series opener, but knows he's not at his best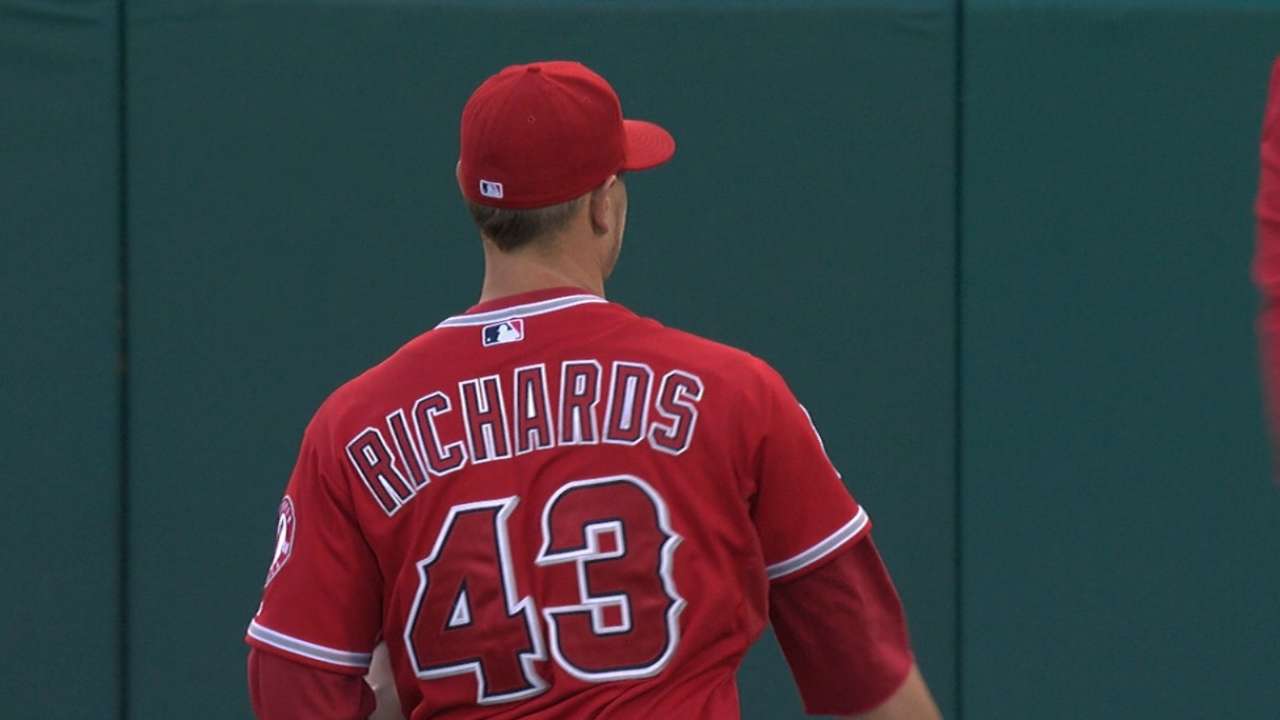 ANAHEIM -- The numbers -- a 3.26 ERA, a 5-3 record, including the win in the Angels' 7-3 win over the Rays Monday night at Angel Stadium -- don't look bad for Garrett Richards. But his pitching hasn't exactly been all that good of late, either.
The right-hander seems like he's been fighting himself in his last three starts, all rocky -- five runs allowed to the Red Sox on May 22 and the Padres on May 27, three to the Rays on Monday night. He's especially struggled getting out of innings. In Richards' last two starts, all eight runs he allowed were scored with two outs.
So after his Monday outing -- a start which, again, he won -- Richards had a list chock full of areas to improve on.
"I need to do a better job of getting ahead of guys -- I feel like I was behind in the count a lot tonight," Richards said first.
"I've got to do a better job of not being fine too early," he added later.
Up next: "I've got to do a better job mixing my curveball in with my fastball and my slider. I felt like I got a little bit repetitive and a little bit predictable."
Then came, "I've got to do a better job putting guys away. I've noticed [all the two-out runs]."
And, of course, there was, "I've got to be better overall."
Angels manager Mike Scioscia thinks that the whole host of issues -- falling behind, throwing too many sliders as a result, and not getting out of innings -- is stemming from a lack of command.
"I think it's just a function of being a little bit erratic and maybe not having your best stuff," Scioscia said. "You try to get outs, you get two outs, you try to get the next guy out, and you're not quite there.
"You will see, at times, some pitchers just get into a little cyclical thing where they have trouble finishing innings. And I think that's where Garrett is right now. He's finished some innings, but for the most part, there's no doubt."
But there are positives, too. Richards said that his delivery is close to where it needs to be. And Scioscia said that a couple of years ago, Richards might not have been able to "corral" a start like Monday's. But Richards has matured since then.
So his skipper isn't overly worried.
"He'll be better," Scioscia said.
David Adler is an associate reporter for MLB.com. Follow him on Twitter @_dadler. This story was not subject to the approval of Major League Baseball or its clubs.