King for day: Pineda gets best of old pal Felix
Yankees righty fans 9, outduels mentor in first start against his former team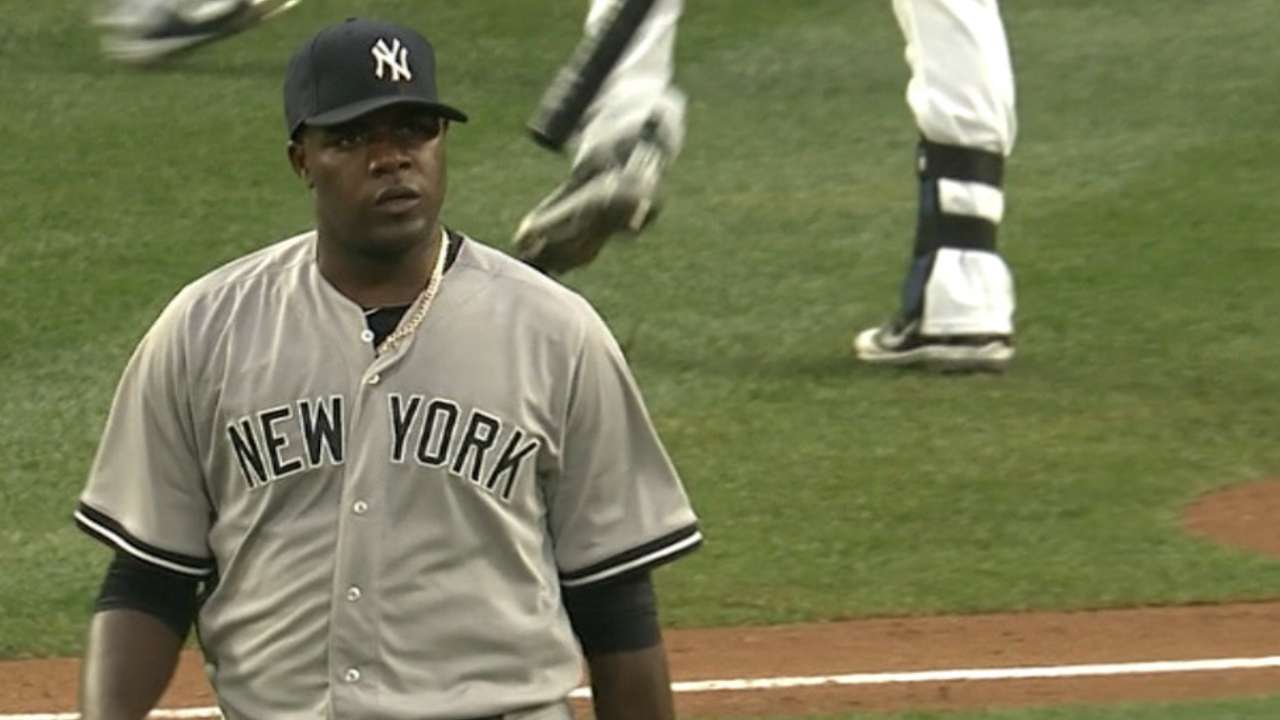 SEATTLE -- As a rookie trying to make a lasting impression on the big league stage, Michael Pineda took advantage of his close proximity to Felix Hernandez, scooping up morsels of knowledge from the reigning Cy Young Award winner about life in the Majors.
Four years later, Pineda bumped up against his former teammate on a night when the King looked anything but royal. The pupil beat the teacher, dethroning Hernandez with a nine-strikeout performance in the Yankees' 7-2 victory over the Mariners on Monday at Safeco Field.
"I'm very excited today for this game," Pineda said. "I'm very happy to be here again and pitching in Safeco Field. I'm happy tonight."
While Hernandez wobbled, unraveling after the third inning to permit seven runs -- including a Mark Teixeira grand slam -- while walking five, Pineda held the line to log his seventh victory, presenting Seattle with few opportunities to get back in the game.
"I had really good focus today and tried to do the best on the mound," Pineda said. "Tonight, everything is working good. I had really good power today, and my changeup was working well, my slider, too."
Pineda blanked Seattle through six frames before coughing up a pair of runs in the seventh, scattering seven hits with two walks before leaning on three relievers to wrap up the final nine outs.
"Another good arm," Mariners catcher Mike Zunino said. "He kept us off balance, was able to hit his spots and made big pitches when he needed. Obviously, you know he's got good stuff, and he pitched well tonight."
For the most part, Pineda has closed the door on his time in the Mariners organization.
He said that he does not keep in touch with Hernandez or any other former teammates, and often, they did not even talk about pitching while sharing a clubhouse; Pineda recalls leaning on Hernandez for such necessities as clothing recommendations, when to ride the bus and how to direct a taxi to Safeco Field.
"We didn't talk a lot about pitching," Pineda said. "We'd talk sometimes a little bit, but not too much."
Still, the promise was there. As an opponent during that 2011 season, Yankees first baseman Mark Teixeira once referred to Hernandez and Pineda as "the best one-two punch in baseball," a comment that wasn't forgotten when the Yanks triggered a four-player January 2012 deal to import the young hurler.
It took longer than anyone expected, but Pineda finally sent his former organization a message in person on Monday, and manager Joe Girardi said that Pineda seemed to handle the situation with poise, calming any fears that the manager had about Pineda's emotions.
"I'm trying to attack the hitters and pitch my game," Pineda said.
Bryan Hoch is a reporter for MLB.com. Follow him on Twitter @bryanhoch, on Facebook and read his MLBlog, Bombers Beat. This story was not subject to the approval of Major League Baseball or its clubs.