Pujols continues torrid stretch with 2 homers
Slugger hits two homers to help sink Rays in Halos' fifth straight win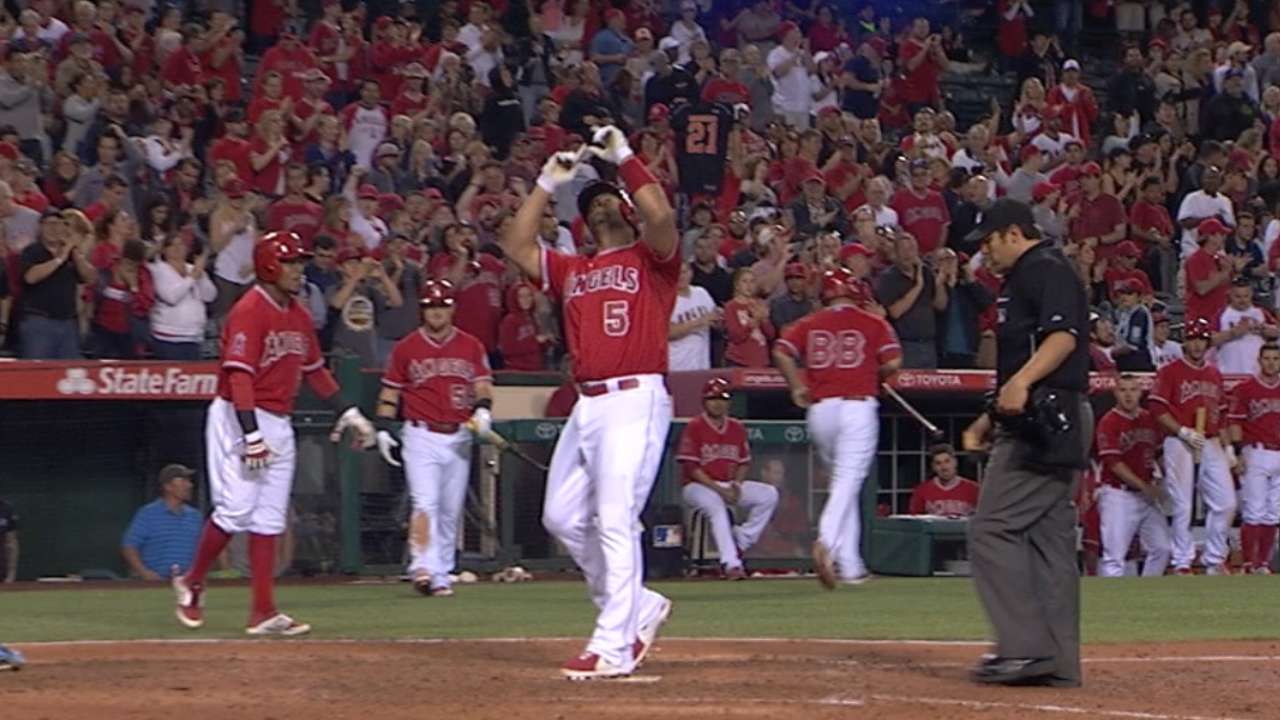 ANAHEIM -- It was one of those classic Albert Pujols stares, the perfect blend of satisfaction and disdain. It re-emerged in the eighth inning late Monday night, when the menacing slugger turned on a 95-mph fastball, drove it into the Angels' bullpen, watched it sail for a couple of seconds and tossed his bat with one of those patented "how dare you?" dispositions.
"When you hit 500 of them, you can watch them," Mike Trout said, laughing, after the Angels' 7-3 win over the Rays. "I don't think anybody's going to say anything."
It's 533, thank you very much -- and five of them have come over the last five games.
Pujols is feeling good again, and he's bringing the Angels' offense with him.
"He's a special player, and when he finds it he usually keeps it for a long time," Angels manager Mike Scioscia said of Pujols. "He's a guy who takes a lot of pressure off the rest of the guys in our lineup."
The Angels have won five consecutive games, moving a season-best four games above .500. Their previously floundering offense -- 29th in the Majors in OPS as recently as Thursday morning -- has amassed an ungodly 13 home runs in that span, with Pujols, Trout and David Freese all adding to that total in the series opener.
Pujols has increased his batting average by 19 points in those last five games, from .235 to .254, while tying Trout for the team lead with 13 homers.
"It's still a long season," Pujols said after his 49th career multi-homer game. "My job every day is to get myself ready to play. Obviously, every night you want to get some hits and you want to do something to help the ballclub, but that's impossible. The most important thing is to stay positive and know that it's a long season, and if you put quality at-bats and quality swings together, sooner or later it's going to come through. That's what's happening. But I'm not changing anything. It's the same approach I've been taking for 16 years."
Freese hit his ninth home run in the second, Trout added a three-run shot in the third, then Pujols belted a solo homer in the fifth and added a towering two-run homer in the eighth. Two innings before that, with runners on second and third and two outs in a two-run game, the Rays elected to intentionally walk Trout to face Pujols.
Pujols, who beat the Padres with a walk-off single off Craig Kimbrel under similar circumstances seven days earlier, flied out.
"Whether I'm hitting .500, you don't want the best player on the team to beat you," Pujols said. "That doesn't bother me. I've been in this game too long. I know what I need to do. Most of the time, I'm going to make them pay, and other times I don't get the hits that I should get."
And Pujols just keeps rolling with it, whether he's batting .218 on balls in play like he was five days ago or sporting a .421 clip like he has over these last five games. He'll continue to show up early and take extra swings and squeeze the most out of every at-bat and do his best to not look anywhere beyond that.
A few times along the way, though, he might stare you down a little.
Alden Gonzalez is a reporter for MLB.com. Read his blog, Gonzo and "The Show", follow him on Twitter @Alden_Gonzalez and listen to his podcast. This story was not subject to the approval of Major League Baseball or its clubs.