Troubles mound up quickly on off night for Felix
Mariners ace blames lack of command, not muddy hill, for 4 2/3-inning outing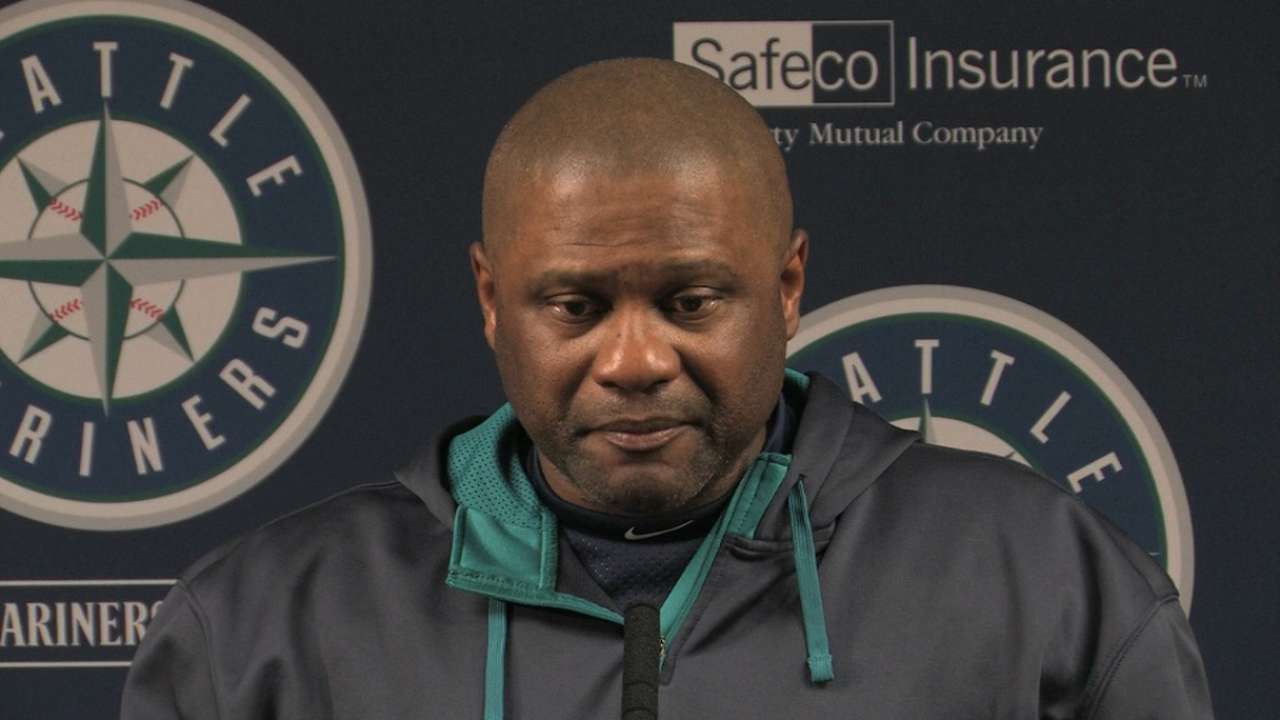 SEATTLE -- Felix Hernandez wasn't about to make excuses. It wasn't the Safeco Field mound that turned muddy before the retractable roof rolled shut during a midgame rain, he insisted, despite a dramatic turn of events that saw a perfect start turn into a disastrous finish in a 7-2 loss to the Yankees on Monday.
After zipping through three perfect innings, Hernandez lost his command in a rare midgame meltdown. After throwing just three balls among the 21 pitches he fired in the first three frames, he threw 30 balls among 64 pitches required to get his next five outs before being replaced.
The final line: Seven runs on six hits with five walks over 4 2/3 innings was an un-Felix-like performance in what had been an otherwise outstanding season. His record fell to 8-2 as his ERA rose from 1.91 to 2.63 in his shortest start since another 4 2/3-innings outing last September in Toronto.
Though Hernandez spent much of the fourth and fifth frames stomping his feet and trying to clean off his cleats, he and manager Lloyd McClendon declined to use that as an out after Seattle's ace was outpitched by Michael Pineda in the former Mariners pitcher's first return to Safeco since his trade in 2012.
"There was nothing wrong with the mound," McClendon insisted. "Pineda didn't have any problem with the mound. He just didn't pitch well. That's all. I'm not going to sit here and make excuses and say the mound was the reason he didn't pitch well."
"I don't know what happened," Hernandez said. "I just lost my command and fell behind a lot of times. A lot of walks killed me. I made a lot of mistakes."
Was the muddy mound any issue?
"I would say yes, but that's not what happened," Hernandez said. "I was just making mistakes, I fell behind, I threw a lot of walks and then [Mark] Teixeira beat me with the grand slam. … I was just kicking dirt out of my cleats. But it's not that. It was just one of those days. It was on me."
Catcher Mike Zunino said the mound might have been a momentary issue, but the bigger change was the Yankees' adjustment to their approach.
"I thought he threw really good the first three innings and then they sort of flipped the script," Zunino said. "They were really aggressive early, then they started taking pitches and got guys on. And then a big swing by Teixeira, that sort of turns the momentum right there. They started taking pitches and he was living right on the corners. He fell behind a little too much."
Teixeira, whose six home runs against Hernandez are the most the Mariners ace has given up to any hitter, echoed that thought.
"His stuff moves so much, I think that's what got him into trouble a little bit," Teixeira said. "His stuff was moving so much, it was tough to control and he walked a few guys. Give our hitters credit; they didn't swing at the bad pitches when he threw them. We made the adjustments. "
Hernandez had dominated the Yankees in recent years, going 3-0 with a 1.50 ERA in his six previous starts and 9-5 with a 2.87 ERA in 17 career meetings. It was his first loss to the Yankees since May 12, 2012.
It was also just the fifth time in Hernandez's 11-year career that he allowed seven or more earned runs while failing to make it through five innings and the first since August 2013.
"He's human, I guess," said McClendon.
Greg Johns is a reporter for MLB.com. Follow him on Twitter @GregJohnsMLB, read his Mariners Musings blog, and listen to his podcast. This story was not subject to the approval of Major League Baseball or its clubs.