deGrom: No walks, no extra-base hits and, almost, no hits
Mets pitcher throws 'probably one of the best games I've seen him pitch,' Collins says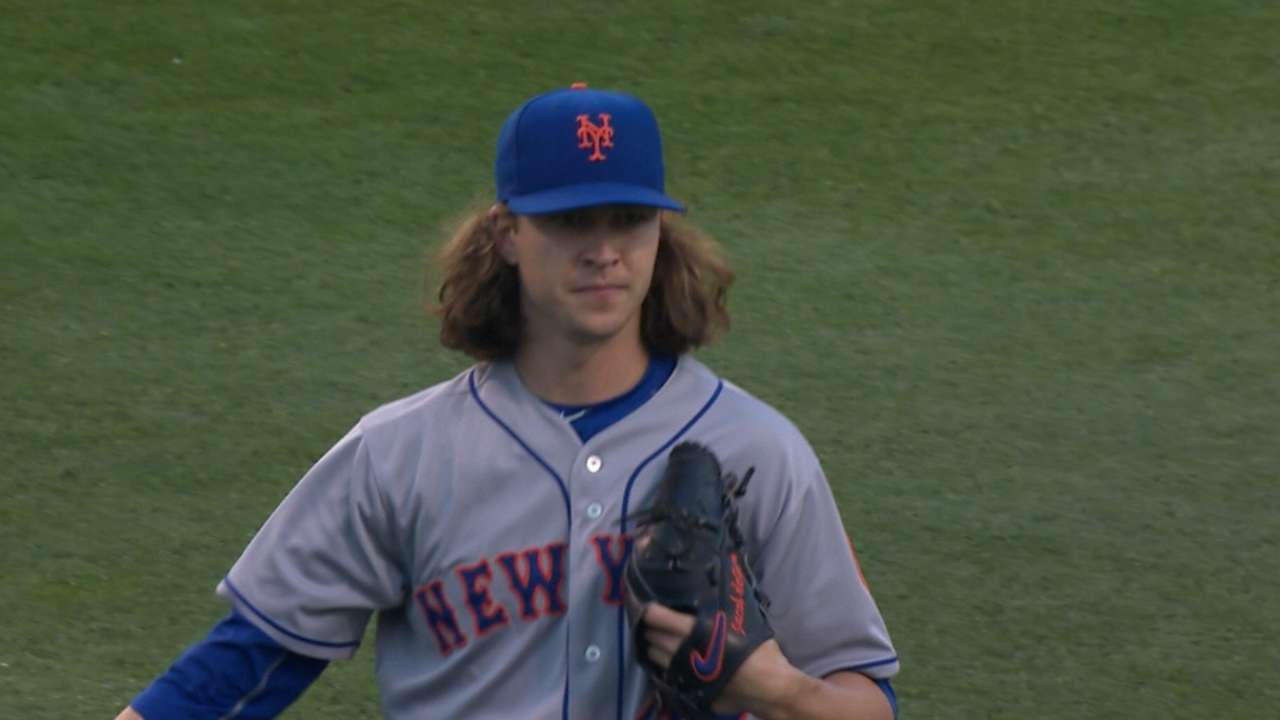 SAN DIEGO -- If Jacob deGrom was indeed approaching that rarest of athlete zones during the Mets' 7-0 win over the Padres on Monday night, incapable of thinking about anything other than his next inning, his next batter, his next pitch, his next breath, deGrom snapped out of it as he walked off the field at one point relatively early in the game.
"You have a no-hitter going!" he recalls a fan yelling at him before he reached the dugout steps.
If he hadn't been thinking about it before, deGrom certainly was then.
Perhaps it was coincidence that shortly thereafter, Clint Barmes broke up deGrom's perfect-game bid with a leadoff ground-ball single in the sixth. Perhaps it was causation. Then again, perhaps the fan's call didn't make a difference. If deGrom was not already considering history, he was the only one.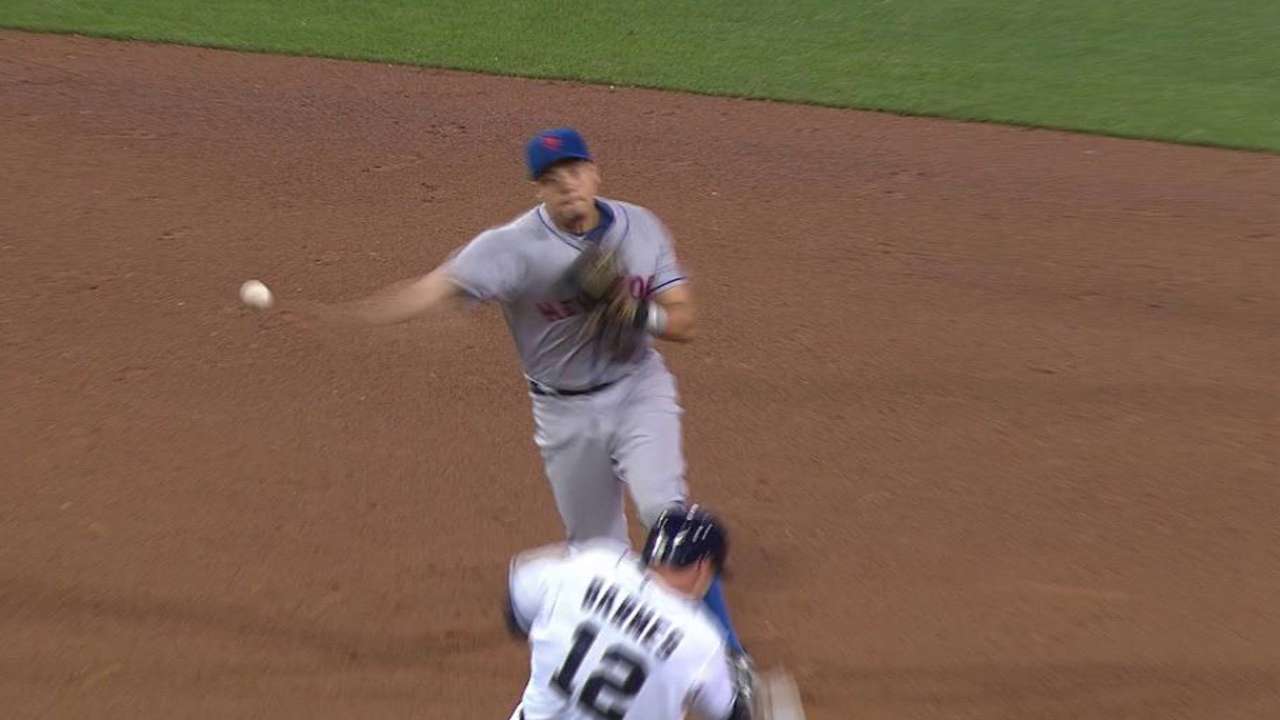 Behind home plate, catcher Kevin Plawecki admitted that he "would be lying if I wasn't thinking about it a little bit." In the dugout, manager Terry Collins had flashbacks to a night at Citi Field exactly three years prior, when Johan Santana threw the first no-hitter in franchise history -- a game that still tortures Collins because of the 134 pitches that Santana threw in his 11th start back from major shoulder surgery, and the ensuing arm issues that Santana has battled to this day.
All such thoughts melted away when Barmes singled in the sixth, leaving deGrom and the Mets with nothing more than a breezy win at Petco Park and another brilliant statistical start. This one was eight innings in length. This one included two hits, eight strikeouts and -- of course -- no walks or extra-base hits. DeGrom (6-4) has walked only one batter over his last four starts, striking out 34 with a 0.92 ERA over 33 1/3 innings. He has not allowed an extra-base hit in any of those outings, matching Gary Gentry, Jon Matlack and Dwight Gooden for the longest such streak in franchise history.
"This is probably one of the best games I've seen him pitch," Collins said. "And I've seen him pitch some really, really good ones."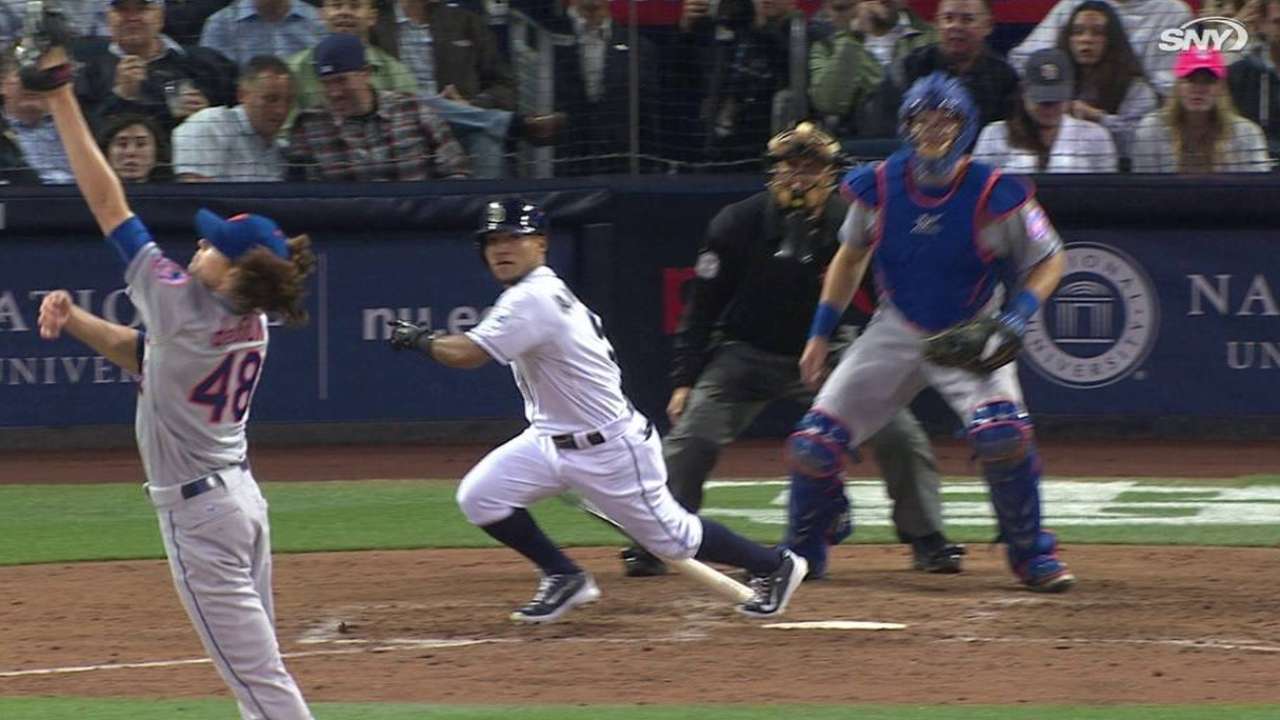 On a night when Daniel Murphy, Ruben Tejada and the Mets provided a rare, consistent offensive cushion, deGrom ensured that victory was never in doubt. Striking out the first four batters he faced, the reigning National League Rookie of the Year blew past the first nine, allowing no hard-hit balls until Will Venable lined out to lead off the fourth. The Padres began hitting him a little harder from that point forward, though everything is relative. San Diego's first hit came on a bouncing ball to the right side, through a gaping defensive hole. The Padres' second and final hit came on a ground ball to shortstop.
DeGrom, who made a habit last season of snapping his poor stretches with otherworldly ones, said there is no single tweak he made to enter this zone, no solitary adjustment that helped him regain his no-hit-potential-at-any-time form. He is simply repeating the mechanics that made him a star last season, focusing as best he can on every inning, every batter, every pitch, every breath.
"This is the best I've been at repeating it, staying on top of the ball and getting good downward movement like I did last year," deGrom said. "I think I'm just in a better rhythm now."
Anthony DiComo is a reporter for MLB.com. Follow him on Twitter @AnthonyDiComo and Facebook, and listen to his podcast. This story was not subject to the approval of Major League Baseball or its clubs.