Consistency, repetition fuel Wood's success
Braves lefty stymies D-backs in third straight win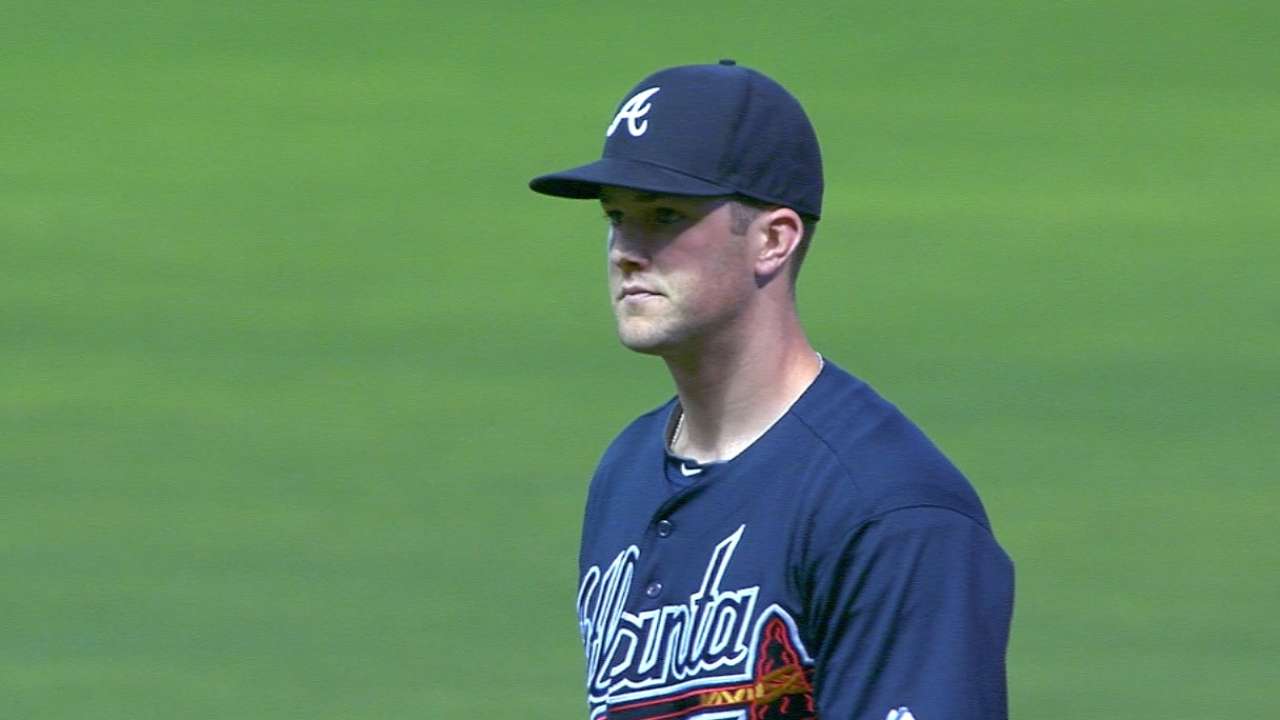 PHOENIX -- Braves starter Alex Wood is starting to repeat himself and it's driving his opponents crazy.
Wood was stellar once again Monday, giving up one run on seven hits in eight innings in an 8-1 victory against the D-backs at Chase Field. The left-hander has pitched at least seven innings and has been charged with only one earned run in each of his last three starts, all wins. He gave up three runs in a 6 2/3-inning effort against the Nationals on May 10.
"The last two starts I'm starting to get everything together, so to speak," Wood said. "And like I said last week, it's more about getting that consistency and repeatability to where I don't have anything to work on any more than just being consistent and repeatable. For me, that's the biggest thing."
Using his fastball and changeup, Wood cruised through four scoreless innings. He ran into trouble in the fifth when the D-backs loaded the bases with one out. The trouble didn't last long.
Arizona right fielder Ender Inciarte drove in a run on a sacrifice fly to center to cut Atlanta's lead to 5-1, but pinch-hitter Yasmany Tomas tried to advance to second and was thrown out easily by shortstop Andrelton Simmons to end the inning.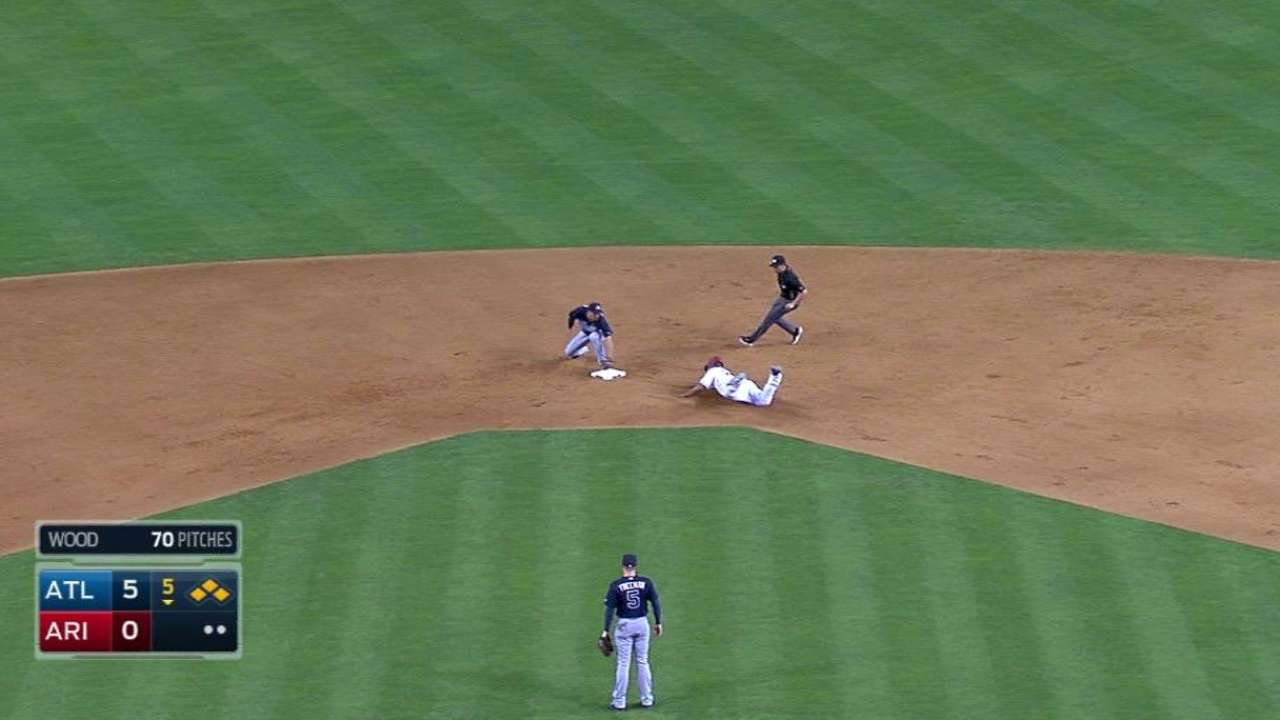 For his part, Simmons finished 3-for-5 to extend his hitting streak to 10 games, one short of his career high.
"I love his presence and his approach," manager Fredi Gonzalez said of Simmons. "We talked about in April and he has kept it now for two solid months. The approach to hit the ball up the middle and to the right side has been good for him."
The D-backs threatened again in the eighth when Inciarte and Jordan Pacheco hit back-to-back singles to start the inning. But the next hitter, A.J. Pollock hit a sharp ground ball to third baseman Juan Uribe, who then stepped on the bag and fired across the diamond to first base to complete the double play. Paul Goldschmidt flied out to center field for the final out of the frame. Wood had escaped unscathed once again. Trevor Cahill, who was traded from Arizona to Atlanta in April, replaced him to start the ninth and retired the side in order.
"It was nice to see [Wood] pitch himself out of that jam in the eighth, first and second and nobody out and here come the big boys," Gonzalez said. "He was able to get the ground ball and get Goldschmidt to fly out to center field. It was a really good outing by Woody tonight."
Wood also did his part on offense.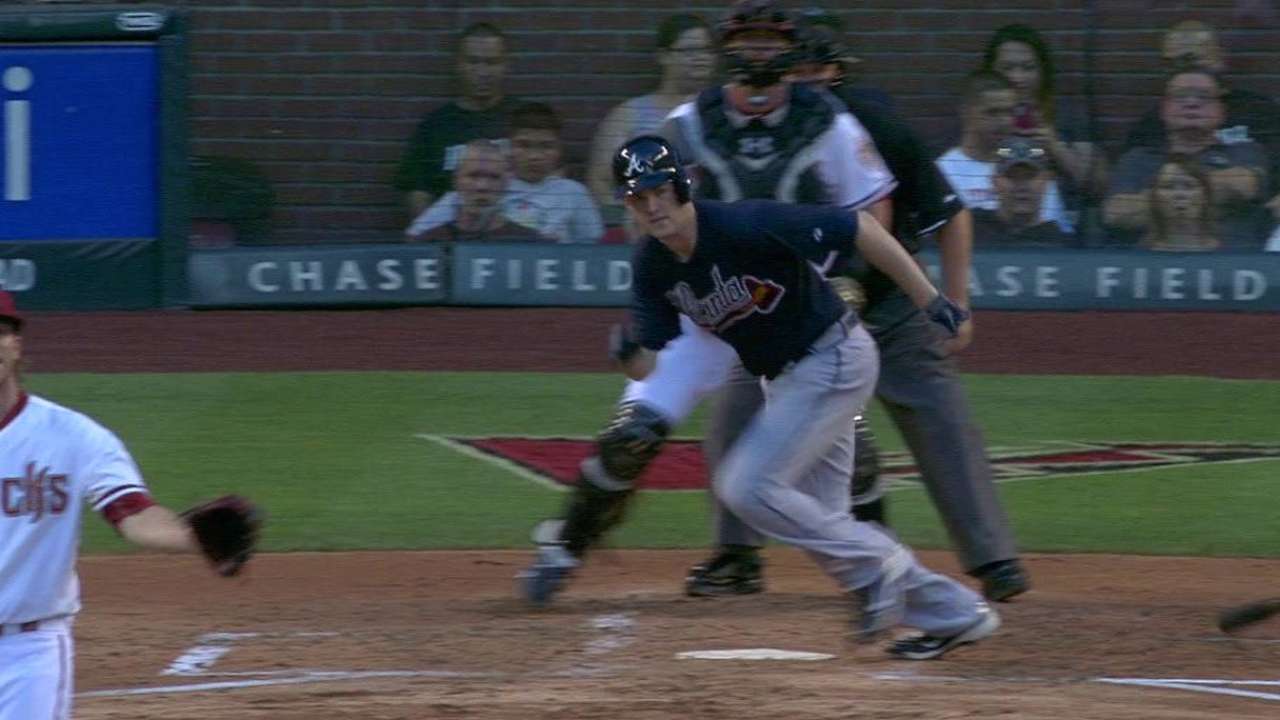 D-backs starter Archie Bradley intentionally walked Todd Cunningham to load the bases with two outs in the second to face Wood, and he made them pay for it with a single up the middle that scored A.J. Pierzynski and Jonny Gomes for a 2-0 lead. Simmons drove in Cunningham with a single to extend the lead to 3-0 and it proved to be more than enough.
First baseman Freddie Freeman pitched in with three hits, including a two-run home run and three RBIs. Nick Markakis also had two hits for the Braves.
"That's always nice to get a knock, but the more important part was extending that inning," Wood said. "I don't know how many more pitches he threw after me, but that played a big role in his early exit."
Jesse Sanchez is a national reporter for MLB.com. Follow him on Twitter @JesseSanchezMLB. This story was not subject to the approval of Major League Baseball or its clubs.