Brewers-Cards opener nearly ends on replay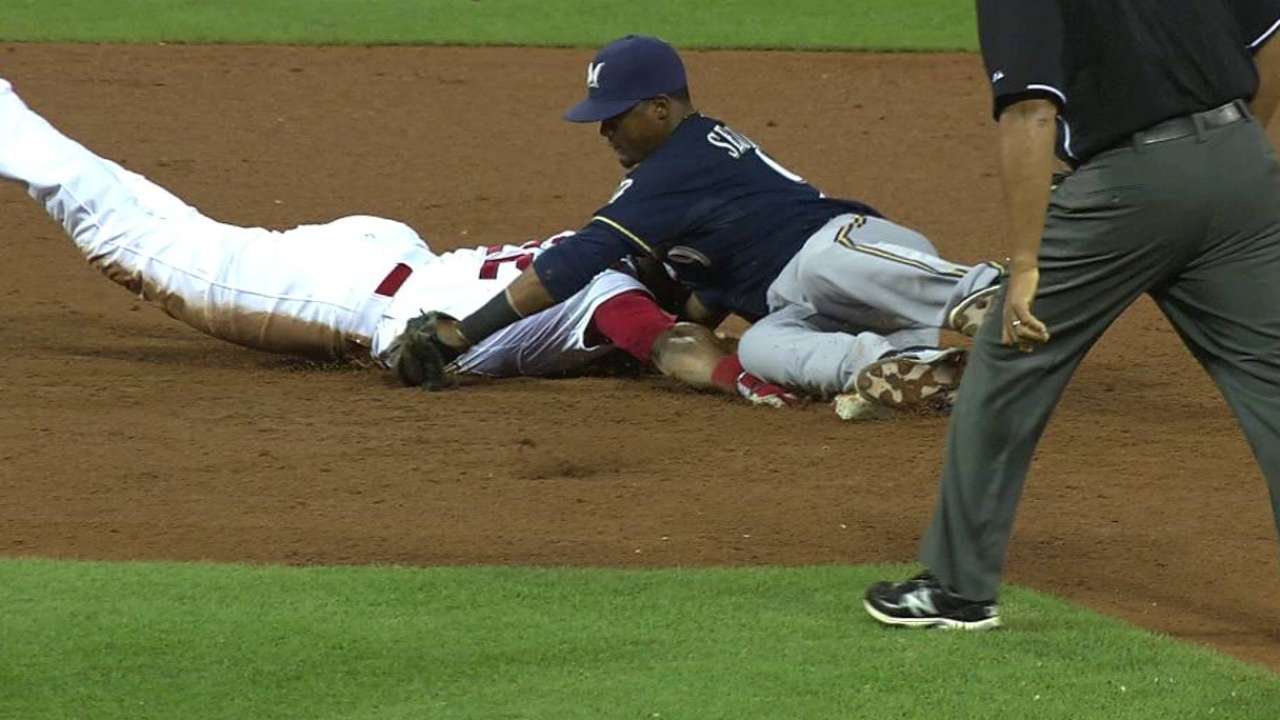 ST. LOUIS -- The Brewers' 1-0 win over the Cardinals on Monday at Busch Stadium was this close to ending on instant replay. Brewers closer Francisco Rodriguez was convinced it should have.
"I thought I got him," Rodriguez said. "I'm still thinking that I got him."
"He" was Cardinals outfielder Jason Heyward, who singled leading off the ninth against Rodriguez, then stole second base with two outs to represent the tying run in scoring position. With Kolten Wong batting, Rodriguez spun and fired a pick-off throw to Brewers shortstop Jean Segura, who tangled with Heyward at second base and might have tagged the dirt before he tagged the runner -- or missed Heyward entirely.
The second-base umpire, Kerwin Danley, signaled safe. Brewers manager Craig Counsell immediately challenged, and after 2 minutes and 24 seconds, crew chief Joe West came back with the ruling: The call "stands," meaning the replay was not conclusive enough to change Danley's original call.
"Just looking at the scoreboard [replay], I'd challenge that every single time," Counsell said. "I guess they couldn't conclusively say that the glove got on his leg. I guess that's what would be their read. But I'd challenge that one every single time."
Heyward was confident he was safe.
"I felt really good about it," he said. "[Segura] never tagged me or attempted to tag me. I know it looked really close, too close for comfort, but as I was diving back in, the shortstop really put his body between me and the base. I feel like the majority of infielders would have done that. It's just part of the game."
Rodriguez did not share Heyward's confidence in the original call.
"I still thought I got him," Rodriguez said. "But at the end of the day, I know to end a game on a call like that -- maybe with one out we get that call. When it was taking that much longer, I knew they weren't going to overturn it because of the circumstances of the game. That's what you have to have in mind when you're waiting for those things."
It's not unprecedented for a game to end on an overturned call. On May 6, 2014 in Pittsburgh, the Pirates beat the Giants, 2-1, on a close play at home plate. Starling Marte was originally called out on the play, ending the ninth inning, but a 74-second review reversed that ruling.
Adam McCalvy is a reporter for MLB.com. Follow him on Twitter @AdamMcCalvy, like him on Facebook and listen to his podcast. This story was not subject to the approval of Major League Baseball or its clubs.