Quick hook for Ubaldo in 7th doesn't pan out
O's manager Showalter brings in reliever Brach, who lets Astros take the lead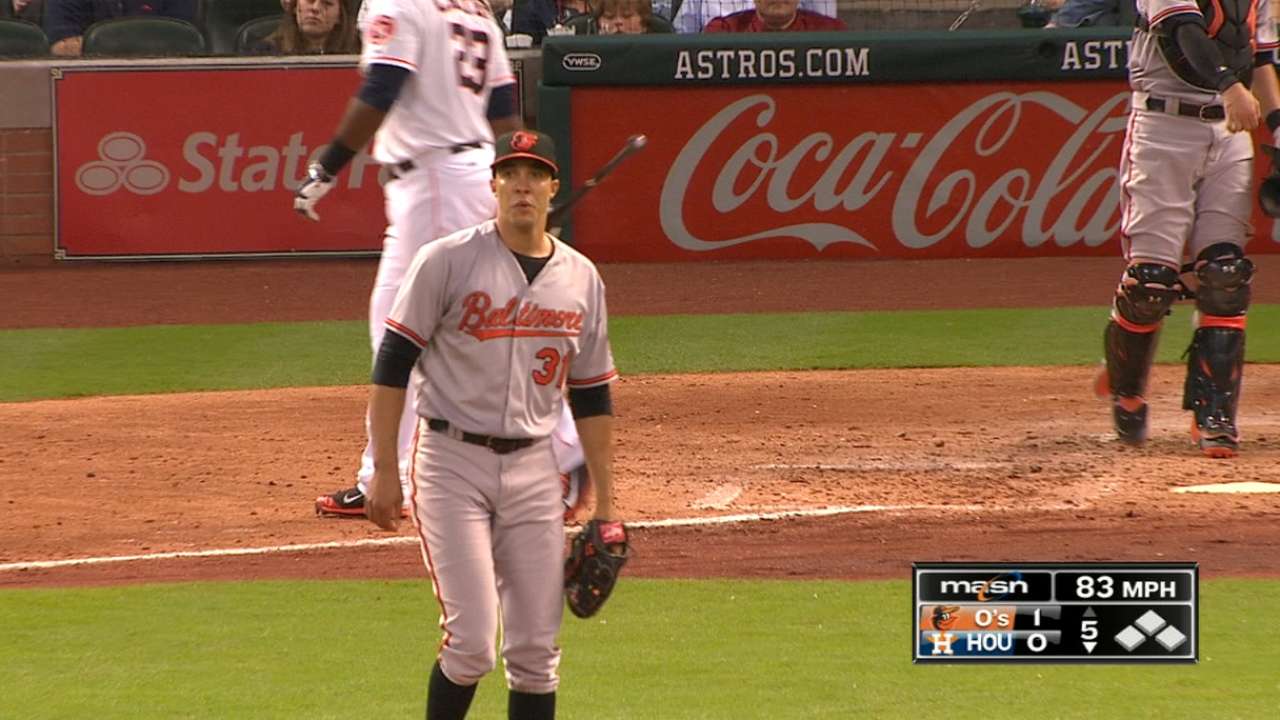 HOUSTON -- Ubaldo Jimenez exited his start after the Astros' Chris Carter hit a leadoff single in the seventh inning despite having thrown just 91 pitches on Monday night, and the move backfired on the Orioles.
"Yeah, I was a little bit [surprised], but as a starting pitcher, you never want to come out of the game," said Jimenez, who turned the ball over to reliever Brad Brach and watched a 2-1 lead morph into the O's 5-2 loss. "But it's part of the game. You have to do whatever they think is good for the team. This is how things are going for us right now. In another situation, we might get a double play and get out of the inning, but that's how it's going right now."
Jimenez, who entered the seventh inning having allowed only one run on three hits, was on a roll. The righty had struck out eight and allowed only Luis Valbuena's solo shot. But with Carter on first and Valbuena due up, O's manager Buck Showalter made the move.
"[It was] a little bit of everything," Showalter said when asked if Jimenez was tiring or he liked the Brach matchup better. "[Jimenez] didn't deserve to have anything but a no-decision or a W out of that. Especially with the way Brad has been pitching. We just got a different Brad tonight."
Brach, who entered the game with a 1.80 ERA over his last 14 outings (20 innings), made Showalter's move costly. The righty struggled with his command and allowed two hits and two walks in a four-run seventh that saw Houston take the lead for good.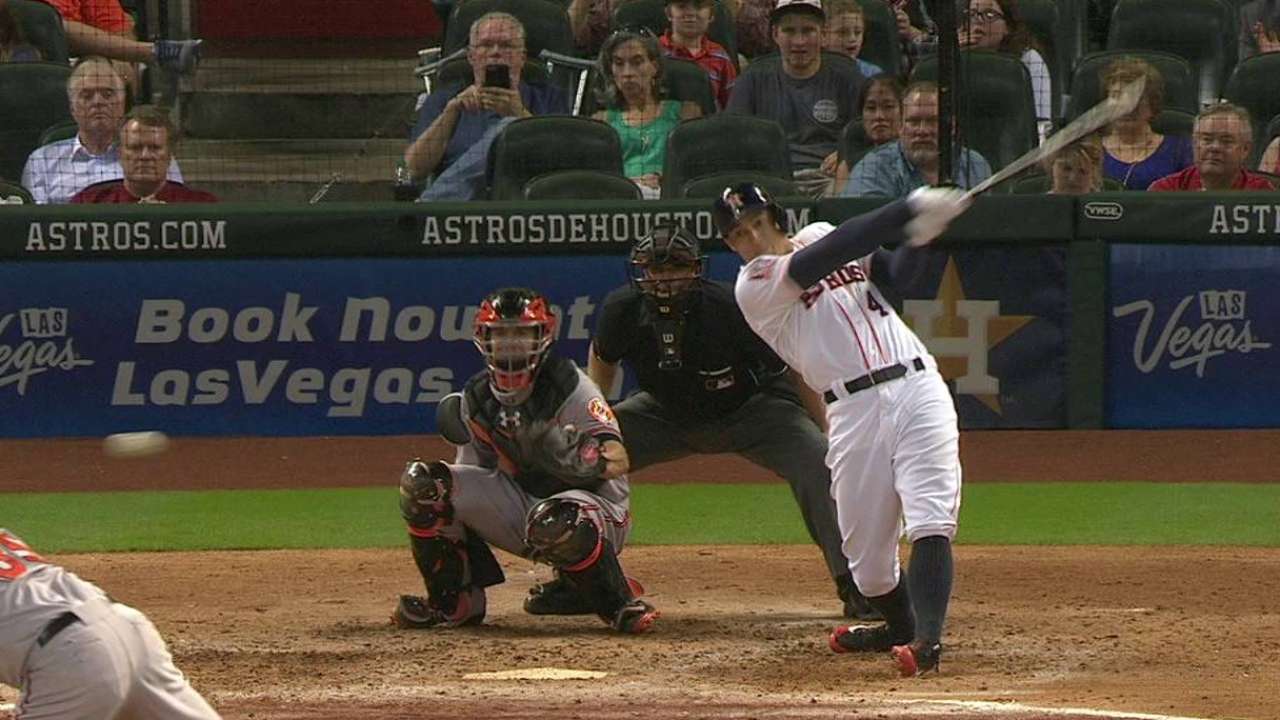 "Just fell behind, and when you fall behind hitters, they are going to get hits in the Major Leagues," Brach said. "Did not do a good job of throwing strikes. Got behind hitters and didn't do myself any favors out there."
Brach started warming up when the inning started and, despite the abrupt hook for Jimenez, said he had plenty of time to get ready.
"Seemed like he couldn't get himself back in sync. Got in a little rut there and couldn't make adjustments," Showalter said of Brach, who had rebounded nicely from a rough start to the season. "Something we thought he had gotten over."
Valbuena worked a walk off Brach, with pinch-hitter Hank Conger then hitting a single to load the bases. After Brach struck out Marwin Gonzalez, George Springer swung at a 3-0 pitch and singled to tie the game and Jose Altuve sent a 3-1 pitch into center field for a sacrifice fly to score the go-ahead run. Brach walked Preston Tucker and was pulled in favor of Tommy Hunter, who allowed a two-run single to Evan Gattis.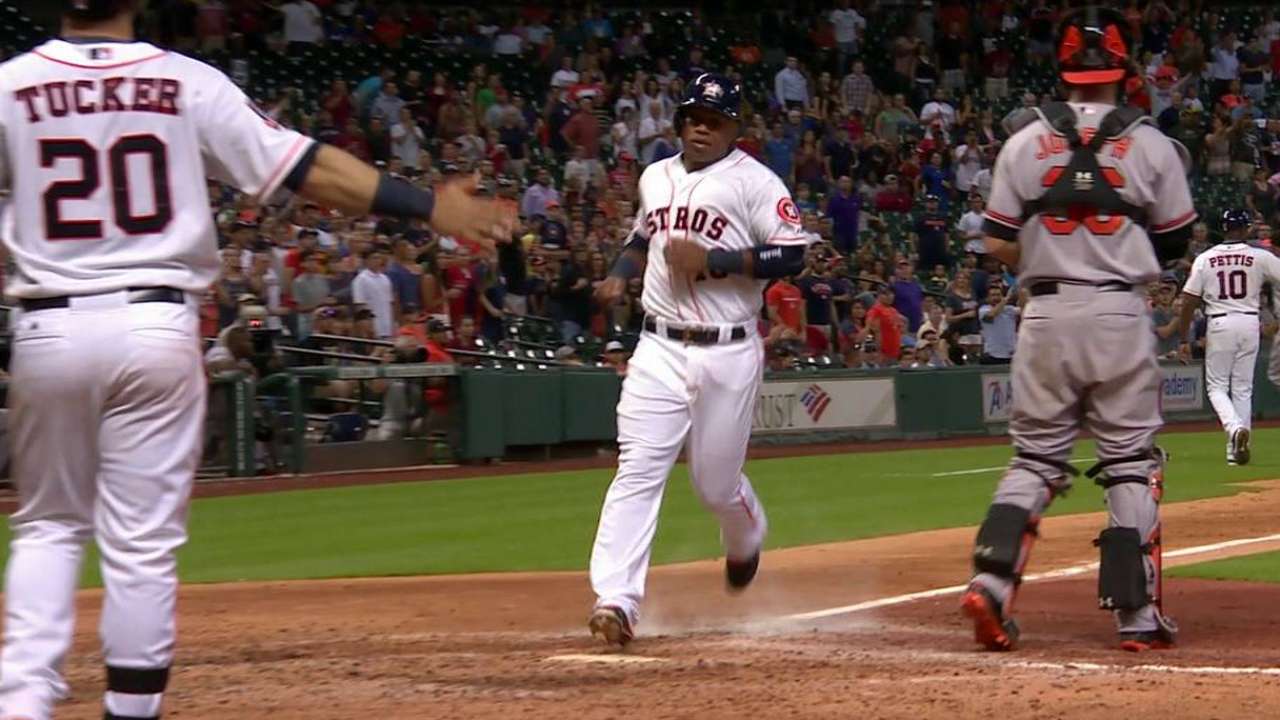 "We're having some inconsistencies with the people in our bullpen, with the people who have been real good. And that's been back and forth, not sure what we are going to get each time out," Showalter said. "The tack-on runs were big with Tommy. That goes unnoticed. We played a really good defensive game, otherwise they would have scored a lot more runs."
Brittany Ghiroli is a reporter for MLB.com. Read her blog, Britt's Bird Watch, follow her on Facebook and Twitter @britt_ghiroli, and listen to her podcast. This story was not subject to the approval of Major League Baseball or its clubs.