McCutchen denied by Giants' 2 superb catches
Pagan, Pence make dazzling grabs to rob Pirates star of multiple RBIs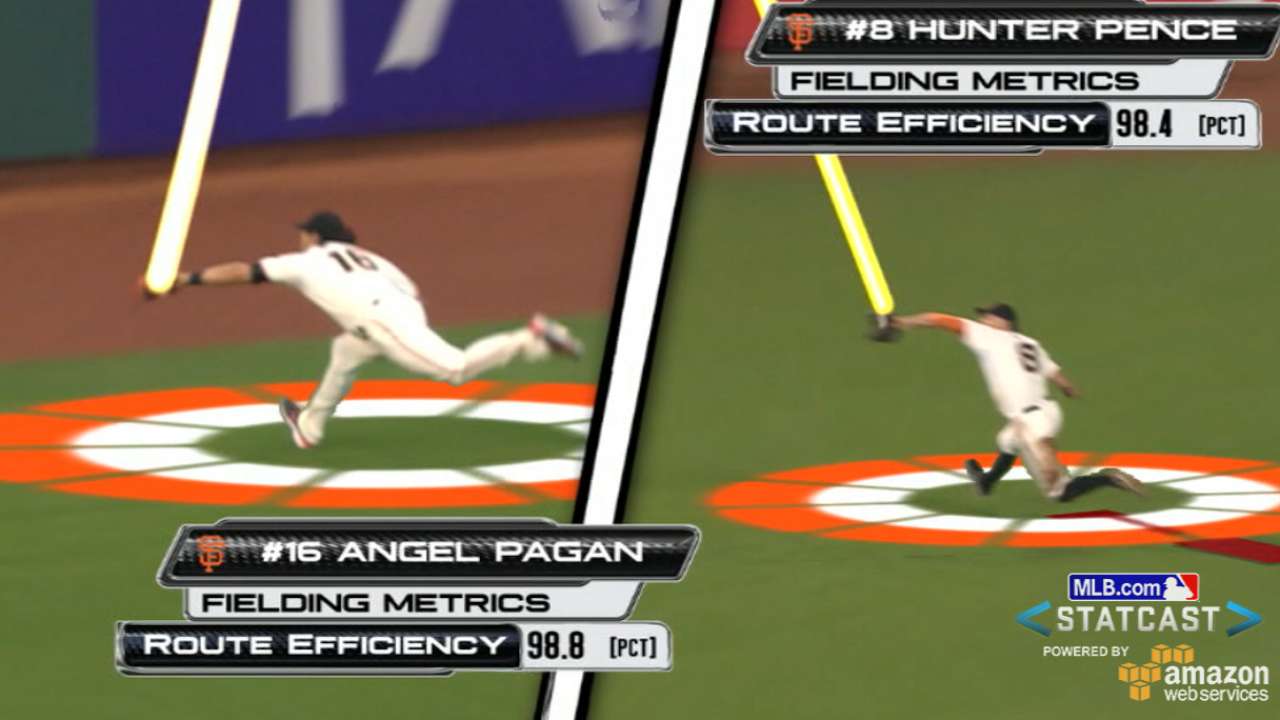 SAN FRANCISCO -- Pittsburgh's Andrew McCutchen saw double Monday, but he didn't see doubles. Or triples.
McCutchen should have accumulated a fat total of RBIs befitting his status as a perennial Most Valuable Player candidate. But center fielder Angel Pagan and right fielder Hunter Pence of the Giants denied McCutchen a big night by taking turns robbing him of extra-base hits that would have scored multiple runs in the third and fifth innings of the Pirates' 4-3 victory.
San Francisco's sparkling defense kept the score close but Pittsburgh won anyway for its ninth triumph in 11 games. The Giants' losing streak reached three for the first time since April 15-17.
In both the third and fifth innings, McCutchen batted with the bases loaded and one out. Each time, he settled for a sacrifice fly when first Pagan and then Pence swooped under his long drives.
Giants right-hander Ryan Vogelsong, whose ERA barely budged (from 4.24 to 4.26) due to Pagan's and Pence's robberies, praised his teammates' overall defense.
"They're always great," Vogelsong said. "You kind of get used to seeing it."
Pagan's play still looked singular. McCutchen clobbered a Vogelsong pitch toward the warning track in left-center field. The ball appeared destined to fall safely, which would have given the Pirates two or possibly three runs. But Pagan lunged for the ball in front of the track and snared it.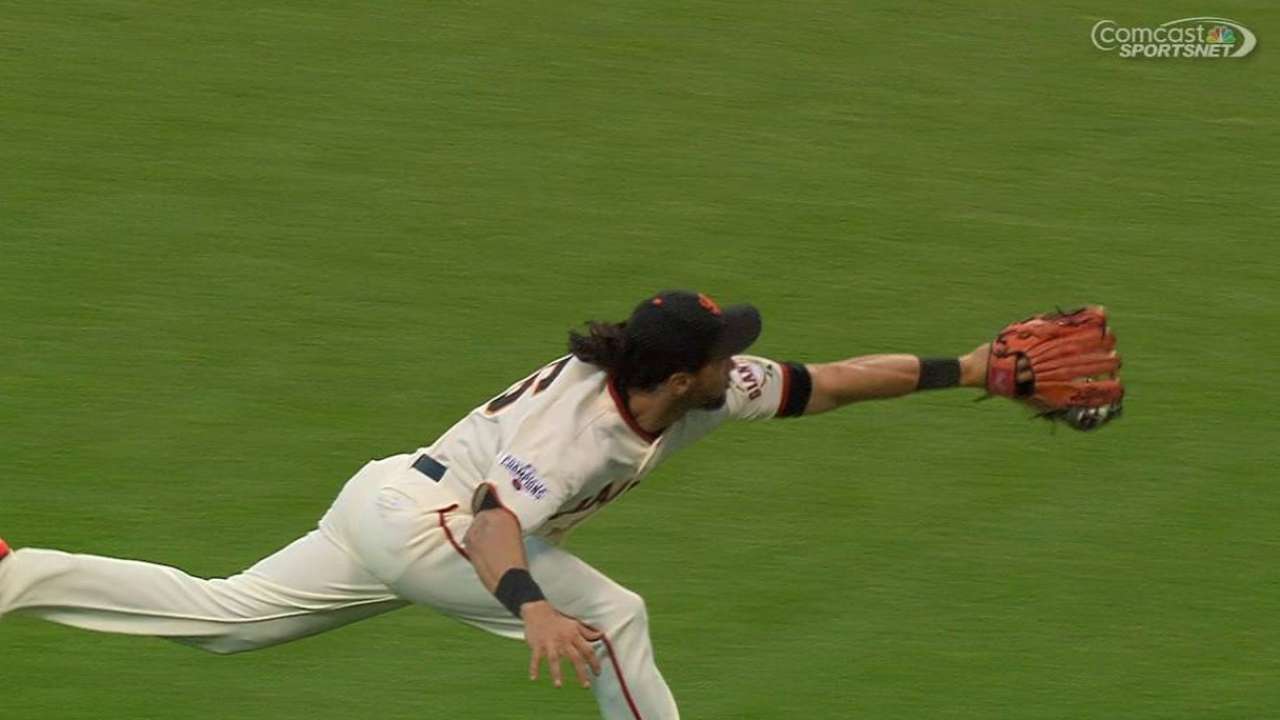 According to Statcast™, Pagan covered 88 feet at a top speed of 19.65 mph to reach the ball, with a 98.82 percent route efficiency.
"That was an unbelievable play," said Vogelsong, who gestured toward Pagan in acknowledgement after he made the grab.
In the fifth, McCutchen lashed his extra-base bid toward the right-center-field gap, where Pence simply outran it and slid on the grass after clutching the ball. Television cameras caught McCutchen laughing helplessly as he returned to the Pirates' dugout with another sacrifice fly that tied the score, 2-2. It quickly became 4-2 on Neil Walker's two-run double.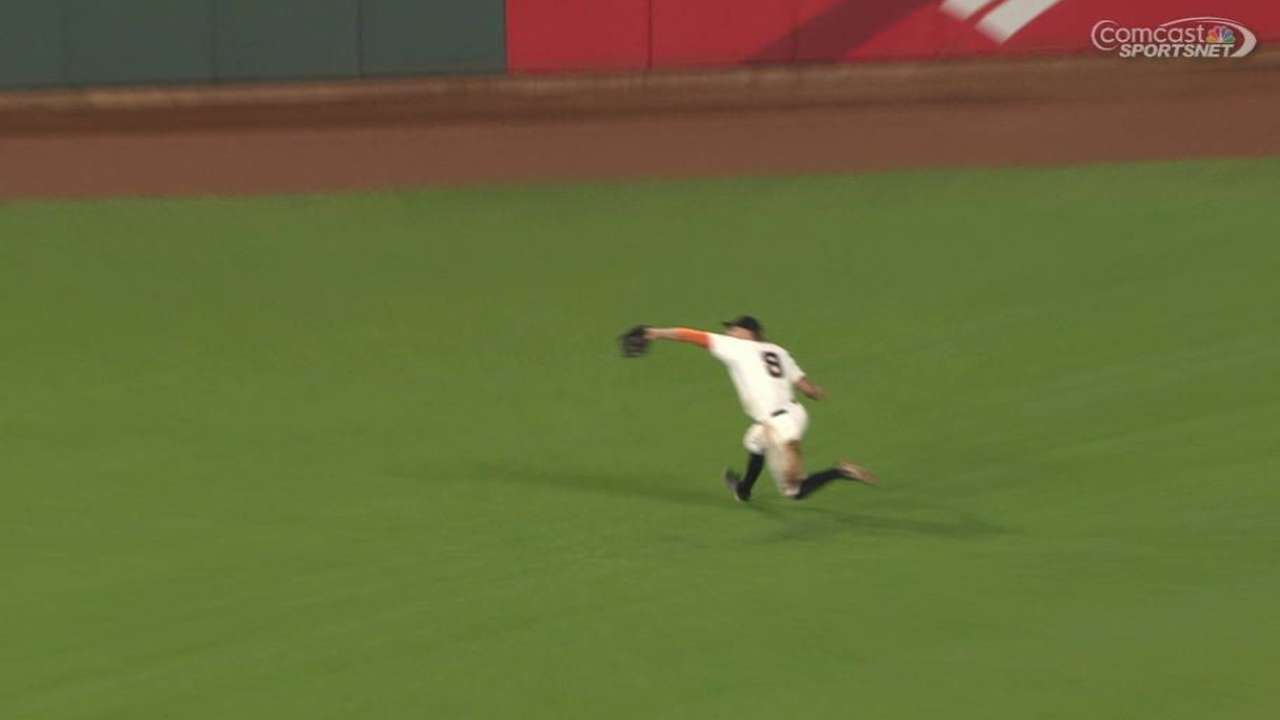 Statcast™'s readings determined that Pence covered 74 feet at a top speed of 18.73 mph to get the ball. Pence's route efficiency was measured at 98.37 percent.
"That's four runs kept off the board by two fantastic plays," Pirates manager Clint Hurdle said. "That play by Pagan ... my, when you talk about game changes. And then [McCutchen] throws up another at-bat and Pence lays out. But Cutch still gave us a couple of at-bats we needed [to] get us back tied."
Third baseman Matt Duffy committed a throwing error that made Pittsburgh's third-inning run unearned. Otherwise, the Giants' defensive excellence -- which included catcher Buster Posey's fifth-inning throw to apprehend Chris Stewart at third base on Gerrit Cole's bunt -- left manager Bruce Bochy with little reason to complain.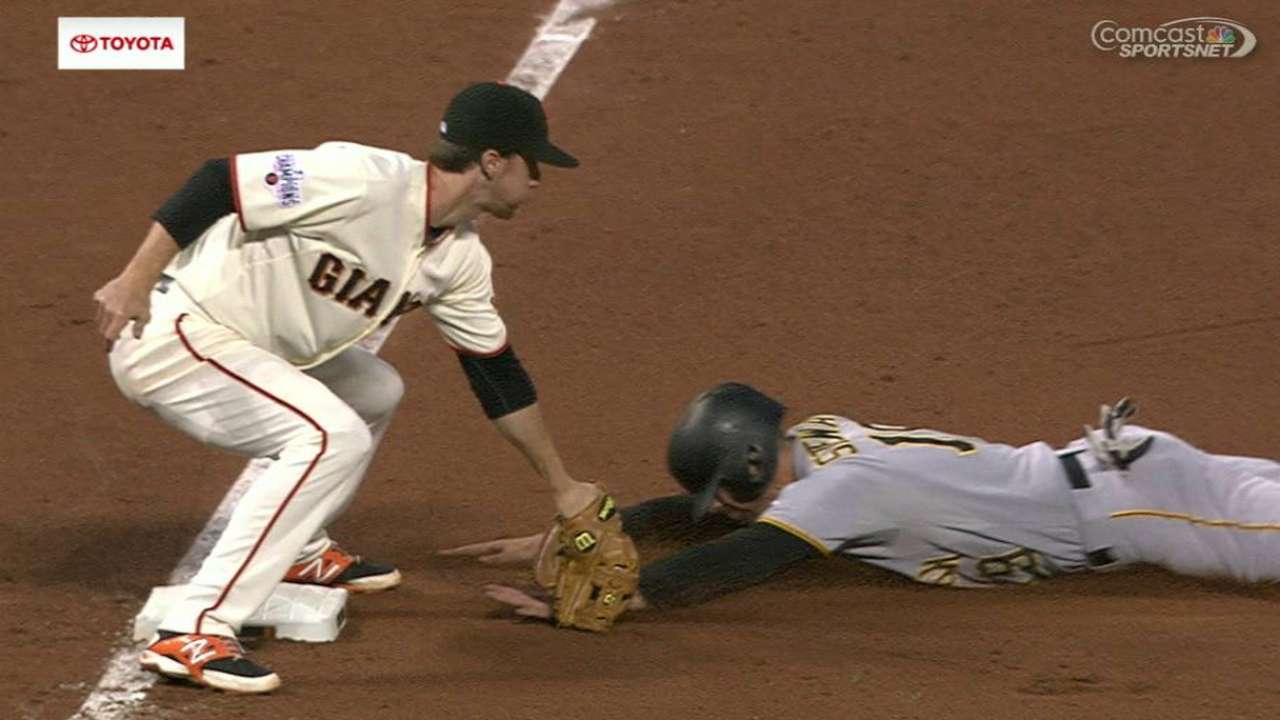 "A lot of good things happened," Bochy said. "... Our defense saved us from letting that game get away and our bullpen did too -- kept it close. [We] just came up short."
Chris Haft is a reporter for MLB.com. Read his blog, Haft-Baked Ideas, follow him on Twitter at @sfgiantsbeat and listen to his podcast. This story was not subject to the approval of Major League Baseball or its clubs.