Frieri returns to Anaheim a different pitcher
Right-hander struggles before being DFA'd by Rays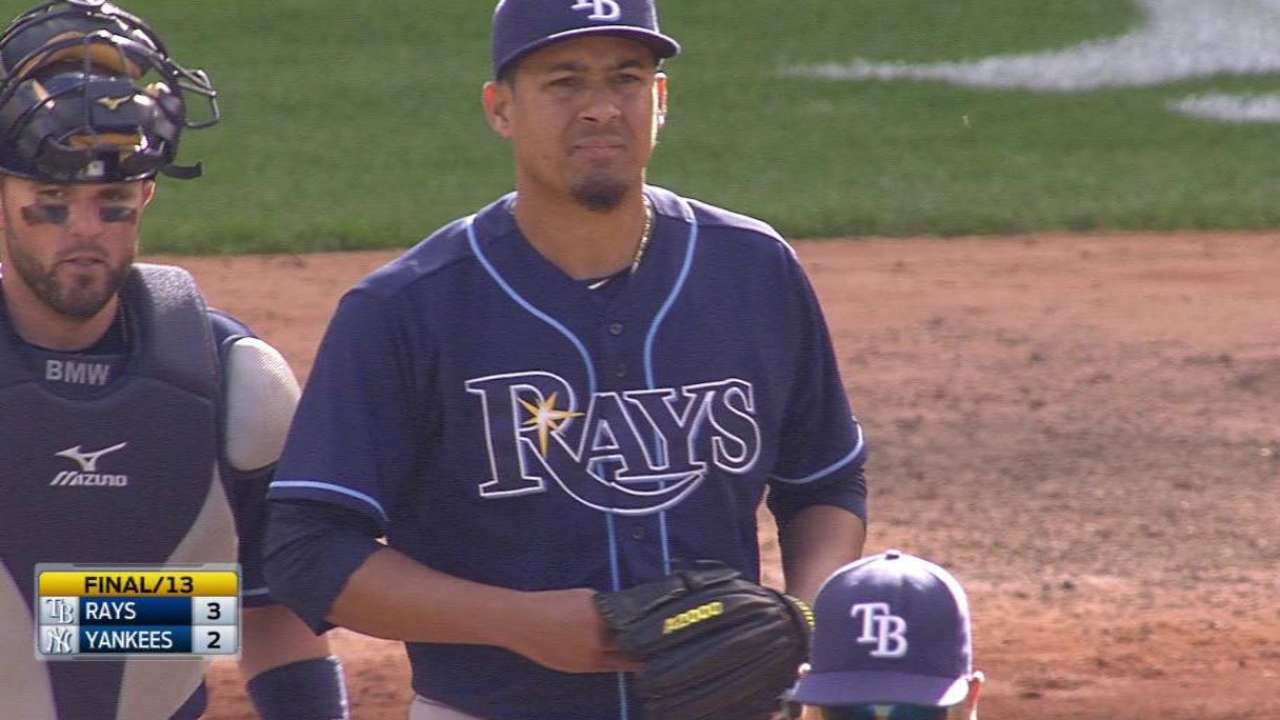 ANAHEIM -- Ernesto Frieri isn't the guy he once was, while with the Angels and thriving as their closer. And you don't have to look at his numbers or even his velocity to make that assumption.
He'll tell you himself.
"I'm no longer that guy who comes across his body, who tucks his arm back," Frieri said on Monday, just before stretching with his Rays teammates in his return to Angel Stadium. "I've tried to correct it, but I can't. I don't throw that hard anymore; my elbow doesn't feel very good sometimes.
"This whole year has been spent trying to find my mechanics, to be the Ernesto Frieri of 2012 and 2013 with the Angels. To try to find my fastball."
Frieri's fastball was magical. It sat in the mid-90s, traveled with unpredictable movement and was impossible to see until it came out of his hand. It was the only pitch Frieri really needed to dominate in the back end of the Angels' bullpen for the better part of two seasons, after being acquired from the Padres for Alexi Amarista and Donn Roach in May 2012.
Then came 2014.
Frieri blew a bunch of saves, went to the Pirates in exchange for Jason Grilli, struggled mightily in Pittsburgh, got released with four weeks left, signed an incentive-laden contract with the Rays and spent the first two months of 2015 pitching in mop-up duty.
After the first game in June, the Rays designated Frieri for assignment. Speaking hours before that, the engaging, congenial 29-year-old right-hander smiled at the thought of coming back here.
"Happy thoughts," Frieri said. "A lot of beautiful things happened for me here. I'm happy to be back here."
Frieri was one of four former Angels on the Rays' active roster, along with catcher Bobby Wilson and right-handers Steve Geltz and Kevin Jepsen, who spent his first 13 professional years with the Angels before being dealt for Matt Joyce in December.
"Seeing everybody and not wearing the red," Jepsen said, "it's a little different."
Jepsen left the Angels at the height of his career, after posting a 2.63 ERA while thriving as the seventh-inning man down the stretch in 2014.
Frieri's departure was the start of a downward spiral.
He posted a 2.32 ERA and struck out 80 batters in 54 1/3 innings after joining the Angels in 2012, then finished 2013 with a 3.80 ERA and 37 saves. Thirty-four appearances into 2014, though, Frieri's ERA was 6.39. And after being dealt to the Pirates on June 27, he gave up 12 runs on 14 hits in 10 2/3 innings.
Frieri began that 2014 season working on a quicker delivery that would help prevent stolen bases, and he has yet to recover from the mechanical issues it caused. Now he's nowhere near as across-his-body in his stride, nowhere near as violent in his delivery, and his velocity has dipped from 94 mph to 91.2 mph in a span of three years.
He feels that fastball is still in there, though, somewhere.
"Of course it is," said Frieri, who had a 4.63 ERA in 23 1/3 innings with the Rays. "I feel like my arm is strong, but unfortunately my mechanics don't let me. They just don't let me. We're working on it."
Alden Gonzalez is a reporter for MLB.com. Read his blog, Gonzo and "The Show", follow him on Twitter @Alden_Gonzalez and listen to his podcast. This story was not subject to the approval of Major League Baseball or its clubs.