Marwin spins, unleashes 2-bouncer for out
Astros shortstop robs O's Machado of hit to end fifth inning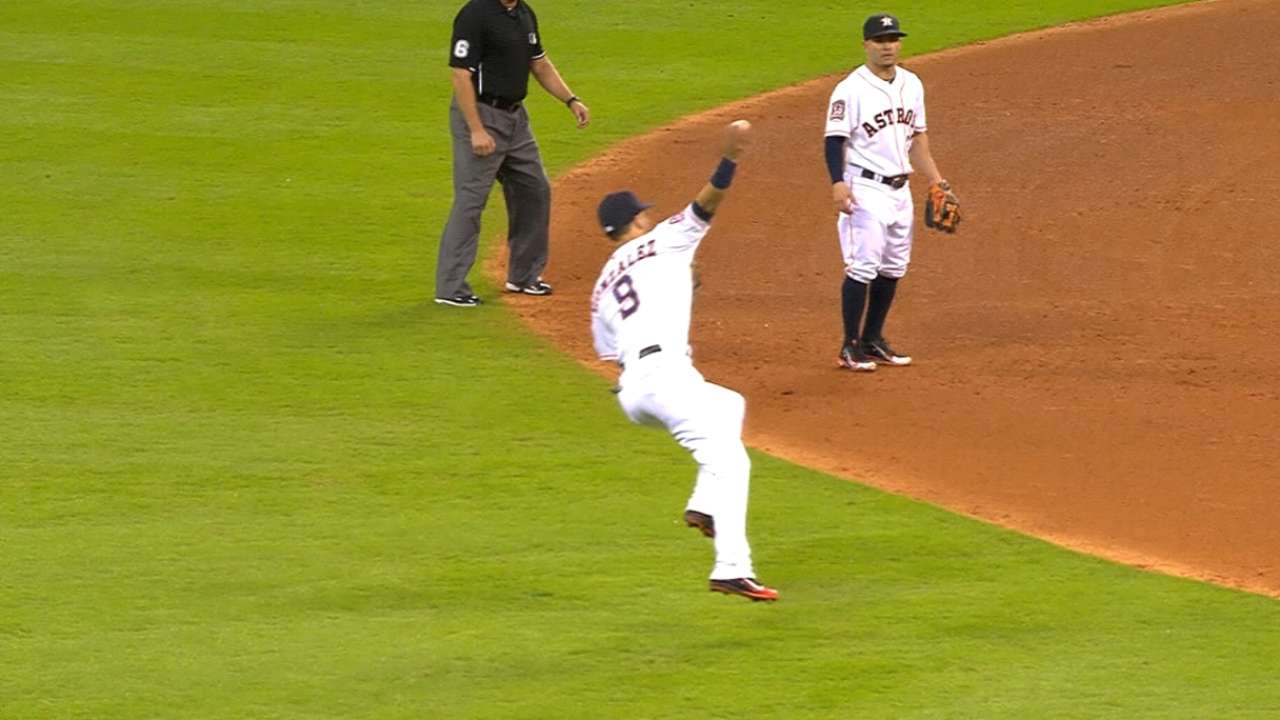 HOUSTON -- Even after watching a replay his friend texted to him after Monday's game, Astros shortstop Marwin Gonzalez couldn't explain it.
He ranged to his left to snag Baltimore leadoff hitter Manny Machado's sharp grounder in the fifth inning, spun and two-hopped a throw to first baseman Chris Carter to record the third out with the Astros trailing, 1-0. Houston would go on to win the game, 5-2.
"I don't know what I did on the play," Gonzalez said with a chuckle after Houston's win. "I just did it and thank God everything went well."
Astros starter Brett Oberholtzer had already allowed a run in the frame on Ryan Flaherty's RBI triple to the hill in center field, and he was facing the top of the Baltimore order with Flaherty still at third base.
Machado ripped Oberholtzer's first pitch back toward the mound and sent Gonzalez racing to the middle of the field.
"Once it got by me and I saw how far Marwin was away from the ball, I kind of put my head down," Oberholtzer said. "Thought, 'Run scored.'
"Then he made the throw. It was probably the best play that was made behind me ever. And I let him know."
When the Astros came to the plate in the home half of the inning, Luis Valbuena hit a home run to right field to tie the score at 1, which was not a coincidence in Houston manager A.J. Hinch's eyes.
"It was a spectacular play," Hinch said. "We needed a little boost in energy at that point. Nothing had really happened up to that point."
Hinch did have one criticism, though.
"I'd give it a 9.5," he joked, "because he didn't throw it in the air."
Chandler Rome is an associate reporter for MLB.com. This story was not subject to the approval of Major League Baseball or its clubs.