Peralta likely to avoid DL stint
D-backs outfielder says left hand feels better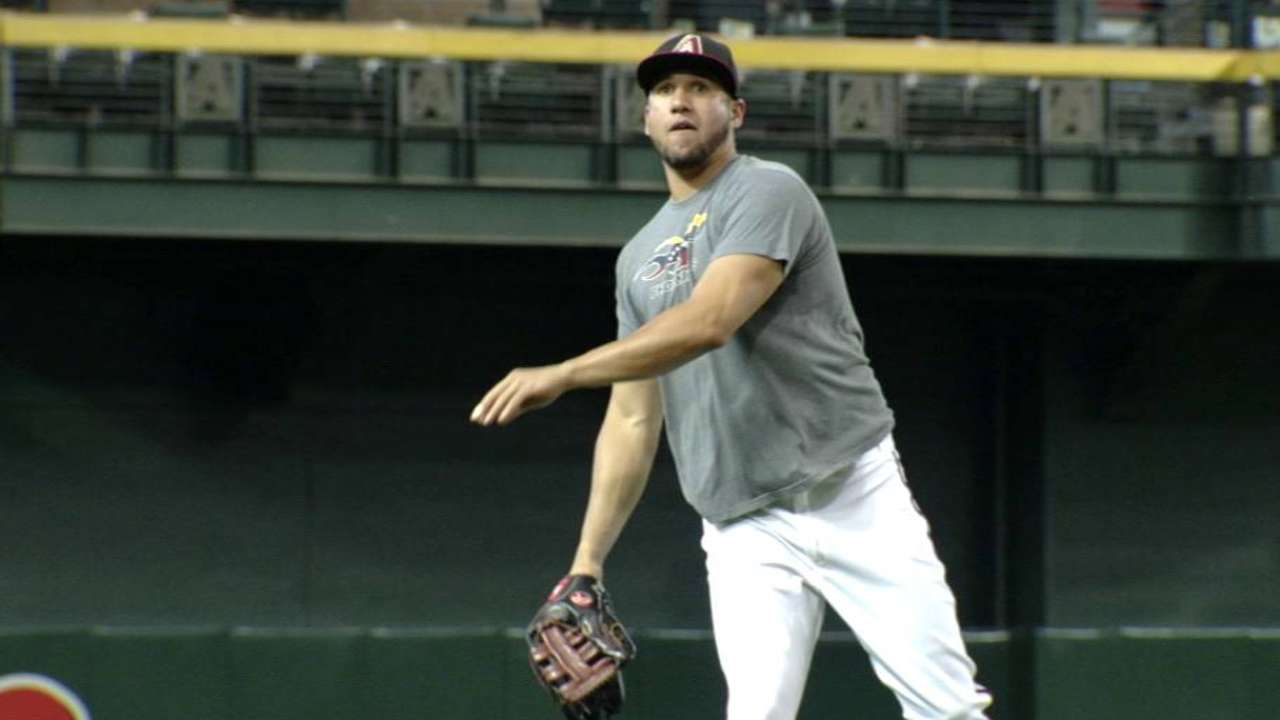 PHOENIX -- D-backs outfielder David Peralta will likely avoid a trip to the disabled list after leaving Sunday's game with an injury to his left hand.
Peralta suffered the injury to his middle and index fingers on a bunt attempt against the Brewers. X-rays came back negative and Peralta said his hand felt better when he took batting practice in the cage before Monday's 8-1 loss to the Braves.
"It's not a big deal," Peralta said. "I was kind of scared [Sunday] when the ball hit me with the swelling and the blood and everything. It was swelling a lot. But I'm good."
Peralta was out of the starting lineup Monday against the Braves, but that was a decision manager Chip Hale said also had to do with left-hander Alex Wood starting for Atlanta. Peralta is 2-for-17 against left-handers.
However, Hale said he did expect to have Peralta as an option to pinch-hit. The only concern with Peralta's injury is that he hasn't been able to throw, something he didn't expect to try until Tuesday at the earliest.
"I don't think that's going to work today, but maybe [Tuesday] we start to do it," Peralta said.
Peralta is batting .258 with five homers and 24 RBIs in 45 games.
Worth noting
• Catcher Tuffy Gosewisch met with doctors during Monday's game to have his left knee injury examined, and it was determined that he suffered a full ACL tear and will soon undergo season-ending surgery. Gosewisch, who is on the 15-day DL, injured his knee Wednesday against the Cardinals.
•Starter Patrick Corbin (Tommy John surgery) threw 3 2/3 innings in an extended spring game Monday.
"He threw the ball well," Hale said. "He looked good, felt good after."
• Third baseman Jake Lamb (left foot) played third base in an extended spring training game on Monday, going 1-for-4 with a triple. Hale said Lamb looked fine running and that no limp was noticeable.
Lamb will leave for a rehab assignment at Triple-A Reno on Tuesday. Hale said the plan is for Lamb to play a game at third, a game as the designated hitter and then back-to-back games at third. Then the club will re-evaluate Lamb's injury.
• Reliever David Hernandez (Tommy John surgery) is scheduled to pitch Monday and Tuesday for Double-A Mobile. It will be the second time Hernandez has thrown two straight days on his rehab assignment.
• Reliever Matt Stites was activated from the 15-day disabled list and optioned to Reno on Monday. Stites had spent all season on the DL with right elbow inflammation.
Jake Rill is an associate reporter for MLB.com. This story was not subject to the approval of Major League Baseball or its clubs.