MLB.com Columnist
Marty Noble
In a pinch, Harris could fill Fish skipper job
Former role player deluxe owns skills to take over Marlins helm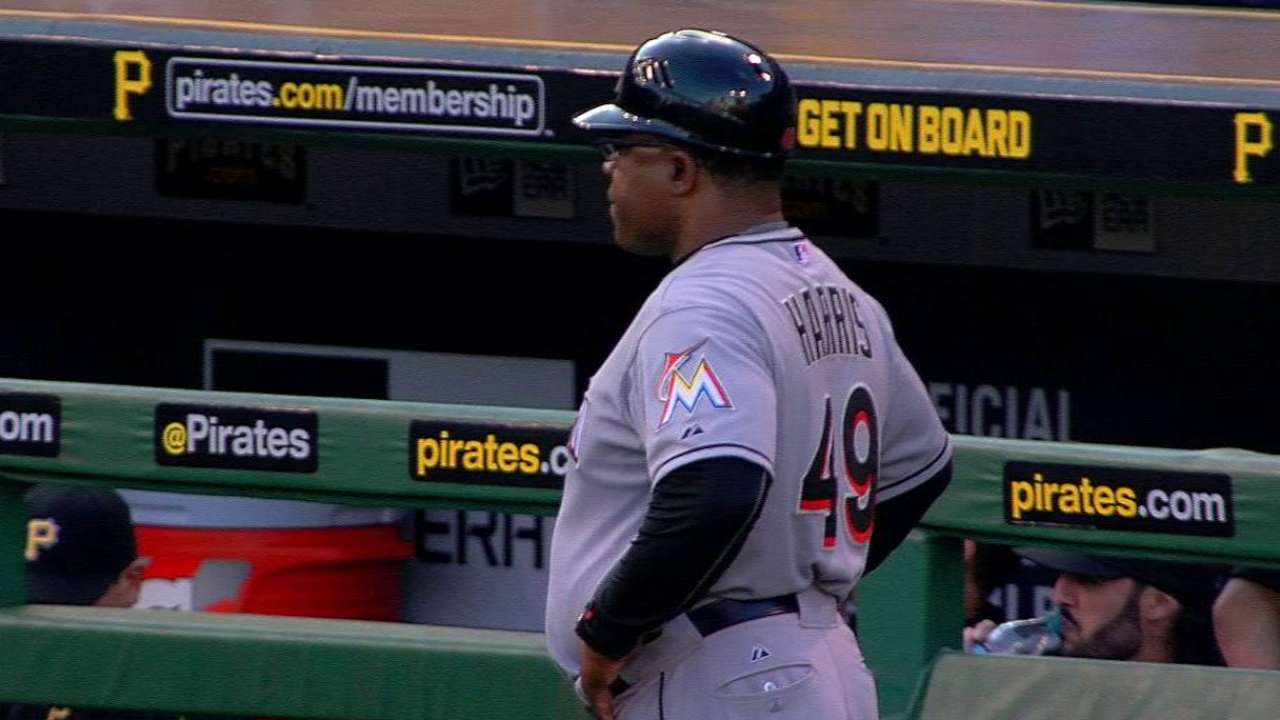 NEW YORK -- When the Marlins lost patience with their manager and, shortly thereafter, with their third-base coach, they made one personnel move that prompted coast-to-coast head scratching and a second that has them heading in the right direction.
The assignment of general manager Dan Jennings to the dugout to replace manager Mike Redmond came from the area in Miami usually patrolled by Christian Yelich -- left field. It hasn't had the desired effect; the absence of injured pitchers as well as consistent quality play has undermined Jennings as it did Redmond.
The second personnel change -- Lenny Harris replacing Brett Butler as third-base coach -- was brought about by what were identified as mistakes by Butler. The signs he relayed to hitters and baserunners didn't match those he received from the bench. That can be a persnickety problem.
So Harris, one of the better people persons in the game, had his job description revised so that it now includes nonverbal communications with guys in the box and on the basepaths as well as serving as assistant to hitting coach Frank Menechino.
By putting Harris in the third-base box, the club has put him at what many folks consider the threshold of managing in the big leagues. Its next step ought to involve Harris making out lineup cards and making decisions in the dugout.
Jennings has been identified as an interim replacement, so presumably a new man will be named after the season -- or earlier. Harris would make a good choice.
No, Harris has no experience managing. But that didn't seem to bother the Fish after they'd discarded Redmond. And if they do get a sudden rush of logic and begin to recognize the benefits of experience in that occupation, they'd be wise to afford Harris some on-the-job training at the Triple-A level and prepare him to take over the big league job.
Harris knows the game, and he clearly has people skills. The way the game is these days, the ability to reach, touch and motivate players matters at least as much as grasp of strategy and the finer points of playing. Harris, 50, has been around the game since the mid-1980s, when he was an infield prospect with the Reds. He did everything except catch during his 18 big league seasons. And he could hit a bit, too.
Harris wasn't a great hitter, but he figured out how to squeeze the most out of his bat. Before he became the most productive pinch-hitter in history -- 212 career hits -- he batted .288 in a three-season sequence (1990-92) with the Dodgers.
"I've watched a lot of baseball, because I wasn't a star and I didn't play every day," Harris said years ago when he still was an active player. "But I've been there, in the dugout, paying attention, for a lot of innings."
Harris appeared in 1,903 games, starting 770 and pinch-hitting or pinch-running 956 times. So he knows about life as a role player.
"You can learn a lot if you shut up and keep your eyes in the field," Harris said. And he took his own advice.
That's as much as Harris will say about his readiness to manage other than to note the varied managers he played for -- Davey Johnson, Jim Leyland, Jack McKeon, Tom Lasorda, Dusty Baker, Buck Showalter, Bobby Valentine -- and to acknowledge coveting the opportunity. He doesn't politick for a chance.
The Marlins may not be aware of what they have in their dugout. The sense of people around the club is that no one other than Jennings was considered for the role once the decision to remove Redmond was made.
* * * *
If Harris isn't among the possibilities the Fish consider when the time comes, or if he is, there are two other strong candidates who warrant serious thought: Tim Bogar and Wally Backman. Bogar, who managed the Rangers for 22 games last season following the surprise resignation of Ron Washington, is serving as an assistant to Angels general manager Jerry Dipoto.
Bogar has paid more dues and been more successful than many, working as a big league coach, Minor League manager and coach. His Minor League teams have produced a composite 362-266 record. What else does Bogar need to prove? Moreover, he emerged from the mess that was Valentine's 2012 Red Sox with his reputation unsoiled. Maybe Dipoto won't let him go.
And Backman? His name is mentioned routinely these days each time a managerial vacancy develops. And it ought to be. All his teams do is win. But the call hasn't come. Perhaps Backman first needs to work as a general manager.
Marty Noble is a reporter for MLB.com. This story was not subject to the approval of Major League Baseball or its clubs.