Wright's status could alter Collins' infield alignment
Injured third baseman to head to San Diego, update Mets on recovery from back injury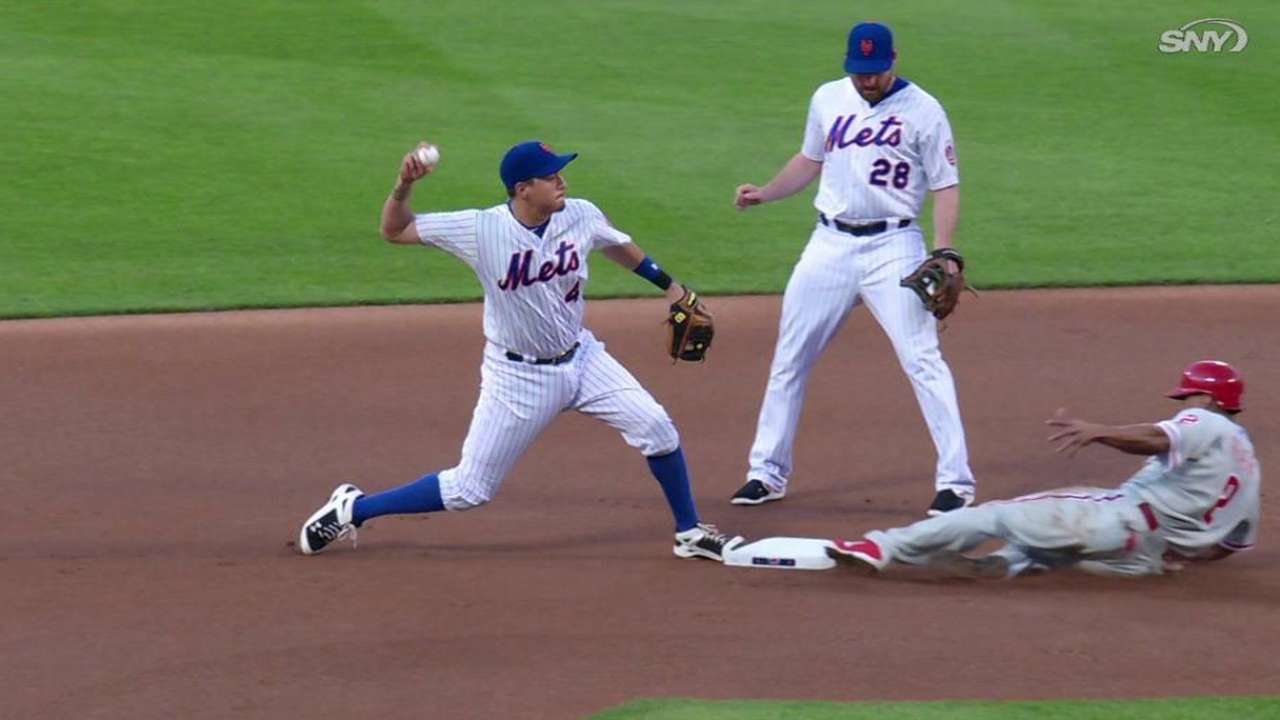 SAN DIEGO -- The Mets hope to receive some clarity on David Wright's medical situation in the coming days, manager Terry Collins said Monday, freeing the team up to make both short- and possibly long-term decisions about its third-base situation.
Wright, who plans to drive from Los Angeles to San Diego to meet with Collins and the Mets on Tuesday, should have a better idea this week regarding a timetable for his return to baseball activities. If the news is promising, the Mets will keep their current short-term fix in place: Ruben Tejada at third base, with shortstop Wilmer Flores and second baseman Daniel Murphy manning their regular positions.
But if there is evidence that Wright's back injury may continue to linger, Collins said, the team could consider something more aggressive -- moving Murphy to third base, for example, or even shifting Flores off shortstop to improve the overall defensive alignment.
"Anything's possible," Collins said. "Right now, there's no plan to do that just yet. We've got to wait to see where David's at -- is it going to be 10 days, two weeks, two months? I don't know. And if it's going to be a lengthy period of time, we'll certainly revisit what our best alignment is. But right now, I don't like moving guys around. I think they should come knowing where they're playing."
Wright, who has been out since April 15 first with a hamstring strain, and more recently with a back condition called spinal stenosis, has been receiving treatment and physical therapy near Los Angeles. He will speak to Collins in person when he arrives at Petco Park on Tuesday.
One factor that could change the Mets' infield situation is the progress of rookie Dilson Herrera, who has been sidelined since May 15 with a fractured right middle finger. Herrera has begun light baseball activities at the organization's rehab center in Port St. Lucie, Fla., and is throwing for the first time since his injury.
Other injury updates from the Mets:
• Starting pitcher Rafael Montero (right rotator cuff inflammation) recently began throwing off a mound for the first time since receiving his diagnosis. There is no timetable for Montero to begin a rehab assignment.
• Collins indicated that relievers Vic Black (right shoulder tendinitis) and Bobby Parnell (recovery from Tommy John surgery) could both remain on rehab assignment until their Minor League eligibility expires mid-month. The Mets do not want to insert either pitcher into their big league bullpen until they are certain of their health.
• Catcher Travis d'Arnaud, who recently suffered a setback in his rehab from a fractured right pinkie, could resume his rehab assignment as soon as this week.
Anthony DiComo is a reporter for MLB.com. Follow him on Twitter @AnthonyDiComo and Facebook, and listen to his podcast. This story was not subject to the approval of Major League Baseball or its clubs.