Duda out of lineup after right knee swells
Hit by pitch on Sunday, Mets' top gun could pinch-hit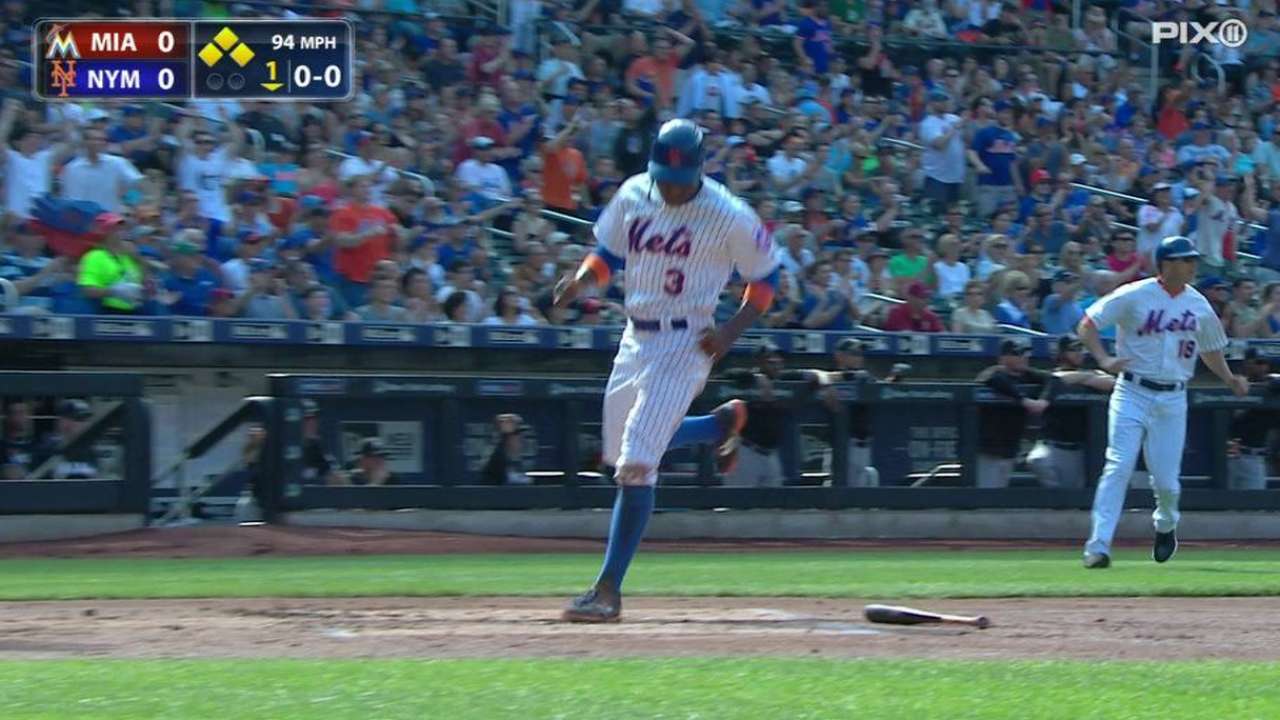 NEW YORK -- An errant pitch in Sunday's game against the Marlins cost Mets first baseman Lucas Duda his spot in the lineup one day later. Duda's right knee swelled up overnight, the first baseman said, preventing him from assuming his usual position as the team's No. 3 hitter for Monday's series opener in San Diego.
"I just kind of got hit in a funny spot," Duda said late Monday afternoon, noting that he felt well enough to pinch-hit. "I'll take today and play tomorrow."
Manager Terry Collins, however, was not quite as optimistic, saying the soreness in Duda's right knee could linger.
"It was real stiff yesterday after the game, late last night, early today -- real stiff," Collins said. "Treatment obviously has made it a little bit better, but I've told him to make sure to continue the treatment throughout the game, just in case we need him late."
By far the Mets' most productive hitter over the season's first two months, Duda entered Monday's play leading the team in batting average (.298), home runs (nine), on-base percentage (.394) and slugging (.539). He did not consider his injury serious enough to warrant an X-ray or any other sort of formal testing. Though Marlins starter David Phelps hit him in the knee during his first at-bat, Duda never left the game.
"It was just kind of a weird spot I got hit in," Duda said. "I'm not sure how fast the pitch was, but it got me in a weird spot, and here I am."
With Duda sidelined, Michael Cuddyer shifted from left field to first base, with Darrell Ceciliani sliding into left.
Anthony DiComo is a reporter for MLB.com. Follow him on Twitter @AnthonyDiComo and Facebook, and listen to his podcast. This story was not subject to the approval of Major League Baseball or its clubs.