Smith upbeat after appeal hearing
Reliever expects resolution on suspension later this week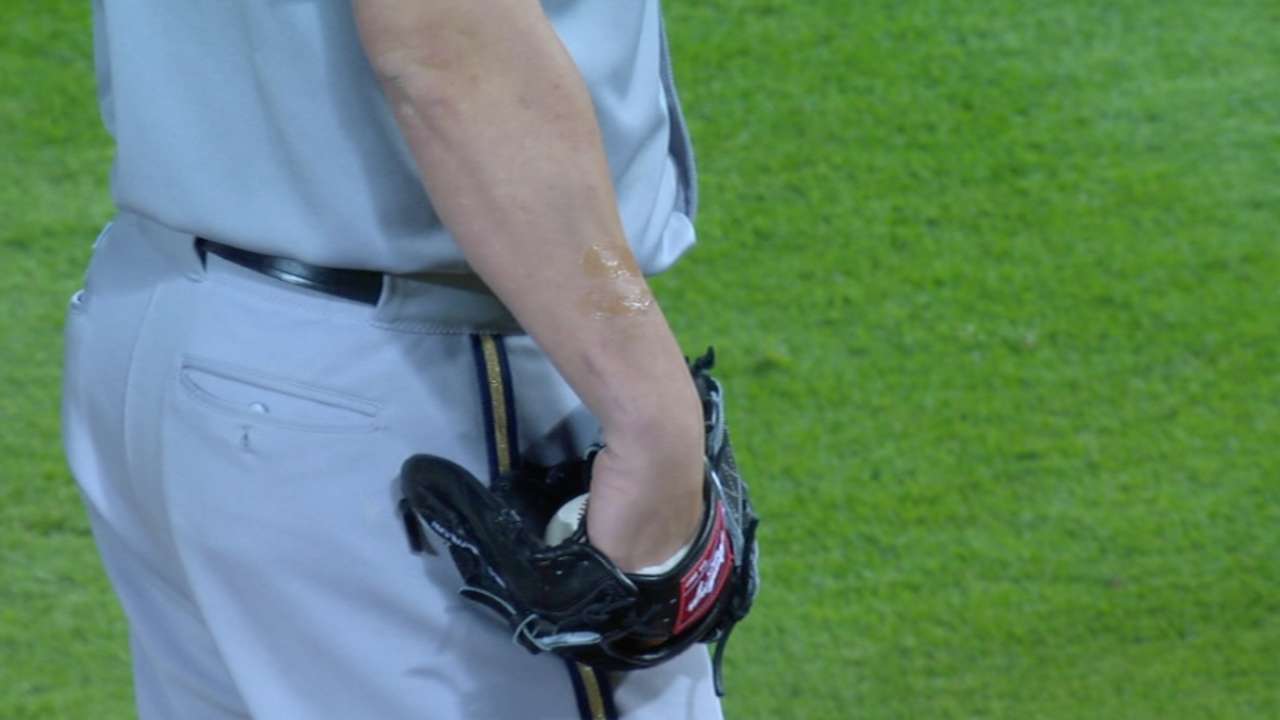 ST. LOUIS -- The Brewers moved a step closer toward resolution of left-hander Will Smith's appeal of an eight-game suspension after the reliever made his case to Major League Baseball officials on Monday morning at Busch Stadium.
Smith was told not to expect a resolution until later this week -- possibly Friday -- because Orioles left-hander Brian Matusz has a similar hearing scheduled for Wednesday. Each pitcher was suspended eight games after being ejected for pitching with a foreign substance on his forearm.
Smith admitted to the infraction, but made the case, with agent Jeff Berry, that the length of the suspension was onerous. Also on hand for morning meeting in a conference room at Busch Stadium were MLB executive vice president of administration John McHale, senior vice president of standards and on-field operations Joe Garagiola Jr. and labor relations counsel Kasey Sanossian, plus a representative from the MLB Players Association, Brewers manager Craig Counsell and Brewers senior director of baseball operations Tom Flanagan. The session lasted less than an hour.
"I felt comfortable leaving the meeting very well-represented," Smith said. "Plus, it was nice to have your manager there, too, just support-wise. That felt good, too. Just a little confidence booster to have him there. He didn't have to do that.
"My agent did all his homework. He said since 2014 I've thrown in 102 games, which is second in the [National League] and third-most in baseball, so an eight-game suspension is terrifying for someone who throws that much. Obviously we don't want a suspension at all but they are going to suspend me. At least cut this down, because if it were an eight-game suspension, there's a reasonable chance I would throw in four of those games. Half of them. So that's what our side was."
Smith admitted to pitching against the Braves on May 21 with a mixture of rosin and sunscreen on his arm, saying he used it warming up in the bullpen to get a grip on the baseball.
"I just honestly forgot to wipe it off," Smith said. "That's the other thing -- after 102 games I've never been in trouble, never been thrown out of a game or fined. It was an honest mistake. I had zero intent on going out there with all that stuff on my arm. That was our main point there. I think we left the room happy, so we'll see when it comes out."
Adam McCalvy is a reporter for MLB.com. Follow him on Twitter @AdamMcCalvy, like him on Facebook and listen to his podcast. This story was not subject to the approval of Major League Baseball or its clubs.