Warren keeps spot as Capuano heads to 'pen
Left-hander's move clears way in rotation for return of Tanaka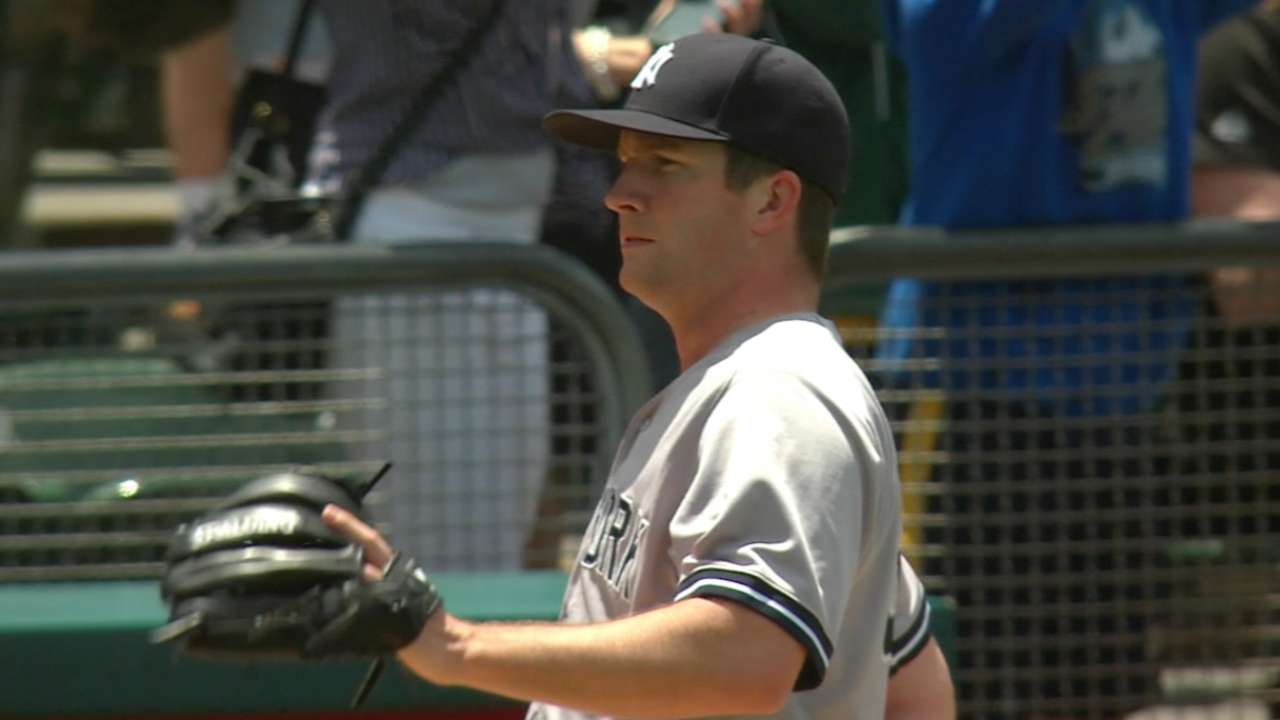 SEATTLE -- The Yankees have dispatched left-hander Chris Capuano to the bullpen, manager Joe Girardi announced on Monday, clearing a rotation spot for Masahiro Tanaka's return to big league duty at the end of this series against the Mariners.
Tanaka is scheduled to be activated from the disabled list and start Wednesday's 3:40 p.m. ET getaway day matinee. In selecting Capuano for bullpen duty, the Yankees offered a vote of confidence to right-hander Adam Warren, who has pitched very well in his last four starts.
"With Masa coming off the DL on Wednesday, and [Ivan] Nova not far behind, I figured it was a numbers game," Capuano said. "I'm going to try to be ready to do my job in the bullpen."
Warren hurled seven innings of two-run, six-hit ball in a losing effort against the Athletics on Sunday in Oakland, a 3-0 Yankees defeat. He is 3-4 with a 3.75 ERA in 10 starts this season, and over the last four starts, Warren has permitted eight earned runs in 26 2/3 innings (2.70 ERA).
"I think I've just been more aggressive," Warren said. "Trusting my stuff a little bit more. I think I'm getting in good counts, for the most part, and I'm a much better pitcher when I'm aggressive like that and using all four of my pitches."
Girardi said that he was not tempted to send Warren to the bullpen as a replacement for struggling right-handers David Carpenter and Esmil Rogers.
"Obviously, I think he could be really effective in the bullpen, but his starts are important, too," Girardi said.
Capuano lost all three of his starts, posting a 6.39 ERA since returning from the disabled list. Girardi said that he could use Capuano -- who made 28 appearances out of the bullpen for the Red Sox last season -- as a long reliever or in shorter stints.
"He's done both," Girardi said. "With Esmil, that can give you some distance. There might be a day when you could use him just as a long man."
The Yankees must make a roster move on Wednesday to clear a spot on the 25-man roster. It appears likely that one of the Yanks' four left-handed relievers will be trimmed, but Girardi said that he did not want to go into that thinking yet.
"We'll make that decision Wednesday. There's a lot that can happen between now and Wednesday," Girardi said.
Bryan Hoch is a reporter for MLB.com. Follow him on Twitter @bryanhoch, on Facebook and read his MLBlog, Bombers Beat. This story was not subject to the approval of Major League Baseball or its clubs.